Milwaukee's 13 Bad Decision Bars
The night started innocently enough -- a few beverages with friends, dinner reservations at that new place everyone likes -- and if it had ended at 10pm it would have been just swell. Except it didn't end at 10pm and one bar led to another and another and the next thing you knew you were chain-smoking as you gorged on an Oakland gyro at 2am. There's a high likelihood that any one of these 13 Bad Decision Bars in Milwaukee factored into your night escalating so quickly.
Lower East Side

Of all the Brady St bars, Jo Cats guarantees you'll block out the memories of standing shoulder-to-shoulder with a hundred other perspiring twenty-somethings in the same square footage as a studio apartment. Never mind the fact that Packer players have been spotted here -- even Jordy Nelson can't catch you from falling down the stairs face-first on your way out.
 
Downtown

Basically ANY bar on the hellscape of Water St could have made this list, but it's endless amounts of $1 tap beer available during its 4-9pm happy "hour" that gives the tandem of Duke's and Scooter's the nod. That gives you five hours to form a hefty alcohol base to prepare for the immoral judgments that will follow. If you're looking for a drinking game (not that you needed it), then finish your drink whenever a fight breaks out inside or directly outside.
East Side

Never before has a place held so much promise from the outside only to majorly disappoint on the inside. A sketchy bowling alley at its finest, Landmark offers more sad "out-of-order" arcade games then one can count. High Life bottles will be consumed with complete disregard for those around -- including regulars yelling at you for taking "my seat" or "my ball" -- and lead to a much-needed evac to Ma Fischer's. 
 
Downtown
This place is not to be confused with the Marcus Center for the Performing Arts; the talent here is of the pole-dancing variety. It's located just West of Duke's and Scooter's, so after the bouncer throws you out of there for screaming "FREE SHOTS FOR MY BIRTHDAY!" you can waltz on in here and enjoy the wholesome stripping entertainment.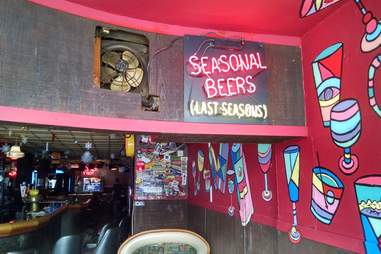 Jay Phillips/Thrillist
East Pointe
Welcome to 1984! Currently getting an overdue makeover, Y-Not II features last season's beer, free stale popcorn, and possibly a chance of tetanus. Is that a real electric chair in the window? What does it have to do with anything at all? Also, what's that smell? Also, how the hell is the tab only $15.60 after you double-fisted liters of Sprecher?
 

Cathedral Square

Mi-Key's may secretly be a test lab to track the effects of alcohol and Red Bull on the human body over the course of 6hrs. At midnight your motor skills will have completely shut down and mumbling is as articulate as you'll get. The number of bomb shots will outnumber the available air molecules here. There's no need to hit on the bartenders -- they can't hear you, nor can they understand your new dialect over the deafening house music.
Marquette

Because private school kids gotta party too, watch coeds casually waste textbook money on beer and whiskey (which come with lesson plans of their own). Blend into the crowd and you're well on your way to waking up next to a stranger in the parking lot of The Rave.
 
Downtown
As if Irish pubs weren't already known as potent booze dens, what are we supposed to make of three Irish bars in one? Trinity has so many dark crevices, nooks, and crannies with couples drunkenly hooking up that you'll think you inadvertently walked into a swingers club. Yes, have another Irish car bomb, keep your collar popped, and continue doing what you think is dancing. Only good things can come of this.
East Pointe
Walking Into Victims is like being transported to a strange hybrid of '70s decor and someone's loose interpretation of a sci-fi movie.  The people-watching here is top-notch (if you can avoid an LED-induced seizure). Shamelessly flirting with that patchouli-scented grandmother in the glasses and pearl necklace was certainly a low point. Taking that selfie with her was the lowest.
 
Walker's Point
Why go to bed when you can go to Zad's? After the after-bar, make some questionable life choices at this Walker's Point staple, which is open from 6am to 2am and caters to the third-shift manufacturing crowd, or at least it used to. You'll hit your stride about six Bob Seger songs into shooting pool with a near-toothless fella before you have the brilliant idea to slide down the fireman pole at the station next door.
Walker's Point

It was formerly known as Solid Gold, but gone are the LED palm trees on the exterior of this strip club off National Ave. Inside, the bad decisions still remain. Its dark interior is actually a blessing in disguise. Questionable choices have brought you here, and somehow, you'll never want to leave.
 
Menomonee River Valley

You've already given $200 to the Potawatomi tribe in the last hour; why not blow another $100 at 360 in the next? Soulless humans from all walks of life will gaze at you with cold, dark eyes, weary from their lack of winnings. That smell in the air is a mix of Virginia Slims smoke rings and desperation.
 
Bay View

The sign showcases a baby in diapers smoking a cigar and reaching for a mug of beer. If this isn't some kind of prophecy of what's to come inside, we don't know what is. At least he's wearing a helmet. 
Sign up here for our daily Milwaukee email and be the first to get all the food/drink/fun in the Brew City.
Jay Phillips is not a fan of the recent snowfall in Southeastern Wisconsin, but will admit that it's "pretty." However, removing it has made him want to venture into one of the questionable bars above & get weird with the locals.