Anyone can pour store-bought Bloody Mary mix from a bottle, but not everyone can concoct an amazing tomato-based vodka drink from scratch that doesn't taste like ketchup mixed with Gordon's. We love our Bloodys in Milwaukee, and there are as many house Bloody mix recipes as there are bars and restaurants that serve them. Here's where to find the 10 best Bloody Marys in MKE.
Third Ward
If you can't decide on a drink from the 30+ page beer menu, then pick from the Bloody Mary list. It'll narrow your choices down to eight. Cafe Benelux has different garnishes and types of alcohol, from local Kinnickinnic whiskey, to chipotle and horseradish-infused vodka. The Southsider is a classic with peppercorn-infused vodka, the savory house mix, extra hot sauce, and jalapeno-stuffed olives. It's got just enough kick to wake you up in the morning.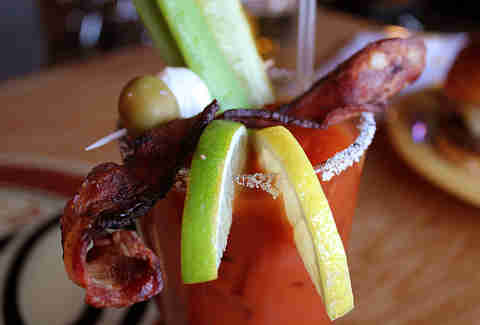 Mitchell Park
This hopping bar has people clamoring for its Bloodys almost as much as its burgers. It goes through 10 gallons of its Bloody mix on Sundays, and with its generous vodka pours, that's roughly a metric ton of drinks. It's easy to see why though: the mix is thick, smooth, and balanced with just enough tang. The squishy ball of fresh mozzarella and crispy slice of bacon help offset the abundant vodka.
Shorewood, Wauwatosa
It makes sense that the "up North" themed bar has a great Bloody, since drinking is just as much a sport as hunting. You can get two sizes, but you should choose the 22-ouncer because it goes down smooth. It's a classic Bloody, with hints of good stuff like black pepper, celery salt, and Worcestershire. Appropriately, it comes with a Rhinelander Shorty chaser in case the taxidermied raccoons rowing a canoe don't hit you over the head with the cabin theme.
Parkway Estates
This bar is connected to a popular wine and liquor store, and it serves homemade Bloodys on weekends with chasers you can choose from its taps. The mix includes a hefty amount of hot sauce, pickle juice, and the secret ingredient (shhh!) lemon pepper, which gives it an extra citrus punch.
Juneau Town
Everything about this Bloody Mary screams "burger," from the secret Bomber sauce and mustard in the mix, to the little burger snack on top. Strips of the restaurant's thin burger patties sandwich a hunk of gooey muenster cheese, and then the whole shebang gets wrapped in bacon. If you start your lunch off with one of these, you may not have room for a burger. Maybe.
Third Ward
This little bar and restaurant often flies under the radar, but it's got a loyal following. In addition to its tasty mix with lots of horseradish, it infuses its vodka with veggies and spices for extra oomph. Garnishes are simple to let the drink shine, and include a piece of beef stick, pepper jack cheese, a pickle, and blue cheese-stuffed olives.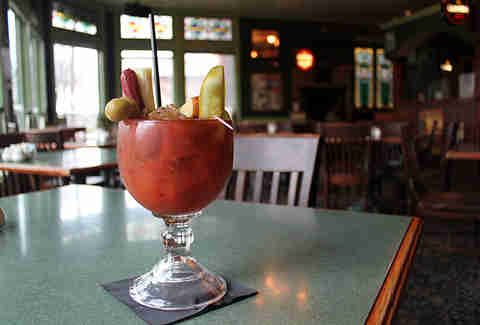 Yankee Hill
A Bloody this good deserves a regal goblet. The mix includes Clamato juice, but don't worry, it doesn't impart fishiness like you'd expect. What it does do is lighten the mix so you can drink more than one of these behemoths, and you'll want to. Who knew a Bloody Mary could be so refreshing? The large glass has plenty of room for a substantial garnish of a full beef stick, string cheese, and best of all, homemade pickled red potato. This is an Irish pub and inn after all.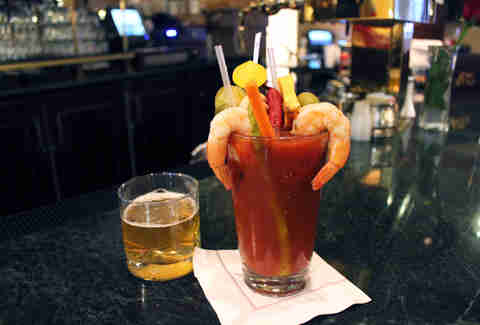 Juneau Town
You might just ignore the lounge and bar in the lobby of this storied hotel, but this bar has a secret named Valerie. She's been perfecting her Bloody recipe behind the bar here for over 30 years, and it shows. It's got just the right blend of spices without being overpowering, and lots of citrus to brighten it up. Sometimes, there's a habanero-infused mix, and if you're a fan of heat, don't miss that one. Dip the large chilled shrimp in your drink, and you won't need that overpriced shrimp cocktail at dinner.
Walker's Point
The Bloody Mary at the bar inside the Iron Horse Hotel is just as bold as its Harley-riding clientele. It's got a lot going on, including horseradish, steak sauce, and Guinness in an assertive mix with lots of spices floating around in it. Sundays during brunch there's a Bloody Mary cart that rolls around, spreading joy in the form of vodka and beef sticks.
Third Ward
The most noticeable feature of the Bloody at The Wicked Hop is the Medusa-like crown of mozzarella whips. They're fun to eat, but the it's the perky mix that keeps people coming back for more. There are a lot of flavors going on, and it's a little reminiscent of BBQ sauce. If you're here with your five best friends, order The "Glass" Slipper, a 96oz plastic boot glass of Bloody, complete with garnishes and six chasers.
Sign up here for our daily Milwaukee email and be the first to get all the food/drink/fun in the Brew City.
Lacey Muszynski is a Milwaukee food writer who doesn't think there's a place in this world for plain tomato juice. Follow her on Twitter @worthhersalt.