Lacey Muszynski/Thrillist
Lacey Muszynski/Thrillist
It's not uncommon in Milwaukee to order a Bloody Mary at any time of day. That's especially helpful when you lack the motivation to get out of bed before 1pm, let alone get to your favorite bar during standard brunch hours for a little hair of the dog. They're restorative and refreshing and that's all that really matters. Here are 11 local spots for some truly excellent Bloodies where the bartender won't look at you sideways when you order one after happy hour.
Honey Creek Parkway
Blue's sets the standard for breakfast and brunch in Milwaukee, so it's only appropriate that they have a killer Bloody too. The homemade mix is well-balanced with spices. If you want to veg it up a little, opt for the veggie-infused vodka option. It's garnished with a crispy slice of bacon and always comes with a High Life shorty.
Walker's Point
There are two different kinds of bloodies at Engine Company 3: a standard, acceptable version with homemade mix and topped with loads of pickled veggies, or the El Bombero, a spicy, smoky bloody made with tequila, roasted tomatoes and chipotle puree. I think the choice is pretty clear.
Juneau Town
You have options at Buckley's. You can get their homemade bloody mix with either bacon and peppercorn-infused vodka, or a ridiculously spicy version with habanero, serrano, jalapeño and garlic-infused vodka. If you love spice but just can't pass up bacon, get the Half and Half bloody, which combines them both for that sweet spot of spice and pork.
West Milwaukee
4th Base is kind of a crazy, make-your-own-adventure steakhouse sports bar. There are no menus -- they just make you whatever you want to eat. The Bloody Mary, however, is constant. The homemade mix is made before your eyes, so you can customize it how you like. It's topped with fresh veggies and a mound of deep-fried haystack onions. And your chaser? It's a full pint of beer.
Kilbourn Town
You probably think of the Miller Time Pub for beer (if you even think of it at all). But the Bloodies here are classic in flavor: just a little spicy, just a little sweet, and with plenty of tang. They up the competition on garnishes with a jalapeño popper, along with the standards like celery and pickle. They have won many Bloody Mary competition events over the years, but they still fly under the radar.
Third Ward
If you can't decide on a drink from the 30+ page beer menu, then pick from the Bloody Mary list. It'll narrow your choices down to eight. Cafe Benelux has different garnishes and types of alcohol, from local Kinnickinnic whiskey, to chipotle and horseradish-infused vodka. The Southsider is a classic with peppercorn-infused vodka, the savory house mix, extra hot sauce, and jalapeño-stuffed olives. It's got just enough kick to wake you up in the morning.
Mitchell Park
This hopping bar has people clamoring for its Bloodys almost as much as its burgers. It goes through 10 gallons of its Bloody mix on Sundays, and with its generous vodka pours, that's roughly a metric ton of drinks. It's easy to see why though: The mix is thick, smooth, and balanced with just enough tang. The squishy ball of fresh mozzarella and crispy slice of bacon help offset the abundant vodka.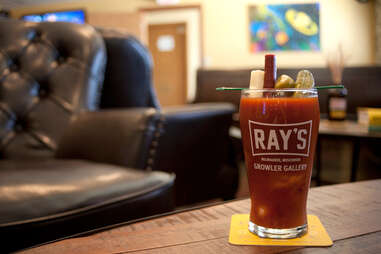 Parkway Estates
This bar is connected to a popular wine and liquor store, and it serves homemade Bloodys on weekends with chasers you can choose from its taps. The mix includes a hefty amount of hot sauce, pickle juice, and the secret ingredient (shhh!) lemon pepper, which gives it an extra citrus punch.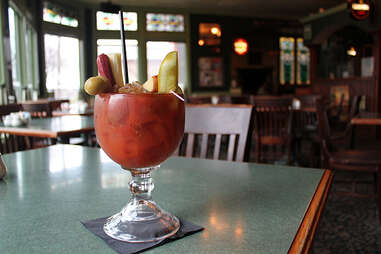 Yankee Hill
A Bloody this good deserves a regal goblet. The mix includes Clamato juice, but don't worry, it doesn't impart fishiness like you'd expect. What it does do is lighten the mix so you can drink more than one of these behemoths, and you'll want to. Who knew a Bloody Mary could be so refreshing? The large glass has plenty of room for a substantial garnish of a full beef stick, string cheese, and best of all, homemade pickled red potato. This is an Irish pub and inn after all.
Juneau Town
You might just ignore the lounge and bar in the lobby of this storied hotel, but this bar has a secret named Valerie. She's been perfecting her Bloody recipe behind the bar here for over 30 years, and it shows. It's got just the right blend of spices without being overpowering, and lots of citrus to brighten it up. Sometimes, there's a habanero-infused mix, and if you're a fan of heat, don't miss that one. Dip the large chilled shrimp in your drink, and you won't need that overpriced shrimp cocktail at dinner.
Walker's Point
The Bloody Mary at the bar inside the Iron Horse Hotel is just as bold as its Harley-riding clientele. It's got a lot going on, including horseradish, steak sauce, and Guinness in an assertive mix with lots of spices floating around in it. Sundays during brunch there's a Bloody Mary cart that rolls around, spreading joy in the form of vodka and beef sticks.
Sign up here for our daily Milwaukee email and be the first to get all the food/drink/fun in the Brew City.
Lacey Muszynski is a Milwaukee food writer who doesn't think there's a place in this world for plain tomato juice. Follow her on Twitter @worthhersalt.