Milwaukeeans take their alcohol very seriously. Beer and old fashioneds are not just beverages, but ways of life. We wear PBR T-shirts unironically and have koozie collections. So when it comes to our beloved booze, there's as much history to pick up as there is to drink. Here are eight brewery and distillery tours where you can actually get smarter while your BAC rises.
Recommended Video
Here's Our Travel Guide to This Nation of Over 7,000 Islands
Walker's Point
You can totally learn a few things on this tour if you pay attention, but even your beer-hating mother-in-law will still have fun. Guides are casual, snarky, and generally bearded. You'll get to smell (and sometimes taste) the different stages of brewing while you cozy up to the brew tanks. The tasting bar is right in the middle of the production room, so you never have to go without a sample for long. You'll also get a free beer token that you can use at lots of local bars and keep the party going.
Tour info: $10 gets you a two-hour tour, unlimited samples, a coveted branded pint glass, and a free beer token for later. Fridays 4pm-6:30pm every half hour, Saturdays 1pm-4pm every half hour with open house 5pm-7pm.
Miller Valley
Everyone in MKE has to do the Miller tour at least once in their life. It's free, so there's really no excuse. You'll catch a video on the beer titan's evolution and be guided through the running bottling and packaging lines, which is more mesmerizing than you'd expect. The tour winds down in the beer caves where the earliest brews were put on ice (clearly where beer masons hold their secret meetings), before heading to the beer garden for free samples.
Tour info: One-hour tour every half hour from 10:30am to 3:30pm daily. Free of charge. Three samples included.
Beerline B
The tour by which all other tours are measured. Guides are informative and genuinely funny -- though anyone talking about bungholes probably would be, especially after a few beers. The space itself isn't very large, and there's an immense demand for this tour, so prepare to make friends. If you're nostalgic and a Brewers fan, Bernie's chalet from County Stadium may be just as exciting as your free beer. Buy your tickets in advance or just wait your turn in the beer hall with some cheese curds. For the serious homebrewer, in-depth tours are available on Sundays at 11am for $30.
Tour info: $8 gets you a 45-minute tour, pint glass, and four samples. Monday-Thursday 1pm-7pm on the hour, Friday and Saturday noon-8pm every half hour, Sunday noon-4pm on the hour.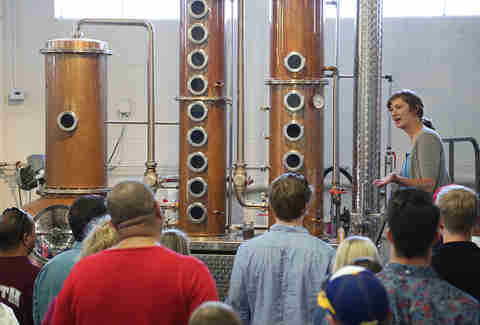 Walker's Point
Though it's technically just a tour of one big room, this one packs a punch. You get six samples of GLD's various boozes at the end, from honey and citrus vodka to absinthe. A few shots worth of alcohol in about 20 minutes makes for a fantastic start to the night. Don't forget to order a drink at the tasting room bar upstairs and bring it on the tour with you. Luckily, there are bowls of free pretzels on the tour, and popcorn at the bar. Tours on Saturday usually sell out so book ahead of time.
Tour info: $7 for a one-hour tour with six samples. Sunday-Thursday 1pm, 3pm and 5pm; Friday 1pm, 3pm, 5pm, and 6pm; Saturday 1pm-5pm on the hour.
Glendale
Soda lovers, take note: you'll love this tour. A pretty standard brewery tour of fermenting tanks, aging cellars, and bottling lines ends at an indoor beer tent where you'll be able to use the four free beer sample stubs on your wristband. You'll also be able to taste any of Sprecher's gourmet sodas in unlimited quantities, though I would recommend against bringing a to-go cup and buying it in the gift shop instead. There's 20 different beers to choose from, along with 10 sodas. Unlike most brewery tours, reservations here are required.
Tour info: $5 gets you a 30-minute tour and a sample glass, four beer samples, and unlimited soda. Weekdays at 4pm, Saturdays and Sundays noon-3pm on the hour.
Walker's Point
The tour here takes place at one end of the tasting room where the distillers are housed. It's not much of a tour, since you essentially never leave the tasting room, but who cares when that just means you'll be spending more time in a bar? You'll get to sample all of their spirits, and learn about them all in the process. Bonus: it shares a building with Milwaukee Brewing, so you can go tour hopping if you're one of those people who can handle mixing beer and liquor without a hangover the next day.
Tour info: $10 for a 45-minute tour, samples, and a branded rocks glass. Fridays at 5pm and 6pm, Saturdays 3pm-6pm on the hour.

Walker's Point
One of the newest craft breweries in the state, Brenner's brews are picking up steam. The facility is large and still sparkly clean, including the tasting room and bar. Likely Mike will be your tour guide, and he owns the brewery, so you're getting the schpiel straight from the horse's mouth. He's also a big supporter of the art community here and uses local artists' work for the beer labels. And how can you not love their logo with the little heart marking MKE? Awww.
Tour info: $10 for 30-minute tour, four samples, and a souvenir bottle opener keychain. Mondays at 5pm; Thursdays 5pm and 7 pm; Fridays 2pm, 4pm, 6pm, and 8pm; Saturdays noon, 2pm, 4pm, 6pm, and 8pm; Sundays noon, 2pm, and 4pm.
Kilbourn Town
This tour's a little different. The brewery is no longer brewing, so while technically you're touring what was once a brewery, it's really more of a beer history tour. You do get to drink a free Pabst or Schlitz during the tour, and that's enough to make up for the lack of actual brewing. The buildings and spaces are beautiful -- there's a ton of weddings held here -- so if you're into MKE history and architecture this is your tour. Photo ops with statues of Captain Pabst and King Gambrinus, the patron saint of beer, are way better than any bronze Fonz selfie.
Tour info: $8 for a one-hour tour with one free beer. Mondays, Wednesdays, and Thursdays at 1pm and 3pm; Fridays and Saturdays 11am, noon, and 1pm.
Sign up here for our daily Milwaukee email and be the first to get all the food/drink/fun in the Brew City.
Lacey Muszynski is a Milwaukee native who loves the Mooncusser at GLD: a double dose of MKE with Roaring Dan Rum and Sprecher soda. Follow her on Twitter @worthhersalt.