Milwaukee may be Brew City, but we know our way around cocktails just as well as beer. Case in point: the Wisconsin-style Old Fashioned, which pretty much keeps Korbel in business (yeah, in other parts of the country, this drink is made with rye -- insane, we know). So whether your liquor of choice is brandy, gin, or whiskey, there's plenty of high-quality cocktail bars to choose from in MKE. We've rounded up the top options, from swanky to Tiki -- and everything in between.
Recommended Video
This Restaurant Sells 20+ Types of Poutine
Juneau Town
If you're looking for a stylish place to have a bite and a couple bourbon-based cocktails Downtown, then Distil is your bar. Of course you can get cocktails made with other spirits, but since it identifies itself as a bourbon bar, you might as well stick with favorites like the bourbon sour shaken with egg white, or the whiskey rebellion with Campari and orange bitters. Bonus: it also makes a mean burger with bourbon onion jam.
Historic Mitchell Street
Arguably the best bar in Milwaukee, Bryant's started in 1938 and hasn't lost steam yet. Several popular drinks that are now Wisconsin supper club classics, like the Pink Squirrel, were actually invented here. There are no drink menus, a move that's intended to prompt a conversation with the bartender -- which can help you find the perfect drink you never knew you wanted. Bar rules, like only patrons with a seat can get a drink, keep the atmosphere relaxed, even if there's a line out the door.
Bay View
A staple in its residential neighborhood, At Random really hasn't changed at all since opening decades ago. There are still shiny banquettes, fake flowers, retro light fixtures, and that all-encompassing red mood lighting. Drinks are of two varieties: with or without ice cream. Ice cream drinks will get you mounds of whipped cream and a cookie around the straw, while most other drinks are Tiki-influenced, complete with paper umbrellas, or are served in a huge bowl for sharing. Don't be that guy trying to order a beer in here -- they don't even carry any.
Bay View
What do you get when a distillery joins with a bitters company? A fascinatingly experimental cocktail-tasting lab. Twisted Path Distillery has partnered with Bittercube to elevate its tasting room to the next level, incorporating homemade tinctures, tonics, and infusions. The menu changes weekly, and includes a handful of cocktails, plus infusions involving ingredients like lavender and melon. Unlike most bars, you'll want to make a reservation here, so you might as well go all out with a two-hour omakase-style tasting.
Riverwest
In a city where winter can last five grueling months, it's no surprise that a vacation-like Tiki bar is popular. The interior of Foundation is exactly what you'd expect: bamboo, fish tanks, surfboards, and seashells in copious quantities. Drinks come in ceramic barrels, volcanoes, and little replicas of those giant stone mo'ai heads, and are filled with rums, fruit juice, and ginger beer. This spot can get crowded, but if you snag one of the secluded booths in the back, you'll feel like a VIP.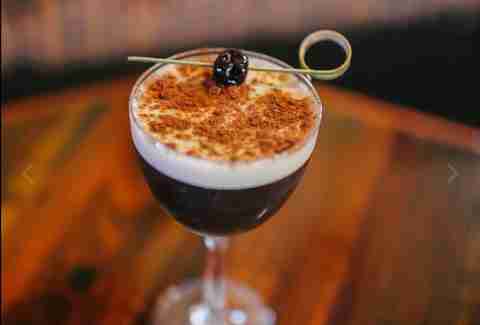 Bay View
B&C is dark, intimate, and full of hipsters (though they tend to be pretty chilled out and make for great people-watching, so don't worry about getting that judgy feeling here). With antlers on the walls, you may mistake this place for a dive bar, but the quality of the cocktails indicates otherwise. Barrel-aged cocktails are the thing to get here, and we especially recommend the classic Old Fashioned. The back patio is a welcome retreat in warm weather, which is also where Gypsy Taco makes its permanent home. Who knew tuna tacos and barrel-aged negronis would go so well together?
Murray Hill
Given its name and location on a stretch of North Ave that's full of bars, The Hotel Foster probably gets a lot of inebriated individuals looking for a place to sleep. There are no rooms here, but what you will find is a great (if short) happy hour, karaoke, and plenty of classic cocktails, like Manhattans, sazeracs and Tom Collinses. Stained-glass church windows, a huge American flag, and vintage chandeliers may seem like a jumble of decor, but once you have a couple drinks in you, you can tell that it's the antlers that really tie the room together.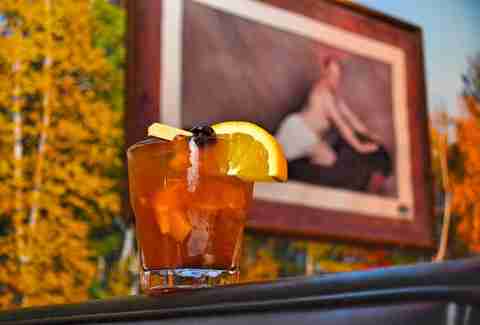 East Village
Bucking the super-swanky, plush-lounge image, Fink's is the everyman's cocktail bar. From the row of pinball machines, to the kitschy red glass candle holders found in every pizzeria ever, there's no pretentiousness to be found here -- despite the fact that the cocktails are top-notch. Wear cargo shorts and bring a board game; no one cares. Grab a classic cocktail, or opt for one of the house recipes, like the Tuscan Leather, which is comprised of bourbon, spiced pear liqueur, vermouth, and bitters.
Bay View
Though a restaurant first, Goodkind's bar is pumping out some of the most creative and delicious cocktails in the city, thanks to bar manager Katie Rose. The horseshoe bar takes up half the space of the quaint dining room, reminding customers that they better order a drink. Ingredients like celery bitters, cilantro water, and apricot garam masala syrup make for unique, complex drinks with fanciful names like In the Rain on Royal St -- our favorite -- and Harvey Moyman, Esquire III.
Sign up here for our daily Milwaukee email and be the first to get all the food/drink/fun in the Brew City.