The Best Cocktail Bars in Milwaukee
Just because Milwaukee's nickname is Brew City doesn't mean that's all we drink. We love our brandy old fashioneds just as much as Spotted Cow. So when we're looking for a suds substitute, there are plenty of spots for tiki rum barrels, homemade vermouth, and more Mad Men-style cocktail lounges than you can shake a cigarette at. Next time you want to branch out from your corner tavern, check out one of these: the best cocktail bars in Milwaukee.
Uptown Crossing
Experimental tasting room of bitters company
Bittercube is a gourmet bitters company, and when they made the move to the Uptown Crossing neighborhood, they also opened their own bar. It feels more like a modern living room or kitchen than a bar, with homey touches and minimalist furniture. There's a lot of experimenting going on here, and a number of non-alcoholic options, too. They utilize the strained botanicals from making bitters, what would normally be waste, and turn them into complex concoctions. And since this is essentially Bittercube's tasting room, you can pick up a bottle or two of your favorite variety on the way out.
Bay View
Ever-changing global small plates and cocktails
Odd Duck's menu of small plates is constantly in flux depending on what's available and in season, and it only makes sense that their cocktail menu follows the same path. They eschew the cutesy drink names here in favor of numbers, though a few have short names so you know it's their version of a Manhattan, for instance. Kitchen ingredients and herbs and spices are used heavily, like ras el hanout syrup and Greek yogurt along with date-infused Applejack in No. 10. Ever want to combine your daily dose of health food store carrot juice with booze? You can do that here, just order No. 20.
Historic Mitchell Street
Swanky, historic, and nationally recognized cocktail lounge
Arguably the best bar in Milwaukee, Bryant's started in 1938 and hasn't lost steam yet. Several popular drinks that are now Wisconsin supper club classics, like the Pink Squirrel, were actually invented here. There are no drink menus, a move that's intended to prompt a conversation with the bartender -- which can help you find the perfect drink you never knew you wanted. Bar rules, like only patrons with a seat can get a drink, keep the atmosphere relaxed, even if there's a line out the door.
Walker's Point
Whimsical vermouth bar in a boutique hotel
Located inside the posh Hotel Madrid, Vermuteria 600 has an atmosphere to match, but with lots of silly, unpretentious touches. The main draw is the housemade, on-tap vermouth, which is best drank mixed with seltzer out of a ceramic T. rex named Tomas. Sure, you can get a classic like a paloma, but why not get the Baby Yoda-themed cocktail made with boba tea? Every little detail is paid attention to at this bar, right down to the classic novels your check is delivered in or the red licorice straw sticking out of some drinks.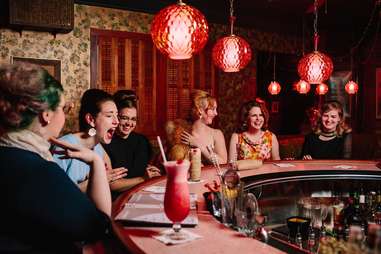 Bay View
Dimly lit romantic spot with a Rat Pack vibe
A staple in its residential neighborhood, At Random really hasn't changed at all since opening decades ago, even with a recent new owner. There are still shiny tufted banquettes, vintage light fixtures, and that all-encompassing red mood lighting. Drinks are of two varieties: with or without ice cream. There are pages of ice cream drinks in the menu, and all will get you mounds of whipped cream and a cookie around the straw. The giant Tiki Love Bowls are back too for your group's sharing pleasure.
Bay View
Lounge-like bar with playful mixed drinks
The Lost Whale moved into the old Boone & Crockett spot, and it's brought a similar vibe and focus on cocktails. The space is bright, cheery, and mod, with a lounge feel thanks to a wall of comfy blue club chairs. The cocktail menu mixes classics (Harvey Wallbanger, anyone?) and whimsical, incorporating ingredients like Crunch Berry infused milk and Jolly Good fruit punch soda in an Oops Not Berry's drink. Don't be surprised if your cocktail comes with something clothespinned to the rim, from a dried apple slice to a cartoon Beetlejuice tattoo.
Walker's Point
Cozy bar with exceptional gin and whiskey selections
Bars in Walker's Point tend to be a little more down-to-earth than the other bar hotspot, Bay View, and Tin Widow is no exception. It's dark, cozy, and intimate, thanks to numerous candles and a lounge-like area at the back. Gin is the spirit of choice here, and they probably have more types than any other bar in Milwaukee. (There's a sizable whiskey collection, too, gin haters.) Get your favorite gin mixed in a Negroni, or try their delicious signature Old Fashioned made with mysterious "Love Juice." If you're looking for a warm bar to watch the snow fall outside, you really can't get much better than Tin Widow.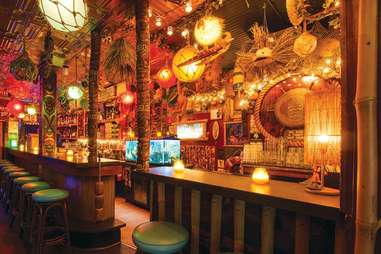 Riverwest
Classic tiki drinks in a kitschy, fun atmosphere
In a city where winter can last five grueling months, it's no surprise that a vacation-like Tiki bar is popular. The interior of Foundation is exactly what you'd expect: bamboo, fish tanks, surfboards, and seashells in copious quantities. Drinks come in ceramic barrels, volcanoes, and little replicas of those giant stone mo'ai heads, and are filled with rums, fruit juice, and ginger beer. This spot can get crowded, but if you snag one of the secluded booths in the back, you'll feel like a VIP.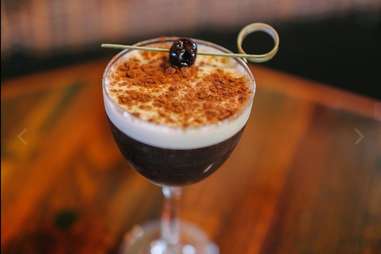 Harbor View
Rustic chic spot for cocktails and whiskey
Boone & Crockett recently made a big move from their small space on KK Avenue to a much larger spot on KK River. It's kept the same laid back, hipster-meets-Up-North vibe though, and now it can even kayak to it, which is actually northwoodsy. Barrel-aged cocktails are the thing to get here, and we especially recommend the classic old fashioned. The patio and outdoor bar is a welcome retreat in warm weather, which is also where the Taco Moto truck makes its permanent home. Who knew tuna tacos and barrel-aged negronis go so well together?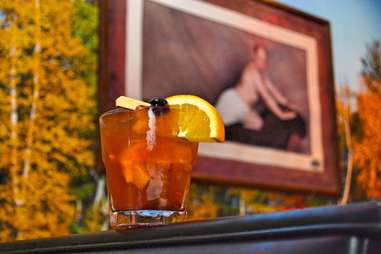 East Village
Unpretentious, everyman's cocktail bar
Bucking the super-swanky, plush-lounge image, Fink's is the everyman's cocktail bar. From the row of pinball machines, to the kitschy red glass candle holders found in every pizzeria ever, there's no pretentiousness to be found here -- despite the fact that the cocktails are top-notch. Wear cargo shorts and bring a board game; no one cares. Grab a classic cocktail, or opt for one of the house recipes, like the Tuscan Leather, which is comprised of bourbon, spiced pear liqueur, vermouth, and bitters.
Bay View
Cozy restaurant with unique cocktail program
Though a restaurant first, Goodkind's bar is pumping out some of the most creative and delicious cocktails in the city, thanks to bar manager Katie Rose. The horseshoe bar takes up half the space of the quaint dining room, reminding customers that they better order a drink. Ingredients like celery bitters, cilantro water, and apricot garam masala syrup make for unique, complex drinks with fanciful names like In the Rain on Royal St -- our favorite -- and Harvey Moyman, Esquire III.
Sign up here for our daily Milwaukee email and be the first to get all the food/drink/fun in the Brew City.