Milwaukee has a lot of nicknames, ranging from obvious (Brew City) to ambiguous (Cream City), but perhaps the most fitting moniker of them all would be Dive Bar City. We've got a tavern on every corner, and we love our neighborhood dives just as much as we love festooning our homes with green and gold. These 14 dives are our second homes, so go ahead and make yourself comfortable.
Juneau Town
Do people ever fall for the old clever bar name trick anymore? We can't imagine "I'm heading to My Office" works on anyone anymore, especially when it's 6:30pm on a Friday. The name still warrants charm, since it's a corner tavern stuck into the middle of Downtown. If you're afraid of the flying Dracula from some bygone Halloween inside, then sip your beer outside on the quasi-patio window ledge bar. Many a beer have been chugged here before heading home after work.
Riverwest
Don't let the fact that you have to be buzzed into the front door by the bartender distract you -- it's to keep riff raff out, not because this is an exclusive club. Once you're in though, you're family. Bartender Connie has been there almost as long as Randy, the owner, some 30+ years, and there's a couple of beagles roaming around to pet. It's a common occurrence that a nice regular at the bar will buy everyone a round in the form of business card-like free drink coupons. There's no food, but Connie makes a mean taco for $1.50 taco night Wednesdays.
Harbor View
The George of George's Pub is a retired veteran and country music singer. His band, the Nashville Rejects, played the State Fair, festivals, and weddings regularly, and memorabilia from the band is all around the pub. If you're lucky enough to go to George's while he's working the bar, be sure to ask for a serenade. He's been known to belt out Ring of Fire on request with his gravely Cash-like voice.
Riverwest
Milwaukeeans unabashedly love bowling, and there is a number of taverns with old bowling alleys in the city. The six lanes in the basement of Falcon Bowl date to 1913, but the building is even older. This is the home of Nest 725 of the Polish Falcons, a fraternal organization that we can only assume is like the Freemasons, but with way more vodka. If you're Polish in Milwaukee (highly likely,) then get your dupa in here and bowl while you enjoy some obscure Polish booze.
Historic Mitchell Street
Yep, another bowling alley, but this one's mini! It's called duckpin: the balls fit in your hand and the lanes are half the size of a normal lane. That means anyone can bowl, even if you've had far too many Old Fashioneds. Those little pins really go flying, so don't forget to tip your pinsetter. You don't have to bowl while you're at this tavern, but you'd be stupid not to.
Lower East Side
Wolski's is like Wall Drug: you see bumper stickers about it everywhere. If you stay until closing on any night, you get a coveted bumper sticker that reads "I closed Wolski's." It's really not that hard to procure one though, since we are all old pros at staying lucid until closing time (right?). Then the stickers get stuck everywhere. Whoever came up with that sticker idea was a marketing genius.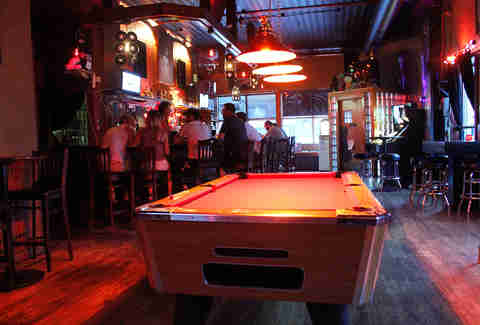 Walker's Point
Chill bartenders, great music, and MKE's shortest and cheapest happy hour are what make Sabbatic stand out in dive bar city. Keep an eye on the time and get ready to order as many drinks as you can between 7-7:15pm each night, when most stuff is a whopping 99 cents. Like most dive bars, try to use the bathroom as little as possible, and when you must, just ignore the grime.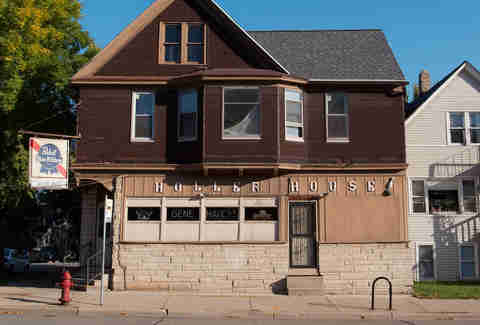 Forest Home Hills
Holler House has the oldest certified bowling alley in the US, dating to 1908. The pins are still set by actual human beings, generally local kids, and you call ahead if you want to bowl so they can get a pinsetter for you. There's also bras hanging from the ceiling, because tradition states that you remove and sign your bra on your first visit. Its fate was in jeopardy in 2013, however, when an inspector deemed it a fire hazard. The local alderman pulled some strings though, the bras were put back up, and all was right with the world once again.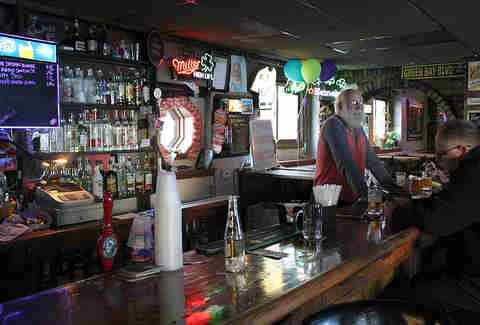 Walker's Point
Don't come to Art's if you're looking to be alone. Art won't let that happen. As soon as someone walks in the door of his little shack, he's welcoming you and regaling you with tales of his old Buick or playing dice with the regulars. There's a small kitchen and there're a few cheap specials like burgers and fried chicken, but the real deals are free pizza on Wednesday nights, or just whenever else Art feels like bringing in food.
Lower East Side
All holiday decorations stay up year-round at Y-Not II because it's just easier to leave them up. There's always free popcorn, and lots of nooks and ramshackle booths to eat it in. That bar next door that you spied from the sidewalk on the way in? That's the same place too, but it's the morning bar, and only open in the mornings. Therefore, they're open just about as much as they legally can be.
Burnham Park
Kochanski's is a beautiful mashup of the old Polish neighborhood and rock music. Its two stages regularly feature Polish polka bands, rockabilly, bluegrass, and rock, sometimes dueling on both stages at once. Looking for an obscure Polish beer? You can get it here. And any potential thieves: don't burgle here. Owner Andy Kochanski shot and killed the last armed intruder, and was supported by the cops and the neighborhood. Hardcore.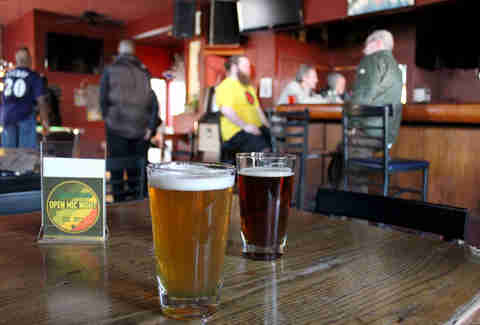 Riverwest
The oldest continuously running tavern in the city, Uptowner opened in 1884. There weren't any pinball machines back then, but it's always served as the "home of the beautiful people," a tongue-in-cheek self-descriptor. Anything this old is quirky, and Uptowner is no exception. Stuff on the walls regularly disappears and reappears once the thief regrets his decision to take a memento, and the hand-washing sink is located outside the actual bathrooms. Plus it opens in the morning, because day drinking.
Riverwest
The new old kid on the block, High Dive feels like it's been around longer than just a few months, thanks to the fact that the owner didn't remodel the place to look like every other bar. Live music is the main draw, and everyone just sort of crams around the band in a mess of sweaty bodies. That's OK though, because drinks are cheap and will make headbanging with the band way more enjoyable.
Wauwatosa
It seems that everyone who lives in Tosa goes here, but very few people outside the area do not, even though it's been around for over 40 years. It's pretty large, with a bowtie-shaped bar and a couple back rooms, all lit with old school stained glass lamps in team colors. You can get standard bar food like butter burgers and fried stuff, which is all cooked right behind the bar. That way, you can yell at the bartender/cook to wash his hands before he makes your sandwich.
Sign up here for our daily Milwaukee email and be the first to get all the food/drink/fun in the Brew City.
Lacey Muszynski is a Milwaukee native who wishes she had better dive bars in her neighborhood. Follow her on Twitter @worthhersalt.