Whether we just want to get in and get out with our caffeine fix or we're setting up a makeshift office for a few hours, coffee shops are an integral part of our daily lives. In Milwaukee, we're blessed with an abundance of great local roasters who take the time to blend and source their beans carefully and to high standards. Each cafe has a different personality, so here are the best coffee shops in Milwaukee broken down by vibe.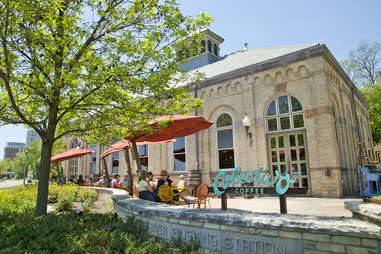 Lower East Side
Milwaukee's homegrown coffee shop has become a small chain with lots of area locations plus some in Madison and Chicago. The Lakefront Colectivo is an extra special place though, from its 1888 River Flushing Station building to its expansive, bustling patio that hosts dogs and live music. You'll always get the lake breeze while you sip a cortado and nosh on a salmon sandwich since you're just steps from the water. For a legit concert experience, head to The Back Room, a music venue in their Prospect Avenue location.
North Division
Customers come from all walks of life at Coffee Makes You Black, a diner-like coffee shop on Milwaukee's north side. Since opening in 2001, it's become a true part of its community, and when revenue dropped dramatically last year due to endless road construction, that community came out to support the business in a time of need, too. The atmosphere is laid back and welcoming, and it doesn't hurt that the menu includes substantial favorites like pancakes, chicken and waffles, and biscuits and gravy.
Silver City
If you're biking the Hank Aaron State Trail near Miller Park, forget the Gatorade and head to Velobahn for a coffee break instead. It's located right next to the trail so it's plenty convenient and a lot more interesting than a CVS run for hydration. The industrial feeling open space is chill and minimally decorated with a few bicycles hanging from the high ceiling and a small stage in one corner for live performances. Local Pilcrow coffee is served in the usual configurations, along with Rishi Tea, whose headquarters is just down the street.
Town of Lake
Primarily a local supplier of espresso and single-blend coffees to businesses, Hawthorne opened up a rustic, no-frills coffee shop in a neighborhood that sorely needed one. With its open space and shabby chic furniture and decor, it quickly became a gathering point for local residents. Pour-over coffee is the centerpiece, but whiskey and cocktails are available too. Bonus: The Foxfire food truck is always parked outside, and they make one of the best hot fried chicken sandwiches (and chicken and waffles, and tenders, and burgers) in the city.
Yankee Hill
Sometimes you just don't want coffee, but you want to chill in a cafe for a while. That's where Fairgrounds comes in, a small chain based in Chicago that recently opened its first location in MKE. There is a large selection of beverages here, from matcha and kombucha on tap to those beautiful, creamy rainbow colored drinks that are begging to be on Insta. And yes, plenty of coffee too. Unlike most local spots, though, there's a variety of brands available from all over the country, like Portland's Stumptown. The space is sunlit and cheery -- plus there's a substantial food menu.
Brady Street
Possibly the most underrated coffee shop in the city, Dryhootch is a non-profit organization dedicated to helping veterans return to civilian life smoothly. Veterans run the cafes, which serve as alcohol-free gathering points for support, employment, outreach, and anything else veterans may need. You'll find civilians and veterans of all walks of life here, connecting through their common bonds of service to our country and service to our veterans. If there's any better goal for a coffee shop, I don't know it. Plus, the lovely little courtyard patio is about as bucolic a getaway as you can get on Brady Street.
Menomonee River Valley
This is one local chain that many people don't realize is local. They started here in Milwaukee but their brand is so sleek and put together, it kind of feels like a big chain... which makes it the perfect spot if you're feeling guilty because you want to support local, but can't kick your Starbucks habit. The two-story factory cafe location downtown is large and offers lots of quiet nooks and different types of seating, including big desk-like tables where you can spread out paperwork and cozy couches in front of the fireplace upstairs.
Brady Street
Rochambo is what would happen if you asked a hippie to design a new-age, French-inspired arthouse cafe. It fits in perfectly on Brady Street, where art and self-expression rule. They serve Valentine coffee here, with their own custom blend. There are also teas, juices, and things to buy like "healing balm" and local kombucha, but the kicker is the booze. The Irish coffee with Tully Dew and freshly whipped cream is legendary, but you can get coffee and liquor combos of all sorts. Now that's a great way to start the day.
Halyard Park
If you're serious about great coffee, then Pilcrow is where you need to head. The cold brew here won the America's Best Cold Brew Competition in 2017, and their espresso has won twice too. Their specialty is cold brew infused with nitrogen gas that gives it a creamy finish and beer-like head. The warehouse location on the North side is small and bare bones, but the point is the coffee anyway. For a more traditional relaxing cafe experience, head to the East side's Interval, which is owned by Pilcrow, and has a beautiful cozy, retro space.
Washington Heights
The brewing at Vennture is of the coffee and beer variety. It's common to see someone sipping an espresso with beans from Tanzania sitting next to a couple of friends working their way through a beer flight at the bar. The simple space really strikes a balance between inviting coffee bar and brewery tasting room, complete with a stack of board games. If you're in a hurry, there's a quick honor coffee bar where you can even pay electronically. But to really get a sense of the spirit here, check out the community cup wall, where you can pay it forward and buy a future cup for anyone that needs it.
Bay View
Coffee and pizza and wine... it's basically all our favorite things. There are five locations of this local roaster, but the Bay View outpost is primo with a huge Italian wood-firing pizza oven that churns out Neapolitan-style pizza, and a liquor license to boot. You can get everything from classic margherita pizza to one topped with multicolored potato slices, garlic and rosemary, plus five different types of crostini for cheap if you just need a snack. Coffee will always be Anodyne's first love, though, and they roast their beans in small batches at their Walker's Point location.
Washington Heights
Both of the founders of Valentine Coffee Roasters have roots in wine, so it's no surprise that they call the small cafe attached to their roastery "the tasting room," like at a vineyard. They analyze their beans and roasts just like sommeliers scrutinize wine, too, looking for just the right blend. There are also a number of single-source, small-batch varieties from all over the world, making this a great spot for coffee aficionados. Classic Italian coffee drinks like the macchiato are available, but try a simple pour-over to really taste the differences in their blends.
Sign up here for our daily Milwaukee email and be the first to get all the food/drink/fun in the Brew City.