Long live the great Milwaukee brewery explosion of 2016. Brew City has welcomed an extremely solid eight new breweries so far this year, and more are slated for the near future. It's a long-overdue trend that has both brewers and beer lovers thrilled. Get to know a few of the new names when it comes to suds -- and prepare for the wave to continue. Cheers!
Recommended Video
Stay Classy This Winter With a Spiced Pear Tom Collins
A touch of northern Wisconsin in Milwaukee, Black Husky uprooted itself from its original Northwoods spot in rural Pembine, and landed smack in the middle of bohemian Riverwest. Brewer Tim Eichinger and his wife Toni brought with them some great beer, including Sproose Joose, an imperial IPA flavored with actual spruce tips. The big wooden bar in the middle of the place is a popular spot for throwing back these well-made brews.
A brewery that is truly in touch with Milwaukee's beer-drinking German ancestry, the Bavarian Bierhaus revamped the legendary -- but closed and empty -- Bavarian Inn, and opened in early 2016. The place offers a full slate of lagers, hefeweizens, dunkels, bocks, and a pale ale or two to a thirsty public. Those brews are essential to wash down a food menu loaded with schnitzels, sausages, and other hefty German fare.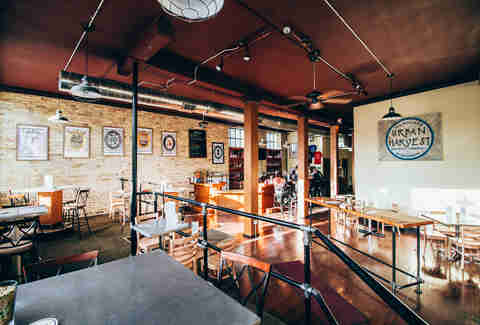 Urban Harvest resides on a lightly trafficked, but oddly cool, portion of Fifth Street. Its inviting brick interior is perfect for a taproom that offers a slightly more laid-back feel than a few of the other new breweries. But beer drinkers don't come just for the ambiance. More than a dozen Urban Harvest ales, lagers, and other styles are on tap, which means plenty of reasons to keep coming back.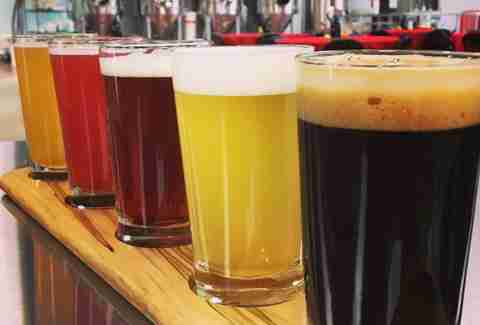 Not all of the new breweries in the area opened in Milwaukee. Cedarburg also got into the beer game in 2016, and folks in the northern suburb should be pretty happy about it. Brewer Kris Volkman is doing things right; he doesn't concentrate on a single style, but he certainly is adept at flavor. The rapidly changing taproom beer list includes well-crafted porters, sours, ales, and lagers. Good beer and a welcoming and open bar area make it worth the 40-minute drive from Downtown -- just flip a coin with your friends to ensure someone stays sober to DD.
Co-owner Justin Aprahamian is a world-class chef, which means he's not a bad guy for his partner John Lavelle to team up with when it comes to creating a brewery. The two are conjuring up a lot more than everyday beer styles at the bright and inviting neighborhood spot. A rhubarb sour? Yep. A saison made with Rishi Tea lemon peel? Sure. The beers are definitely creative, and because Aprahamian knows a thing or two about food, the menu of items coming from the kitchen nicely complements the beers pouring from the taps.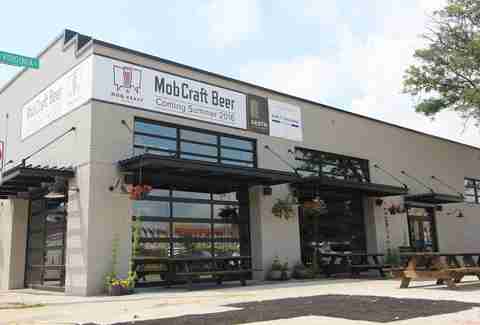 These guys crowdsource their beer ideas, which means that each recipe is submitted by brewers and beer geeks, which are then voted on. MobCraft then brews the ideas that prove to be the most popular. The result is a sometimes-crazy assortment of styles, like Hop Cobbler, a cinnamon apple weiss, or the popular Bat$h!t Crazy Coffee Ale. Try a bunch of them at the stylish and modern taproom, which opened in the summer of 2016 after the brewery moved its operation from Madison.
The motto here is, "Seek the good." The good is pretty easy to find at this brewery on Milwaukee's hip East Side. Brewmaster Andy Jones and his co-owners spared no expense when they created the spacious but comfortable brick-walled taproom. Hopheads have plenty to choose from coming from the massive brew kettles in the back. Jones seems to lean toward IPAs and pale ales and he does them all well. Good City isn't just about the drink, though; the complex menu offers a whole lot more than average bar food.
Third Space planted it roots in the Menomonee Valley, down the street from Sobelman's and a poker chip's throw away from Potawatomi Casino. The location in the industrial corridor gives Third Space plenty of room to work with, and brewer Kevin Wright makes the most of it. The huge warehouse provides Wright with space to brew, and gives patrons a whole lot of space to drink. Expect to see West Coast styles done well from Wright, who learned a thing or two by attending the University of California-Davis Master Brewers Program.
Sign up here for our daily Milwaukee email and be the first to get all the food/drink/fun in the Brew City.