Milwaukee sports fans are loyal and enthusiastic (just head to the Deer District for all the proof you'll need), even when we've been tapped to pay for new arenas and stadiums. When we can't hop on a shuttle to Miller Park or score an affordable ticket to a Bucks game, we head to sports bars to commune with our people while chowing down on wings and guzzling beer. There are a surprising number of great sports bars in the suburbs around the city, too, so don't count out a little drive. If you're looking for a little camaraderie, these bars are your best bet.
Brady Street
Busy soccer pub with colorful, expansive patio bar
Nomad is a solid Brady Street bar any time, especially given their happy hour prices that start at a buck. But come footy and World Cup season, it's a totally different, raucous atmosphere. The back patio has a Brazilian vibe and is the spot to be no matter the weather. Its covered bar is almost larger than the one inside, and there's a little shack that serves burgers, snacks and spit-roasted chicken. When there aren't any sports going on, there's often DJs, cookouts and other events.
Juneau Town
Vintage-feel bar with a globally inspired menu
SportClub isn't the flashiest sports bar with the biggest TVs, but it's got a unique vintage collegiate atmosphere and vibe that's more chill than ear busting -- not that people won't be cheering during the games. The food menu is more eclectic than most bars, with everything from a sesame tuna bowl to beet and goat cheese salad, but plenty of stuff like totchos, too. Draft beers are plenty and varied, though there's always a 40-ounce High Life fallback, which just happens to be on special Tuesday nights.
Brookfield
Suburban bar with an exceptional beer list
Yes, Champps is technically a chain, and yes, Brookfield is usually not worth the hike. But the owner of this Champps has focused intensely on craft beer, and has developed a program that's one of the best in the city. Brewery owners often stop by for special tappings, there's 50+ taps to choose from, and rarities aren't so rare here. The space is large and open, with a snaking bar and great TV sighlines. If you are a craft beer fan first and a sports fan second, then this is the Packers/Brewers/Bucks/Badgers bar for you.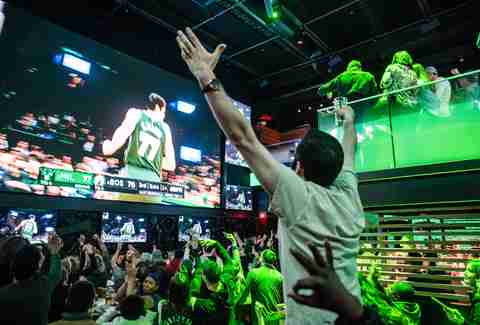 Deer District
Massive, multistory sports bar in the Deer District
Perhaps the centerpiece of the entertainment district that was developed immediately surrounding the Fiserv Forum, The Mecca is a sports fan's feverish dream. The main screen is 38 feet tall and spans two stories, so everyone in the 750-capacity place has a great view. And there are 60+ other TVs, just in case. The standard bar food is hit or miss, but it's hard to beat the atmosphere and location, so plan on chowing down someone else first. When there's an event going on in the square outside, the second story balcony is a great place to people watch.
Halyard Park
Energetic northside bar that hosts many events
Owned in part by the man who runs the popular, sports-themed barber shop next door, Gee's Clippers, Skybox serves just as much as a community gathering spot as a sports bar. Live music, TV show viewing parties, pop-a-shot basketball, soul food Sundays, and even hookah means you don't have to even care about sports to have a good time here. Though if there's a big game or fight on, every eye will be trained on the TVs, so fair warning.
Kilbourn Town
Reliable game-watching spot just off the Deer District
This bar sits on a stretch of Old World Third St that's full of taverns and restaurants, only a block away from the Bradley Center and Panther Arena. (Once the new Bucks arena is built, you'll have to walk another two blocks.) TVs line the wall behind the bar, but the projection screen at the end of the long, narrow space can be seen by everyone. Get the mac & cheese and bacon-topped brat -- it's pretty much Wisconsin in a nutshell.
Greenfield
Northwoods themed bar with projection screens in the southwest burbs
Though the up north cabin theme -- complete with taxidermy and fish tanks -- may seem out of place in a sports bar, the vaulted ceilings with projection screens high on the walls make up for it. This place is raucous during games. There's different food and booze specials during each team's games, so whether you want a pitcher of wings or a fishbowl, you're covered.
New Berlin
Suburban bar with great, TV-filled sunroom and patio
Don't let the size and age of the original bar area fool you when you walk in; Matty's is a modern wonderland of prime sports viewing spots. A large, greenhouse-like dining area leads out onto the patio, which is where the real fun happens. Outdoor TVs and fire pits mean you can pretend you're watching the Packers game at the frozen tundra even during December.
Menomonee River Valley
Potowatomi's sports bar with game lines
There is not a single bad seat in the house at the sports bar in Potawatomi. The dining area is surrounded on three sides by soaring TVs and projection screens, so everywhere you look there's multiple sports in your view. There's always a ticker with the latest sports betting odds and results, if you're into that kind of thing. You are in a casino, after all, so you may as well partake.
Kilbourn Town
Old reliable downtown sports bar
Right across the street from the Panther Arena, Goolsby's is always hopping before and after Admirals, Panthers, and Bucks games. It's been around for decades, and it's a little dingy, but the TVs have been updated, and really, isn't that the important part? If you're a fan of breaded wings, you'll be thrilled with the crunchy version here, topped with a buffalo-like sauce and a Cajun dry seasoning.
Story Hill
Brewers bar with popular free shuttles
You can watch any local team's games at Kelly's and have a great time, but it's Brewers games that really get the place hopping, mostly thanks to the free shuttle service they run to Miller Park, along with most of the bars on the same stretch of Bluemound Rd. The Opening Day party here is a must, and when you get back from the game, use your ticket stub to get drink specials.
West Milwaukee
Quirky cross between a sports bar and fine dining
This spot is the make-your-own-adventure-story of the tavern world. It's a true sports bar, with memorabilia and TVs all over, but it's also a restaurant serving everything from ham sandwiches to lobster. There's no menu, just pick what you want from the cooler and discuss how you'd like it prepared. It's probably the best -- and priciest -- bar food you'll ever have.
Bay View
Soccer bar open early for games
The Highbury is the place to go if you're a soccer -- sorry, footy -- fan. It opens at 6 or 7am on weekend mornings for matches, and you'd be surprised how many people pack into the bar that early in the morning. The beer selection is extensive, with a lot of choices from across the pond. It doesn't have a kitchen, but you might get a Pop-Tart with your Irish coffee in the morning.
Sign up here for our daily Milwaukee email and be the first to get all the food/drink/fun in the Brew City.