10 things you didn't know about Surly Brewing Company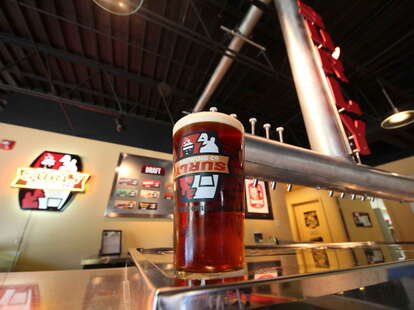 If you're from the Twin Cities, you're looking forward to the Twins being out of contention in, like, May, and to your next beer from Surly Brewing. In a city that's wild about craft beer, it's widely considered to be the best, and it's on tap at almost every bar you go to. But, as familiar as you may be with its hoptastic goodness, there're some things you probably didn't know about Surly Brewing. 10 of them, in fact...
1.Surly's beer is brewed in a factory once used to create industrial abrasives. The company, which basically made sandpaper, was run by the founder's parents for 35yrs, and he created an "over-hopped, under-brewed" Double IPA called Abrasive (and with almost twice the amount of hops & malt as normal IPAs it certainly is) in their honor.
2. The Surly Ultimate Frisbee team is basically the Yankees of frisbee. Seriously, they've won four national titles!
3. Surly's head brewer once appeared in a movie with Nicholas Cage. His metal band, Powermad, made a strange (even for David Lynch) cameo appearance in Wild At Heart, where they go from playing their own music to Elvis Presley's with Nicolas Cage on the mic.
4. Surly Beer has been enjoyed on all seven continents. Yup, even at the South Pole!
5. Beeradvocate Magazine named Surly the "Top American Brewery" in 2007. Just one year after Zinedine Zidane was sent off in the World Cup final for headbutting Italy's Marco Materazzi! they sold their first keg.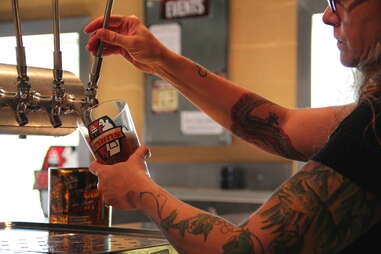 6. Yes, Surly's started in a garage. President Omar Ansari was given a homebrew kit from St. Paul's legendary Northern Brewer, in 1994, and they still use it today for test batches.
7. It's never too early for a Surly. Thanks mostly to their Coffee Bender: these dudes make lots of creative suds, but this is the only one made using real coffee and a cold extraction process that gives it an iced AM-beverage flavor, and you a buzz that comes from more than just alcohol.
8. The Prohibition prevented Surly from opening a taproom. Their desire to build a $20 million destination brewpub is largely to thank for Minneapolis' new Taproom Bill, which will finally allow people to make and sell beer in the same place.
9. Surly's original brewing equipment was all made in Wisconsin. But it had to be imported from the Dominican Republic? Yup.
10. You can actually get Surly Beer on Sun Country Airlines flights. So, you've got a new favorite airline, and one less reason to feel so... well, surly when you fly.