The Lounge has been around for nearly 20 years, which is like 200 in club years, and thanks to this serious interior overhaul, it's never looked better. Enter, Rouge at the Lounge: Gone is the exterior garage door entrance, replaced by these frosted-glass double doors. The main bar's been totally reconstructed and includes the addition of an LED-lit top made from onyx, so if someone does spill on it, you'll probably end up with Sticky Fingaz. Whereas the booze used to sit precariously on hanging glass shelves, the new inserts are hammered bronze. The booths in the VIP are shiny black vinyl, the perfect place to whip up a cocktail. That area behind the lace curtains? That's the owner's booth, son, and you will never get in. Oh wait, actually, it can be rented... at which time it becomes the subletter's booth, son. The bar in the front room was entirely rebuilt. Even if you're into chicks, c'mon: how sexy is that bar?? This seating next to the bar is open to all, and is a great snag for any Joe Non-VIP. Through it all, they decided not to change the ever-epic faux-stone-block, fake-stained-glass-windowed Cathedral Room. Pray to fake-god that they never do.
Recommended Video
The Mexican-Style Grasshopper Tacos You Have to Try When You're in South Beach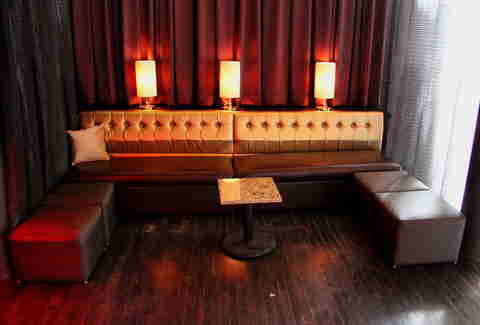 Previous Venue
Next Venue
Venue Description
1. Rouge at the Lounge
411 2nd Ave N, Minneapolis, MN 55401
This sleek nightclub has three distinct rooms featuring space that includes faux-stone-block and non-faux-brick walls, black vinyl booths and a red LED-lit bar that perfectly accents the rest of the sexy interior, as well as a private area that can be rented for parties or one overindulgent egomaniac.