MSP's 7 best Bad Decision Bars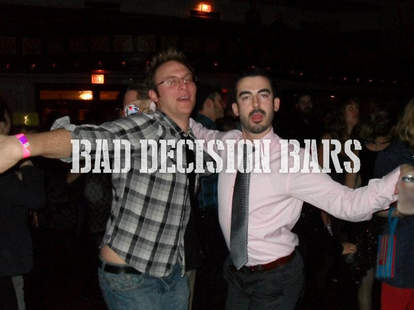 For a brief, brilliant moment, there existed a bar downtown called Johnny Tequila's Drinking Taco. Coarse, bizarre, and implicitly without morals, it was in many ways the epitome of the kind of watering hole we all at some point or another secretly crave: the Bad Decision Bar. But, sadly, the ol' Drinking Taco fell victim to our classic 'Sotan unwillingness to so overtly embrace the wrong we are so clearly seeking. We much prefer Bad Decision Bars of a more subtle order. Bad Decision Bars like these: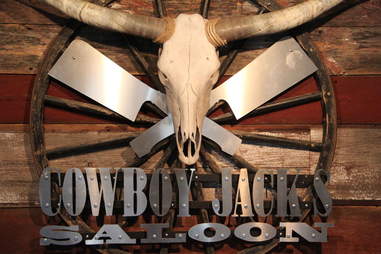 Downtown Minneapolis
You've just left Target Field and you head across the street to megaplex country bar Cowboy Jack's where, after a few buckets of $2 domestics, riding their mechanical bull won't feel like what it is: the second-worst decision you've made that day, besides going to see the Twins play.
 
Downtown Minneapolis
Admit it... you've been making bad decisions at Whisky Park since back in the day when it was The Lodge Bar.
Dinkytown
If you went to the U, you've already made the worst decision of your life, but heading to this notorious, awesomely collegiate party bar -- made famous by its beer specials/co-eds who should be at the actual library -- is still pretty bad.
 
St. Paul
This Irish mega-pub was a Jameson-pouring, St. Paddy's Day HQ when your grandfather, and your father after, were making the same types of troublesome decisions that indirectly produced you.
Downtown
Ever heard the phrase "Ain't no party, like a West Des Moines party"? Liar. You have not. That's why the enterprising barpreneurs behind Uncle Buck's made the excellent decision to bring this formerly-of-West-Des-Moines "kick ass party bar" to the Warehouse District and ply you with things like $1 domestic bottles and $2 "fireball" shots. 
 
Uptown
The place that started turning the 'hood into a collar-popping rooftop party zone more than a decade ago. They've got drink specials galore, and the patio that launched a thousand Uptown patios, so the only truly questionable decision would be spending money on Stella's fish and/or prestigious oysters, instead of on the recently graduated girls who flock there for said drink specials/patio.
 
Uptown
Seemingly immune to the changes wrought by places like Stella's, this oversized pub is the place to go if you want to throw peanuts on the floor, shoot some darts, and swill a few two-for-one brews... or 40, since that's what it'd take to try all 80 beers they've got on tap.