16 Twin Cities Bars That Are Open on Christmas Day
After long, eggnog-fueled bouts with the family, sometimes you've just gotta get out and relax with your friends. Adding a few cocktails into the mix is never a bad idea either. So, fortunately for you, there are several Twin Cities bars looking to help you out with just that.

Northeast (& other locations)
Lots of great local taps and plenty of booze await you at both Minneapolis locations if you're looking to punk up your Christmas a little bit. Sometimes the best place to be on a holiday is at your corner dive.

Uptown
If beer and bowling are up your Christmas alley, you are in luck. Opening up at 5pm for your drinking and rolling pleasure, this is a great spot to both loosen up and vent all of your holiday frustrations.

Downtown St. Paul
Opening up its doors at 6pm on Christmas day, this place is looking to take care of all your gin-drinking needs. If gin isn't your thing, fret not, for it's got a variety of other non-gin-based cocktails and beers to keep you going all night long.
West Bank
Not only is this campus dive open on Christmas, but it's also got some live music. Hunker up to the bar with a cheap beer and a shot of whiskey, and relax to the smooth sounds of the Front Porch Swingin'- Liquor Pigs!

Uptown
Open at 5pm, this spot is rocking a pretty excellent beer selection along with a variety of fine cocktails. Perhaps get yourself a fancy bourbon and an order of deviled eggs, and peacefully enjoy all those friends of yours that didn't bail and leave town for the holidays.

Downtown Minneapolis
If you're looking to get your club on for Christmas, check out this Downtown hotspot and get ready to dance your face off to Prince's longtime touring DJ, DJ Dudley D! If that's not really your thing, you can head downstairs to the more quiet Alibi Lounge.
West Bank
We might be lying if we didn't disclose that Stareoke at the Triple Rock is easily one of our longest-running holiday traditions... and we know that we're not alone 'cause every year tons of people turn out to sing their favorite jams loud and proud on the Triple Rock stage. It's really a beautiful thing. Except when we're singing.

Lyndale
Sometimes you just need cheap beer, whiskey, and a jukebox full of jams for a little post-holiday celebration and the CC Club is 100% the place for that. While it might not fully feel like the punk-rock bar that it used to be, it'll still work.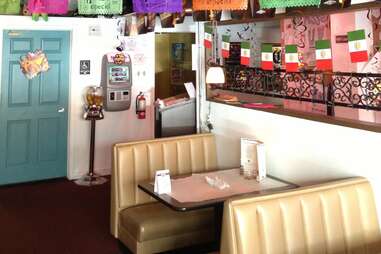 Whittier
Wash down the rest of your holiday eats with a few margaritas and a giant burrito at the place that taught a lot of Minneapolis how to late-night, and where we've always appreciated the 365-day-a-year attitude.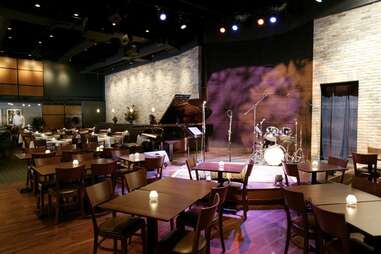 Downtown
If you're looking for something just a little different, try hitting up the Twin Cities' #1 jazz club.

Cathedral Hill
Moscow boasts the "largest vodka selection in the United States," as well as some seriously inventive infusions, like horseradish vodka, a shot of which will definitely wake you up no matter how much food you ate earlier.
Downtown
Beer, cheese curds, people who aren't your misinformed, ornery Uncle Bill. Yeah, that sounds good.

North End
Dominate your family at a whole slew of games (bocce ball, pool, foosball, bean bags, and Golden Tee, etc.), but do it after dinner since this St. Paul boozer won't be serving food, just drinks. Lots and lots of drinks.
Longfellow
Another 365 stalwart boasting 40 beers on tap (it better, it's on the freakin' sign!), including a lot of nice local stuff, this classic sports hang is the perfect place for an after-dinner drink. Or an after-dinner plate of ribs.
Downtown
If you're feeling like a whiskey-capped holiday, you can hit up Minneapolis' first-ever Irish pub. If that sounds tough to swallow, the entire bar was built piece by piece in Ireland and shipped to Minnesota to help ensure its authenticity. Also, it's open 365 days a year just in case you feel the need to Irish up your Xmas.

Merriam Park
It's got a slew of local beers, but maybe, just maybe, your holiday is in need of an Irish car bomb. It is. It totally is.
Sign up here for our daily MSP email and be the first to get all the food/drink/fun the Twin Cities have to offer.