Minnesota's 12 best bars outside the Twin Cities
So there are some things -- at least 18 of 'em -- that the Twin Cities are better at than anywhere else, but apparently having sweet bars isn't one of them. Seriously, it turns out that even in Minnesota there are other places with great drink spots. In fact, there are so many that we had to round-up the 12 best bars in the state outside MSP...
Tower, MN
Who would've thought that one of the best Bloody Marys in the world would come from Northern Minnesota's Iron Range? Apparently, the folks at the Food Network, and well... um, us, and the people behind the bar at this old-school boozer. For the last 10 years they've been filling pint glasses with this tomato-based concoction topped with an array of garnishes that includes celery, Brussels sprouts, and shrimp.
Alexandria, MN
Located on guess which street (!) in Alexandria's historic Downtown, this laid-back boozer pairs solid eats ranging from apps (Wild Alaskan salmon cakes w/ garlic & risotto), to flatbread pizzas, to entrées (beef tenderloin w/ carrots & potatoes) with a more than solid selection of more than 70 (mostly American) craft beers.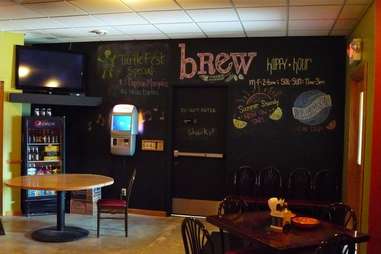 Perham, MN
They've got almost as many taps as the town has people! Ok, that's not true, there're about 3,000 more people in the town, but all of 'em will probably agree that this brick-/ wood-clad spot is the place to go for sweet craft beers. Or a martini/classic cocktail. Or pub food like burgers & patty melts. Or some... oh, you get the idea.
Mankato, MN
This Southern Minnesota bar has a great variety of beers, which includes several locally brewed options and imports. They also offer a special house-made Bloody Mary, which for some reason they recommend getting with a little Jägermeister. While we're not so sure about the Jag-y Mary, we ARE sure that thanks to their live music, burgers, and everything else, it'll probably be the only mistake you make all night.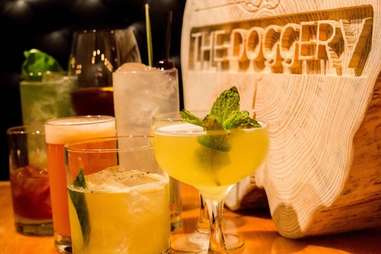 Rochester, MN
This classic Prohibition-era-themed boozer has all of the right elements in place: a variety of custom craft cocktails, an overall dark esthetic, and low-key live music, so how tough is deciding whether or not to go there? (Speak)easy.
Austin, MN
Boasting brick walls, a vintage drop-ceiling, and a slew of Art Deco-style touches, this Southeastern Minnesota watering hole features a solid roster of rotating taps (including the best local and regional brews) to go with a food menu dominated by flatbread 'za.
Bayport, MN
Four words: Nashville-style hot chicken. Oh, and they've got live blues, a BBQ buffet, and more, but we totally had you at the chicken.
Northfield, MN
Blessed with a massive patio on the river outside and an array of nooks, snugs, and various-sized seating spaces, this British-style pub does things their own way and has assembed a beer list that goes beyond the usual Boddingtons in favor of beer from Indeed, North Coast, Surly, and more.
St. Cloud, MN
This bar features live music, a lot of rotating taps, which tend to include several localized picks, and was voted "Best Wine List in Central Minnesota". To top that off, they also have a half-off whiskey night.
Duluth, MN
Recipient of Minnesota's Official Best Of Award for the best martini bar, this high-end Duluth bar mixes up a variety of sweet takes on said cocktail, offers a solid mix of beers (both local and otherwise), and features a comfortable environment for premium tippling.
East Grand Forks, MN
An outstanding destination during Oktoberfest (there are stein holding competitions, German-themed costume contests, etc.), this statue-heavy drinkery is an equally good choice year round thanks to more than 40 brews on tap (they've currently got Southern Tier's famed Pumking) and an eclectic pub food menu peppered with Minnesota classics like Walleye fingers.
Bemidji, MN
Sometimes when you're up in North-central Minnesota, you just need to get your Irish on, and this little place is exactly where you can do just that. Kick back with a pint of Guinness and a shot of Jameson while listening to live Irish music. You might not find that illusive little leprechaun that you've been looking for, but then again, if you keep on knocking back the whiskey, you just might.
Sign up here for our daily MSP email and be the first to get all the food/drink/fun the Twin Cities have to offer.