The definitive guide to MSP's best craft beer bars
Believe it or not, especially in a place with a seismically salient beer culture like the Twin Cities, just having a shload of taps, or pouring some of these sweet suds, doesn't mean a drinking establishment's a great beer bar. Sure, having a bowling alley helps, but is that enough? Check out our definitive guide to the Twin Cities' five best beer destinations to find out.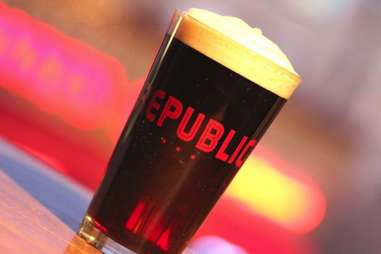 Beer Nerdiest: Republic Seven Corners
West Bank
When it opened in 2011 with 30-plus pro-picked taps, Matty O'Reilly's smartly sudsed rejigger of former party bar Sgt Preston's was a top-five beer bar. But now it just might be top-o-the list: they've jacked their lines up to 56 (plus a beer engine) and become the home of both the Better Beer University (a veritable cicerone-making machine), and beer geeky events such as Where The Wild Beers are.
Most Overlooked: Devil's Advocate
Downtown Mpls
How can you get written aboutallthe time, but still be overlooked? By being really frickin' awesome at a lot of frickin' things, chief among them playing host to a 40-tap global beer list hand-culled by owner/ underrated-beer-mind Erik Forsberg, and pouring everything from Clown Shoes' Bombay Berserker to Brash Brewing's Cold Ass Honky.
Beer Guidiest: Happy Gnome
St. Paul
You know why the gnome is so happy? Because the Selby gastro pub's rocking 70-plus taps. And because a bar cannot be considered a radical beer bar on volume alone, the cats who work there break down the menu into helpful categories like "hoppy", "double-hoppy", "lighter", and more seasonal shout-outs like "pumpkiny."
Most Understated: Muddy Pig
St. Paul
Although their sister shop Pig And Fiddle tends to skew Belgian, this Dale St suds spot pours something for everyone from 50 lines that include Bell's Sparkling Ale, Steel Toe Brewing's Size 7, and regular rare releases on a brewer's whim.
Worth A Drive: Stone Tap
Hudson
Why include a Hudson, WI spot on a list of best TC's beer bars? Mostly because their unfortunate geographical circumstances mean they have access to a host of crazy-good beers that're only available in... sigh, Wisconsin, including the likes of New Glarus, Oskar Blues, and Ale Asylum.