Minnesotans love a good beer. How can we prove this thesis? The state bird is a saison. Every lake has an official beer. The livestock feeds its young milk stouts.
OK, fine. While none of that is true, per se, quality breweries are spreading through the state like milkweed in the fall. It can be hard to keep tabs on all the beers you should take for a spin. Here's a solution: Drink these beers. The ones made by the breweries below. These are good beers. There are fine beers outside this list, of course, everywhere from Marshall's Brau Brothers to Voyageur Brewing, so far north you're basically in Canada. Not to mention breweries that don't bottle, such as the Minneapolis-based Dangerous Man, which weren't considered here. Instead, the beers and breweries listed here are ones that should be available at your local liquor store or via booze delivery services like Drizly or Saucy. They're all high-ABV, proven to go well with an outdoor sheet of ice, heartbreaking pro-sports losses (ubiquitous, with the exception of the Lynx), and a nice plate of tater tot hotdish. Enjoy.
Recommended Video
Stay Classy This Winter With a Spiced Pear Tom Collins
Minneapolis
This relatively young brewery (opened in July 2014) prides itself on taking unique turns on classic German-inspired beers. That experience runs from the Bauhaus-inspired cans to the liquid lovingly housed by those cans. It's constantly upping its production, too. The decidedly non-German Sky Five Midwest Coast IPA is a must-try, and you're probably best off imbibing at its Minneapolis taproom that has a full calendar of trivia and events.

Winter seasonal to try: Winterloper Baltic porter (8% ABV)
Somewhere between a Porter and an Imperial Stout, this smooth beer is the official beer of the darkest timeline.
Duluth
This brewery will allow you to purify yourself in the cool waters of Lake Superior. Bent Paddle makes all of its beer with water from the Great Lake, and it has become an Iron Range staple since opening in 2013. From the piney 14-Degree ESB to the beloved Cold Press Black Coffee Ale, almost every beer is a winner. The Venture pils might even make you shake the erroneous belief that pilsners are boring. It's opening a new, expanded taproom across the street from its current location in early 2018, giving you one more reason to trek up north.

Winter seasonal to try: Harness IPA (7.2% ABV)
With an IBU of 97, it's the most intensely hoptastic beer the brewery has released. That might not seem that wintery, but it's got a nice malt flavor that brings it all together.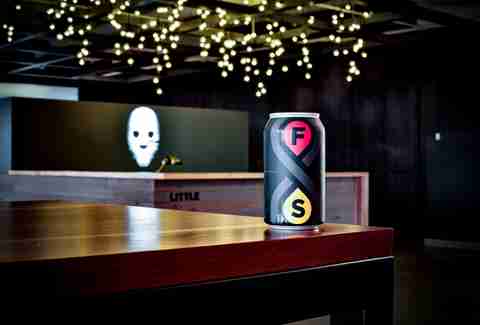 Minneapolis
In a crowded craft beer scene, Fair State is too often overlooked. It has a unique voice, in part making a name with delicious sours. The Northeast Minneapolis taproom -- and its excellent patio -- is full of more Bretts and sours than you should try in a single sitting. The refreshingly mild Roselle, a kettle sour saison with hibiscus, might even appeal to those who haven't yet sipped the sour Kool-Aid. However, a hop lover can still find plenty to like in the slightly floral and cleverly named Pahlay'Ahlay pale ale. (Somehow, that's only the second best name at Fair State. It's a distant second to the It's Gold, Jerry! pale ale.)

Winter seasonal to try: Vienna Lager (5.3% ABV)
This is cheating. The Vienna Lager isn't a seasonal at all. It's going to be a year-round offering from Fair State, but it was just released in February 2018. It's surprisingly straightforward, and that's why it's great. It's the kind of beer that goes well with anything: playing hockey on a frozen lake, beer yoga, buying things you don't need online, wondering why you're awake this late on a Tuesday... that kind of thing.
Minneapolis
An OG among the garage taproom lot, Fulton might be one of Minnesota's best-kept secrets. Its Sweet Child of Vine is a hoppy-sweet staple, and the Lonely Blonde is a reliable lunch-pail kind of brew. Doing simple things exceptionally well has been Fulton's calling card, but there's plenty of creativity to be found as well. Its taproom, which just launched a permanent Airstream-housed kitchen from chef Scott Pampuch, is full of playful beers that are sometimes so good they have to become a permanent fixture like the Mosaic-hopped 300. It's also ideally situated for grabbing catching a Twins or Timberwolves game.

Winter seasonal to try: War & Peace (9.5% ABV)
In the same way you want to curl up in front of a fireplace with a hefty tome in the winter, you want to curl up inside this 9.5% ABV imperial coffee stout.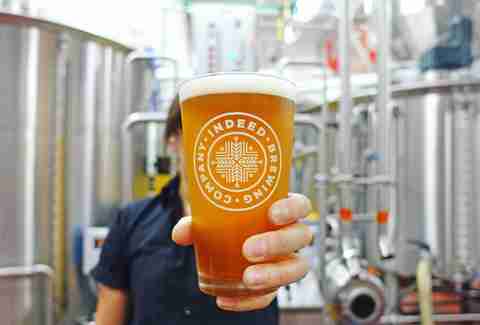 Minneapolis
Indeed puts out a lot of beers. In lesser hands, that might not be a good thing. But no one is complaining here, especially if you're sipping beers in its small but homey taproom. Its rotation of seasonal IPAs -- Let it Ride, Peach Bum, Let It Roll -- is totally delightful. Oh, and get your hands on a Day Tripper pale ale. You will regret nothing.

Winter seasonal to try: LSD Honey Ale (7.2% ABV)
This honey ale has little to do with Timothy Leary. Its titular drugs are lavender, sunflower honey, and dates. That sounds weird, but it's not.
Stillwater
A handful of breweries in Minnesota feel deeply connected to Minnesota's history and rural roots. Lift Bridge is one of them. If one beer could tell a brewery's story, it'd be the Farm Girl Saison. It's so Minnesotan, one sip might make you instantly knowledgeable about Warroad hockey and Walter Mondale's youth. Though, the non-alcoholic root beer and the annual Peaks and Prairies collaboration show the brewery's breadth and willingness to branch out. (You can track down the root beer at Sebastian Joe's for a root beer float, which isn't beer, but hell yes anyhow.) The almost always-busy taproom highlights the brewery's prowess by showcasing new flavors weekly on Firkin Wednesday.

Winter seasonal to try: Gray Duck baltic porter (7.1% ABV)
Honoring Minnesota's tradition of knowing the children's game "Duck Duck Goose" as "Duck Duck Gray Duck," Gray Duck fits perfectly with everything you think about Lift Bridge. The brewery's first collaboration with Chicago's Goose Island is a dark, roasty beer with a subtle sweetness. You'll have to hit the taproom or one a select few bars, though. It's only available on draft.
Minneapolis
Yeah, it's cider. It may be cheating to include it here, but I'm a cheater. Also, it's worth noting there's good cider in Minnesota. Part of the reason it's worth cheating is even a non-cider-drinking beer lover might dig up something to high-five about at Sociable. The Hop-A-Wheelie drinks more like a beer than you'd expect. It's dry, not too sweet, and full of hoppy layers. The taproom even serves hot ciders and keeps it local with the Red River food truck parked outside five days a week.

Winter seasonal to try: Fat Bike Mulled Apple (5.2% ABV)
The Fat Bike is a hearty cider that's perfect for winter. Even better, if you swing into the Sociable taproom you can get it served warm. (The warm Fat Bike is made to handle being warmed. If you buy some and warm it yourself you're probably not going to be thrilled with the results.)
St. Louis Park
You won't find a ton of Steel Toe beers in cans or bottles, but what the brewery does, it does well. What it does well is kick you right in the chops. The Size 7 IPA is the perfect example. It's everything a hops lover is looking for in a feisty hop-forward brew. Same goes for the Rainmaker India Red Ale. If most taprooms turn you off with their trivia nights and board games, Steel Toe is a minimal space and feels more like a bar than a taproom, except all the beer is good.

Winter seasonal to try: Wee Heavy Scotch ale (10.9% ABV)
Breaking with the theme, this award-winning scotch ale is an easy-drinking belly warmer full of sweet malty flavors.
St. Paul
When other Minnesota breweries were still in diapers, and taprooms didn't litter every street corner, Summit was running the show. Its extra pale ale is a cornerstone of Minnesota brewing. It certainly has a legacy as your dad's favorite brewery but has stayed fresh with a fleet of solid beers and the Unchained Series, which allows Summit brewers to metaphorically streak off naked into the night. If you want more of Summit's playful side you won't find in liquor stores, the Summit Beer Hall is often putting out special taproom-only beers and the prices will make you order an extra.

Winter seasonal to try: Russian Imperial Stout (10.5% ABV)
Beers won't pour much darker than the newest addition to the Summit Union series. Crafted with a recipe from 1840, it has a ton of depth and character. It will also push you over and steal your lunch money if you're not careful.
Brooklyn Center
The feisty brewery has built its reputation on Furious, but it carries so many good beers it's almost unfair. The hoppy Todd the Axe Man is worth the trip alone, as well as the refreshing Xtra Citra pale ale and seasonals like the brett dark ale Pentagram, Wet, and the coveted Darkness. Plus, the spacious taproom is a ton of fun and has an impressive menu, making it okay to sit out on the massive patio playing yard games all day. (Or at least until the MN United game starts.) They also throw fun events like SurlyFest.

Winter seasonal to try: Abrasive (9% ABV)
Its seasonality isn't necessarily tied to winter, but you've probably already tried Darkness (or Furious Black). The quite hoppy Abrasive is a nice replacement for the brewery's Xtra Citra.
OTHER WINTERY BREWS TO STICK IN YOUR CRAW:
Able Seedhouse & Brewery -- Big Blk Wlf imperial stout  (9.8% ABV)
This potent beer comes in a tiny can and is difficult to pin down. It has a lot going on. It's creamy, biscuity, hoppy, nutty. That swirl of flavors is probably why it won bronze at the 2017 U.S. Open Beer Championships.
Castle Danger -- George Hunter stout (8% ABV)
A traditional stout with a lot of body, the beer is named after Castle Danger's brewer and founder's great-great-grandfather, who ran an Iron Range brewery up until Prohibition. It's a roast-rich stout that's real dark and straightforward.
Flat Earth Brewing Co. -- Loyalty & Honor peppermint porter (6% ABV)
This beer shouldn't work. It kind of tastes like a York Peppermint Pattie. Yet, despite the dark chocolate and mint, it's about as sweet as a bully. None of those potentially sugary flavors overwhelm the porter. You might not drink a bunch of them in a row, but it's a delicious and unexpected beer.
Modist -- Dungeon Juice hazy IPA (6.8% ABV)
This is a very hazy IPA with an intensely hoppy aroma. It's delicious. And it's dangerous. They go down awfully easy. Get to the Modist taproom for this one soon. It was released on January 30, 2018, and only 300 crowlers are being made available.
Sign up here for our daily Thrillist email and subscribe here for our YouTube channel to get your fix of the best in food/drink/fun.