The Best Minnesota Breweries and Their Beers to Try Right Now
Minnesotans love a good beer. How can we prove this thesis? The state bird is a saison. Every lake has an official beer. The livestock feeds its young milk stouts.
OK, fine. While none of that is true, per se, quality breweries are spreading through the state like milkweed in the fall. It can be hard to keep tabs on all the beers you should take for a spin. Here's a solution: Drink these beers. The ones made by the breweries below. These are good beers. There are fine beers outside this list, of course, everywhere from Marshall's Brau Brothers to Voyageur Brewing, so far north you're basically in Canada. Not to mention breweries that don't bottle, such as the Minneapolis-based Dangerous Man, which weren't considered here.
Instead, the beers and breweries listed here are ones that should be available at your local liquor store or via booze delivery services like Drizly or Saucy. They're all proven to go well with chillier temperatures, heartbreaking pro-sports losses (ubiquitous, with the exception of the Lynx), and a nice plate of tater tot hotdish. Enjoy.
Minneapolis
This relatively young brewery (opened in July 2014) prides itself on taking unique turns on classic German-inspired beers. That experience runs from the Bauhaus-inspired cans to the liquid lovingly housed inside. It's constantly upping its production, too. The decidedly non-German Sky Five Midwest Coast IPA is a must-try, and you're probably best off imbibing at its spacious Minneapolis taproom that has a full calendar of trivia and events.
Fall Seasonal to Try: Lounge Wizard Juicy Pale Ale (5.2% ABV)
Yes, a juicy pale ale and not a juicy IPA. It has the cloudy thickness of any juicy IPA, but it's distinctly a pale ale. The light hop bitterness is nice, but never overwhelms the fruit backbone. It's bright and flavorful despite coming in at a fairly sessionable ABV.
Duluth
This brewery will allow you to purify yourself in the cool waters of Lake Superior. Bent Paddle makes all of its beer with water from the Great Lake, and it has become an Iron Range staple since opening in 2013. From the piney 14-Degree ESB to the beloved Cold Press Black Coffee Ale, almost every beer is a winner. The Venture pils might even make you shake the erroneous belief that pilsners are boring. (Wrong!) It now has a new, expanded taproom across the street from its original location, giving you one more reason to trek up north.
Fall Seasonal to Try:Harness IPA (7.2% ABV)
This is an absolute classic from Bent Paddle, which isn't necessarily best-known for this style. Harness is a bold, hoppy, and delicious IPA. If you look around at all the hazy, milkshake, and brut IPAs and wonder what happened to the ones that used to try to kick you in the teeth, get Harness.
Minneapolis
In a crowded craft beer scene, Fair State is too often overlooked. It has a unique voice, in part making a name with top-notch sours. The Northeast Minneapolis taproom is full of more Bretts and sours than you should reasonably try in a single sitting. The refreshingly mild Roselle, a kettle sour saison with hibiscus, might even appeal to those who haven't yet sipped the sour Kool-Aid. However, a hop lover can still find plenty to like in the truly outstanding Mirror Universe, which has appeared on Thrillist's Best IPAs in America list more than once. (Somehow, that's only the second best name at Fair State. It's a distant second to the It's Gold, Jerry! pale ale.)
Fall Seasonal to Try:Spirit Foul (6.3% ABV)
Spirit Foul is baaaaaaaack. While Mirror Universe might be one of the best IPAs around, the fervor locally over Spirit Foul is something else. Fans of losing sports franchises (pretty much every Minnesotan) can't get enough of it and they aren't wrong.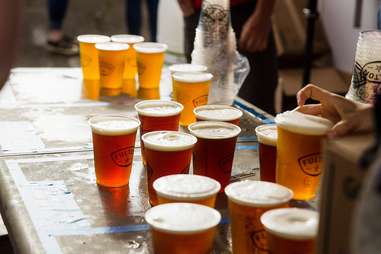 Minneapolis
An OG among the garage taproom lot, Fulton might be one of Minnesota's best-kept secrets. Its Sweet Child of Vine is a hoppy-sweet staple, and the Lonely Blonde is a reliable lunch-pail kind of brew. Doing simple things exceptionally well has been Fulton's calling card, but there's plenty of creativity to be found as well. Its taproom, which recently launched a permanent Airstream-housed kitchen run by Executive Chef Joe Majeski, is full of playful beers that are sometimes so good they have to become a permanent fixture like the Mosaic-hopped 300. It's also ideally situated for a brew before catching a Twins, Timberwolves, Vikings, or Lynx game.
Fall Seasonal to Try: Specter IPA (7.1% ABV)
The tallboy IPA cans with great design have returned to shelves. It's a dry, bitter IPA that doesn't mess around. If you love hoppy beers, but are done with summery variations that spread like an algae bloom through the fall, this is what you've been missing.
Minneapolis
Indeed puts out a lot of beers. In lesser hands, that might not be a good thing. But no one is complaining here, especially if you're sipping beers in its small but homey taproom. Its rotation of seasonal IPAs -- Let it Ride, Peach Bum, Let It Roll -- is totally delightful. Oh, and get your hands on a Day Tripper pale ale. You will regret nothing.
Fall Seasonal to Try:Liliok'i Passion Fruit Wild Ale (8.5% ABV)
This beer from Indeed's Wooden Soul series of barrel-aged sours -- named after the Hawaiian word for passion fruit -- is an intense sour full of funk and more layers than a Minnesotan in November. The passion fruit of this wild ale comes through strongly in the aftertaste, giving it a sweetness that almost serves as an immediate reprieve from its immediate tartness. If sours aren't your thing, the Yamma Jamma Harvest Ale is basically a fall activity in a can.
Stillwater
A handful of breweries in Minnesota feel deeply connected to Minnesota's history and rural roots. Lift Bridge is one of them. If one beer could tell a brewery's story, it'd be the Farm Girl Saison. It's so Minnesotan, one sip might make you instantly knowledgeable about Warroad hockey and Walter Mondale's youth. The east-Minnesota staple will soon be expanding into a new taproom as well, giving you just one more reason to visit Stillwater.
Fall Seasonal to Try: So Jelly Barrel-Aged Stout (8% ABV)
Hot damn, this is the weather for which dessert stout was made. So Jelly is a thick, rich beer loaded with blackberry purée, but it might be tough to find by the time you read this. However, Lift Bridge is far from done with dessert stouts. Up next: Tan Van Dessert Stout and Short Cake Stout.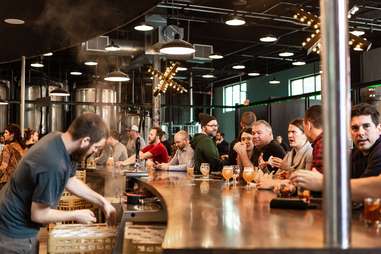 Minneapolis
The North Loop brewery might be Minnesota's most innovative space.They're absolutely not trying to be for everyone. (Though, I'd argue False Pattern and Dreamyard are pretty universally enjoyable.) Innovation is great, but what sets Modist apart is it consistently seems like it's having fun when craft beer can get a little stuffy. Bold designs, unexpected ingredients, and new styles make it worth visiting the taproom on a regular basis.
Fall Seasonal to Try: Cobra Triangle Pilsner (4.5% ABV)
This pilsner has been aged in a foeder -- basically a giant wood fermenting vessel -- and that gives it a slightly oaky, earthy feel. You could definitely toss back a couple like any clean, light pilsner. However, if you enjoy something a little more complex that makes you pause, this will definitely provide the experience you're looking for. This was released a little while back, so you might have a little trouble tracking it down if it gets to be late in the fall. If that's the case, you should check out the Bite Size Chocolate and Vanilla Stout.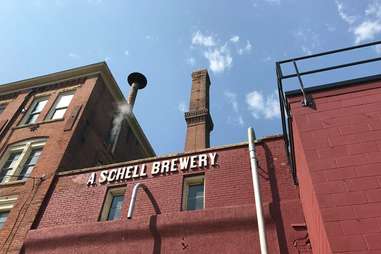 New Ulm
The state's oldest brewery might strike you as beer for dads watching the Vikings on Sundays. But, it's much more than that. There's a ton of history that comes with the name Schell's, and you're getting the classics with dialed-in recipes. But there's also the outstanding Noble Star series of Berliner Weisse beers, fermented in cypress tanks purchased in 1936. If you just imagine someone sipping a Firebrick and nothing else when you think of Schell's, it's worth reconsidering your stance. (Though, go grab a Firebrick, too, because that's a damn fine beer.)
Fall Seasonal to Try: Cave-Aged Barrel-Aged Baltic Porter (10.89% ABV)
Am I sucker for a Baltic Porter? Absolutely. Should my bias make you pause before getting this? Nope. It's a wonderfully balanced porter that, despite the high ABV, shouldn't induce fear in people who don't typically reach for a barrel-aged beer. (Though, if you love barrel-aged beers, you're still getting notes of oaky vanilla in here.) It's not overwhelming and it's got so much… so much… delicious.
St. Louis Park
You won't find a ton of Steel Toe beers in cans or bottles, but what the brewery does, it does well -- which is kick you right in the chops. The Size 7 IPA is the perfect example. It's everything a hops lover is looking for in a feisty hop-forward brew. Same goes for the Rainmaker India Red Ale. If most taprooms turn you off with their trivia nights and board games, Steel Toe is a minimal space and feels more like a bar than a taproom, except all the beer is good.
Fall Seasonal to Try: Beltline Brown (5.6% ABV)
I'll be the first to admit that sometimes a brown ale can be a bit one-note. That's not the case with Steel Toe's taproom-only brown. This crisp, lightly-hopped brown ale is a delightful early fall beer. It's a good place to start if you're ready for the transition to fall beers.
St. Paul
When other Minnesota breweries were still in diapers, and taprooms didn't litter every street corner, Summit was running the show. Its Extra Pale Ale is a cornerstone of Minnesota brewing. The brewery has managed to stay fresh with a fleet of solid beers and the always exciting Union Series. If you want more of Summit's playful side you won't find in liquor stores, the Ratskeller is often putting out special taproom-only beers and the prices will make you order an extra.
Fall Seasonal to Try: Oktoberfest (7.1% ABV)
If there's a wheelhouse for Summit -- there are multiple, really -- it's a malty beer like this Oktoberfest. The malts are wonderfully balanced, doing their little Oktoberfest jig with a bit of sweetness, a little caramel, and a hint of nuttiness. It's the damn business in here.
Brooklyn Center
The feisty brewery has built its reputation on Furious, but it carries so many good beers it's almost unfair. The hoppy Todd the Axe Man is worth the trip alone, as well as the refreshing Xtra Citra pale ale and seasonals like the brett dark ale Pentagram, Wet, and the coveted Darkness. Plus, the spacious taproom is a ton of fun and has an impressive menu, making it okay to sit out on the massive patio playing yard games all day. (Or at least until the MN United game starts.)
Fall Seasonal to Try: Oktoberfest (6% ABV)
Surly's Oktoberfest is a reliable annual. It's a classic, sweet but not cloying Oktoberfest. It's a little less heavy on the rich maltiness, and it's very drinkable. Though, don't sleep on the fact that Darkness is coming out on Halloween. This year's batch is just as good as ever.
Other Brews To Stick In Your Craw
Able Brewing -- One of Us Hazy IPA (6% ABV)
One of Us is a very approachable IPA with plenty of taste, even if it feels a little light for a 6% IPA. It's a good beer, but the biggest draw might be that it's a beer with a cause. A portion of the proceeds from the beer "go to refugee and immigrant education through RAICES."
Urban Growler - St. Citra Pale Ale (5.2% ABV)
This is a wonderful late-summer backyard beer that can take you into the fall. Carrying less bitterness than you'd expect from something with Citra in the name, it's truly a pale ale. This one is light and smooth with a wonderful citra taste and a slightly sweet aftertaste.
56 Brewing - Wizard Mode (8.5% ABV)
This beer does more than remind me of my favorite Mountain Goats song ("Wizard Buys a Hat," thanks for asking). It has a rich, complex hop aroma full of tropical fruit. The tropical-ness is writ large, too, playing well with a thick mouthfeel and lots of hop flavor despite sporting just 35 IBU.
Sign up here for our daily MSP email and be the first to get all the food/drink/fun the Twin Cities have to offer.
Dustin Nelson is a News Writer with Thrillist. He holds a Guinness World Record but has never met the fingernail lady. Follow him @dlukenelson.