Go hard: these are MSP's 7 best cider spots
If there's one thing that people in MSP like better than a nice, cold beer, it's... well, probably another beer. But if you want to switch things up, or go gluten-free, or if *gasp* all the best beer bars or brewpubs are closed, there's another option: cider, which unless you're, like, Tobey Maguire, you should probably score from one of MSP's seven sweetest cider spots: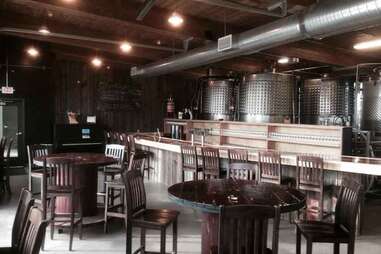 Sociable Cider Werks
Northeast
When it comes cider, Sociable's the... sorry'boutthis!... apple of everyone's eye. Newly opened, it offers a slew of sweet (well, not always literally) options that range from darker than a porter, to more bitter than an IPA, and will completely confound your cider expectations.
Town Hall Brewery
South Minneapolis
By now, you already know this isn't the real town hall. It is a bar, so don't go to the real town hall and try to get something from their solid, and constantly changing, selection of hard apple drinks. Pro tip: go for the Crispin Brut or the Hogan's Dry Cider if they've got 'em on tap.

Republic
Uptown
Don't want to head all the way up to Northeast for some of Sociable's housemade cider? They've got it on tap right here! And bar games! And BBQ! And... nevermind, we had you at "not driving out to Northeast", didn't we?
Yard House
St. Louis Park
The newish Yard House sports an absurdly long tap list, and thankfully, this vast selection extends to cider: they've got at least nine varieties, including Angry Orchard's Crisp Apple, and a pear version from Woodchuck, which begs the eternal question: how much would Chuck drink if a Woodchuck cider was put in front of him? Or something.
Mason's Restaurant and Barre
Downtown
Built into what was formerly a grand, old, Masonic temple, this epic boozer/eatery only slings one cider, but it's a can't-miss, because they use it to make a badass "beer-tail": the dark rum/ Strongbow cider/ MN maple syrup/ cherry bitters "Dark Apple", aka your 2009 MacBook whenever the pinwheel of death takes over.
Valley Tap House
Apple Valley
This designated driver-worthy den (from the guys behind The Lyndale Tap House) boasts rough-hewn, greyish plank walls, a risque entryway photo, over 30 crafty drafts, and a massive menu of even-craftier eats which, strangely, is where the cider comes in: their hand-cut Hard Cider Pork Chop w/ butternut squash risotto, warm bacon relish & a cider jus is a must-eat.

Surdyk's Liquor and Cheese Shop
Northeast
Now, Surdyk's is not a bar, but it IS the place to go when you can't find what you're looking for on tap. Their cider selection is extensive and, if you play your cards right, you'll visit when they're giving out free samples, which is almost always.