Coffee addicts and alcoholics have one thing in common: "too late in the day" isn't really a thing. Sure, normal coffee drinkers may be cool with picking up a medium roast from the local McDonald's or Starbucks in the morning. But if you're deep in the java game, it's imperative you know where the very best spot in your 'hood is AND that it's willing to feed your craving any time of the day. So, to help you out, here's a cheat sheet of some of the best hidden gems throughout the Twin Cities. They may not be the most famous, but that doesn't mean they deserve to be overlooked.
Recommended Video
Let This Baileys-Laced Irish Iced Coffee Bring You Back From the Dead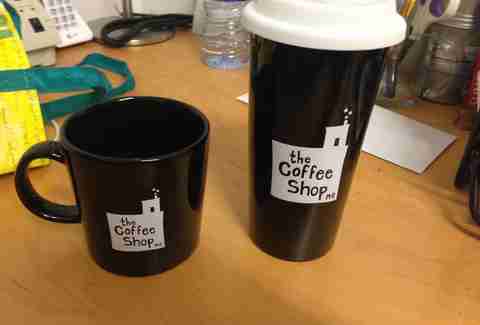 Northeast
Set back on Johnson St in a tiny Northeast strip mall, The Coffee Shop is an unassuming delight. Walk inside and you'll see it's deceptively big (in both size and offerings), with a chalkboard menu that has everything from your basic cold presses and espressos, to more unique selections like a dirty chai with a flavor shot, or some seriously fabulous scones. If you're looking to save a buck, this place allows you to purchase the beans as well. Bottom line: there are so many eye-catching flavor combos, coffees, and food that it's hard to narrow down the best. Now, having said that, we'd be remiss if we didn't recommend the coconut blend.
Uptown
The first noticeable thing about this place is the exterior: it's in a renovated Victorian home from the late 1800s. The shop is classy, but casual, with some intimate low lighting and comfortable bench seats inside. But the only thing better than the ambiance is the coffee. From the one-of-a-kind brass espresso machine, to the bottles of exotic and exciting flavors lining the back wall, there's as much character in the cups as there is in the four walls. So whether you're the dark and strong type, or you're in the mood for something light and flavorful, there's no wrong choice here. And if coffee isn't your thing, this place has the best chai in Minneapolis (and loads of awards on the wall to prove it).
West St. Paul
At first pass, Fresh Grounds is a solid coffee shop with a deluxe food selection, $2 lattes on Tuesdays and Thursdays, and even free fortune cookies on Fridays. But the real magic isn't just in the coffee pots (though it is there, too); it's also in the people pouring them. As a nonprofit social venture, the shop prides itself on employing individuals leaving temporary transitional housing situations -- halfway houses, sober houses, foster homes, etc. -- and giving them the training and structure needed to transition into the next phase of their lives. All of the profits go directly back into funding the training program, which means you'll feel an even better buzz buying from here based on the help you're providing to the community.
Southwest
Ripped right from a sketch out of Portlandia, Sparrow Cafe is the only coffee shop in the Twin Cities that is certified bird-friendly. Weird, right? Well, don't worry, you won't find any birds randomly flying around the shop; there's just some beautiful murals of birds, some kitschy decor, and an array of excellent coffee and pastries. It's a quiet corner spot tucked away from the more populated nearby areas, making it a great one for that early-morning caffeine fix.
Dinkytown
Located in the heart of the University of Minnesota, Bordertown is way more than your standard college java shop. Yes, it does have coffee and espresso to help keep you revved up for a night of studying (or just watching Netflix), but the real reason to visit is the baked goods. Each is seemingly better than the next, though that carrot cake with cream cheese glaze is probably towards the top of the list. When you're here, don't skip the sausage & cheddar scones, or those dark chocolate truffles. And since the menu changes frequently, you've got plenty of reasons to stop in at least once a week... or once a day... or once an hour.

Kingfield
If you ask the crew at Vicinity to describe the shop in five words, it would probably go a little something like this: espresso, coffee, sweets, eats, love (because you'll love everything). Stop in and get yourself something from either the breakfast or lunch menus, as both are surefire wins. The signature $5 morning combo -- a biscuit sandwich and a 12oz coffee -- is the jumpstart you never knew your day needed, and the beer-battered cod sandwich and chicken enchilada soup are never a bad choice.
North Loop
This place is fun for the whole family. There's some unique artwork on the walls, a spot for the shop's weekly open mic, and even a space where the kids can burn off some energy (while you try your best to bring yours back up). The drink menu is fairly deep, ranging from traditional coffees to delicious French sodas; and the food menu is packed with some great breakfast and lunch sandwiches, like the breakfast burrito and grilled cheese.
Sign up here for our daily MSP email and be the first to get all the food/drink/fun the Twin Cities have to offer.