The Best Twin Cities Distilleries For Tours and Tastings
Pretty much everyone knows that breweries have exploded around the Twin Cities. But there's an equally robust renaissance happening right under our noses -- distilleries are opening up left and right in Minnesota. People tend to have a divisive relationship with spirits. But Heather Manley, the founder of Crooked Water Spirits, has nothing but love for them. Manley founded Crooked Water, the first certified woman-owned distillery in the country, after enjoying a transcendent sip of a dill infused aquavit made using 50 pounds of dill per batch.

"It was like tasting a strawberry from a store versus fresh out of the garden," she said.
Manley went home inspired to make her own potently flavored spirits. First up was a cask finished bourbon launched in 2014. After quickly selling out of that first batch, Crooked Water has since expanded to include vodka, bourbon, apple brandy, rye whiskey, gin, and its crown jewel: two ready-to-pour cocktails that rival anything you can get made fresh at a cocktail bar.

"We don't do 'normal.' We're looking at how we can be an elevated brand using elevated ingredients. We may have a higher price point, but it's a next-level experience," Manley says.
The proof is in the pudding, as Crooked Water has won 50 national awards and it's become well-known for its ready-to-pour Negroni and proprietary sweet vermouth, which are primarily available in local markets. "As we've grown, we've been transparent in what we can offer, what we're willing to give, to make sure I can fill my backyard first."

A number of similarly excellent distilleries have sprung up around the Twin Cities over the last few years. Luckily, they have tasting rooms where you can directly sample spirits and choose a bottle or two to take home. If nothing sounds better to you than a dirty martini or unctuous Old Fashioned, read on for our favorite distilleries in the Minneapolis metro area.
Uptown, Minneapolis
Although Crooked Water does not have its own tasting room, you can try its products at rotating locations around the Twin Cities. Follow the distillery on Facebook to find the next event. Our recommendations to buy? Crooked Water offers sample size bottles of the Kings Point Bourbon, Old Hell Roaring Bourbon, and the transcendent pre-mixed Manley's Old Fashioned to try a few at once. Or splurge for a full size of one of the Negroni or Old Fashioned pre-mixed cocktails. You will be shocked at how flavorful they are compared to a fresh mixed drink. Coming this year? A pre-mixed Boulevardier and we can't wait.
Northeast, Minneapolis
Founded in 2013, Norseman claims to be the first legal micro distillery in Minneapolis since Prohibition and boasts one of the world's largest craft spirits portfolios. Order a Shark Bait, mixing pineapple rum and pineapple chipotle gin, or a Flamingo with ingredients like tehkeela, yellowstone liqueur, and creole bitters. Norseman also offers fun events like distillery tours or cocktail classes that allow you to be hands on. If that isn't enough, check out its solid happy hour every Wednesday that includes half-price classic cocktails and deals from the I Heart Tacos truck. Make sure to take a bottle of one of the distillery's 31 unique spirits home. While the standards like gin or rum are excellent, spring for one of its unique offerings like the Olympia Liqueur, which features notes of peppermint, parsley, sage, and star anise.
Longfellow, Minneapolis
While micro-distilling is a field that inherently prioritizes high quality, Du Nord takes it one step further by ensuring all of its base grains and fermentables are grown right here in Minnesota. Best known for its classic spirits, Du Nord features cocktails like the Fitzgerald gin gimlet or L'Etoile vodka martini.(Read about said farmers on the website, if you want to put a face to a name.) Du Nord serves up happy hour every weekday from 5-6pm, allowing guests to bring in takeout food from local vendors. Hour-long public tours are available every Friday and Saturday.
St. Louis Park
A recent addition to the distillery scene, Copperwing has made a big mark in a small amount of time. In addition to standards bourbon, vodka, and gin, Copperwing distills a proprietary liquor called Vodskey, a clear spirit made from bourbon mash that is distilled like vodka. Consider it a tasty, full-bodied spirit and a welcome flavor punch. Or try Copperwing's signature Fresas, combining its smooth gin, fresh strawberry juice, and a bit of sweetness. Recommended cocktails include the Napoleon, made with gin, orange liqueur, and red wine aperitif, or a classic Old Fashioned. Copperwing also offers weekly live music on Wednesdays and one-hour distillery tours on Saturdays.
Northeast, Minneapolis
Tattersall is likely the first name that comes to mind when seeking Minnesota-distilled products. The gold standard for local distilleries, this impressive brand has more than 50 San Francisco Spirits Awards, a free app providing nearly 400 cocktail recipes at your fingertips, and was recently named one of the top 5,000 fastest-growing companies in America with no sign of slowing down. Perhaps because the distillery manager has a foraging background, Tattersall offers 24 spirits with unique flavor profiles like Creme de Fleur, a liqueur made with six different kinds of flowers, or Fernet containing more than 30 distinct botanicals. If you're ordering at the cocktail room, we recommend getting one of the $15 flights to taste a range of products before settling on a single bottle or cocktail.
Northeast, Minneapolis
Another Minnesota-made, woman-founded distiller is Twin Spirits Distillery, offering solid standards like gin, vodka, rum, and whiskey. Twin Spirits' differentiating product is its moonshine, which is made from Minnesota-raised honey and brewed once a month during the full moon. Feel free to make your visit an all-day affair by visiting its signature M coffee shop (where you can order your coffee with a spirited kick) in the morning, and staying through the afternoon hours on the dog-friendly patio. Twin Spirits is open Wednesday through Saturday and can provide tours with founder Michelle Winchester by request.
St. Louis Park
Opened in November 2019, Dampfwerk is a fresh addition to the Twin Cities distillery scene but already looks poised to stay. The spot sources locally grown fruits like apples and grapes to make European-inspired fruit liqueurs. Order a flight to get a taste of the brandies or herbal liqueurs, then splurge on a creative cocktail like the Green Card with gin, sarsaparilla, egg white, and bitters or the 1913 with pfeffersack (a German-style fernet), rose water, honey, and cardamom. Although the distillery is open every afternoon starting on Wednesdays, we recommend hitting it up on Sunday to order off of the sweet dessert Kaffeeklatch menu.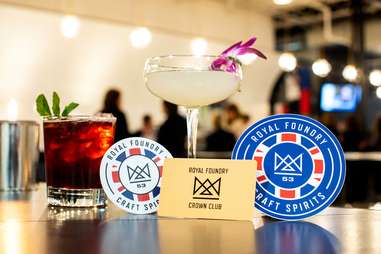 Harrison, Minneapolis
Royal Foundry distills spirits in the classic British tradition, meaning it turns out high quantities of gin, barrel-aged rum, and single-malt whiskey. The affordable menu includes nonalcoholic cocktails, savory snacks and tonics on tap. For the booze, snag a Cabin Fever made with butter rum, cocoa nib bitters, maple syrup; Sweater Weather combining pear vodka and cardamom bitters; or a Flight of the Kiwi mixing vodka, kiwi shrub, and bitter honey liqueur. If you like to move around while you sip your cocktail, you're in luck: Royal Foundry has three pub skittle lanes (think bowling with smaller wooden pins) to play on while you drink.
Eden Prairie
Inspired by the founders' globetrotting Dutch ancestry, Flying Dutchman takes a worldwide approach to distilling. Offering four core spirits (vodka, rum, an agave-based spirit similar to tequila, and a Mediterranean herbal gin), Flying Dutchman is more focused on the group experience than individual drop-ins. Contact the distillery to schedule tours, group tastings, or corporate events. Or, if you want to get even more hands-on, apply for the apprenticeship program to learn the entire craft of distilling from bottom to top.
Duluth
If you fancy your cocktails a little further from home, consider road tripping to beautiful Duluth to sample the delights of Vikre Distilling. Vikre's dynamic founders have compelling stories you'll want to chat about for hours over drinks. Luckily, its products are as good as their origin stories. The signature cocktails are supremely creative. We recommend a Ponyboy (apricot-infused aquavit, coconut milk, turmeric syrup, and lime) or the Odd Job (a bracing blend of olive oil-washed gin and americano). Vikre also offers an equally creative menu of zero-proof cocktails if you're off the wagon, and stay tuned for their rotation of bottled spirits to expand in the near future. Buy a to-go pack of the Frenchie, Vikre's signature canned cocktail that riffs on a French 75 with an effervescent blend of gin, rosé, lemon, bubbles, and floral liqueur.
Sign up here for our daily MSP email and be the first to get all the food/drink/fun the Twin Cities have to offer.
Becki Iverson is a Thrillist writer and an ardent lover of the Twin Cities. You can follow her wide-ranging passions on her blog, Compendium, or on social media on Instagram.