One of life's most amazing pleasures involves finding that one great dive bar that you can call your home away from home. While we love all of the Twin Cities' many great dives, and boy do we have a lot, we do also have our standouts. This isn't about bars with fine prohibition-style cocktails or incredible craft beer selections, it's about dark watering holes where you and other people like you congregate in order to escape the outside world. And we'll cheers to that.
Recommended Video
Levels Unlocked Pub Is Washington DC's Newest Pop-Up Where You're Transported Into Your Favorite Video Game
Lyndale
While many preoccupy themselves with the notion that the CC Club is somehow no longer what it was due to the erection of many nearby condos and an influx of yuppies, they can get over it, because at the heart of things, the CC Club is the same ol' dive it's always been, they just have a digital jukebox now.
West Bank
Great music, great food, incredible Bloody Marys, and no bathroom stall door. In case that obvious dive bar signifier doesn't quite sink in, the walls have been graffitied by a pantheon of punk rock scribes, most of which firmly let you know that you can go **** yourself.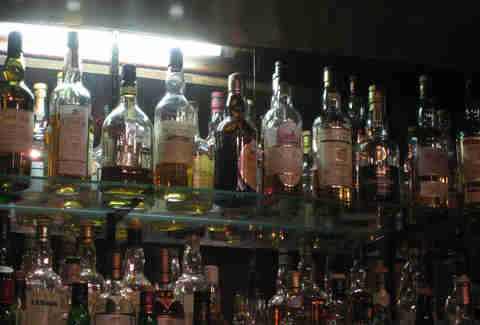 Longfellow
If you want to see what happens when regulars get really, REALLY comfortable, hit up Merlins Rest and check out a slew of dudes rocking their kilts as hard as they can. Not only do they man-up in attire, they also march around the bar playing their bagpipes as hard as they can so as to remind you of just how hardcore they really are. It's awesome.
North St. Paul
Considered to be the oldest bar in Minnesota still in operation -- having originally opened their doors back in 1887 -- they managed to stay in business during prohibition by not only selling what was known as 'near beer', but they also operated a little speakeasy upstairs. These days they feature live music, biker runs, and vintage car nights. They also have an onsite bait shop for all your pre or post-drinking fishing needs.
Northeast
It's a dive bar as sure as any and it comes complete with cheap beer and questionable live music. You will, however, most likely leave alive, so the name comes off as just a tad misleading.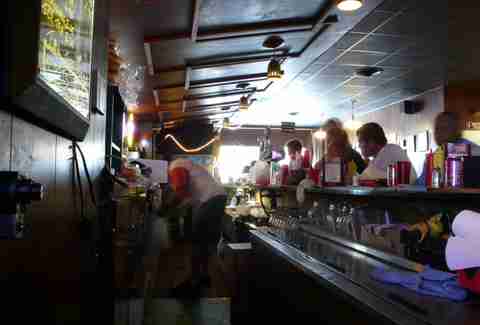 Powderhorn
When it comes to a dive bar with the best dive food, we'd be hard-pressed not to give it up to the inventor of the now iconic Jucy Lucy. Take a very careful first bite and let all of the molten cheese speak for itself. After, grab a PBR or a pint of Premium to help relieve you from your imminent cheese burns.
Como
When the Smack Shack folks rolled in and put Chef Jack Riebel in charge of crafting a bar menu, they may have inadvertently created the single greatest bar menu in the Twin Cities, although we're guessing that it was at least somewhat intentional. Get the Paddy Melt and indulge in one of the greatest Irish burger concoctions that's likely never even seen the Emerald Isle. And the chips (fries), oh the chips!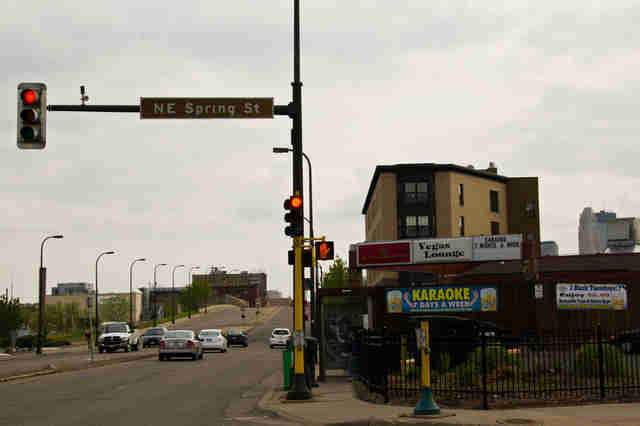 Northeast
Once upon a time this Northeast karaoke dive was a great spot to sit, drink cheap beer, and sing a crap ton of songs. These days, it's complete and total pandemonium as hundreds of people routinely pack in, ass to elbow, in an effort to get absolutely dumb drunk and sing "Sweet Caroline." The staff all manage to tolerate it like bosses doing the absolute best they can to service the crazy amount of people and hold themselves together. Leave it to a true dive bar to skip on extra staffing, but then again, where exactly would they put any of them?
Northeast
If you've ever wanted to feel like you're drinking in a scene from a George A. Romero film, you should probably hit up this Northeast haunt ASAP. There are zombie heads on the walls, chainsaws, and caged walls all around so you can drink your beer in peace knowing that everybody in your general area is probably pretty well equipped to deal with the inevitable zombie apocalypse... except that one guy wearing glasses. He's probably done for.
West Bank
It just doesn't really get any divier than this West Bank watering hole, which has rich history in the Twin Cities. Having originally opened up shop in 1906, they've been serving cheap beer and liquor to West Bank residents and visitors ever since -- having gone the speakeasy route during prohibition only to become a hippie destination during the 1960s. In 2014 they were named as one of Esquire Magazine's top bars in the country and they have some of the highest sales of Jameson. Go figure.
West 7th
This St. Paul institution is proof that dive bars can be more than just cheap beer and crotchety service. Featuring a variety of decent food and weirdly good service, this place draws its regulars back time and time again, along with many others who are looking for that quintessential dive bar experience.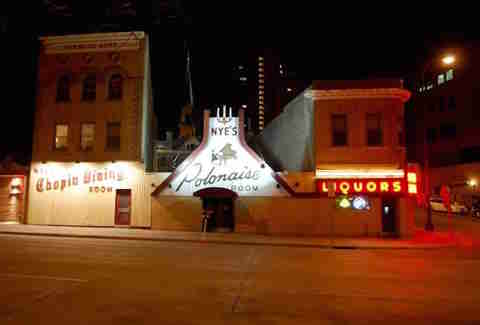 Northeast
It was announced in December of 2014 that a bunch of greedy developers had bought the building that housed this classic Northeast dive with the intention to tear it down and build more unneeded condos. Originally the bar wasn't slated to close until fall of 2015, but then the date was pushed back to January of 2016. In a very recent announcement, its death date has been yet again pushed back to early April of 2016. We'll see if that happens or if the bar, which was named best bar in America by Esquire Magazine in 2006, can continue to fight its way into the halls of immortality.
Sign up here for our daily MSP email and be the first to get all the food/drink/fun the Twin Cities have to offer.
  
Keane Amdahl is a veteran Twin Cities food writer and resident dive bar enthusiast. Follow him into the abyss on on Twitter @FoodStoned.