The Best Dive Bars in the Twin Cities
One of life's most amazing pleasures involves finding that one great dive bar that you can call your home away from home. While we love all of the Twin Cities' many great dives, and boy do we have a lot, we do also have our standouts. This isn't about bars with fine prohibition-style cocktails or incredible craft beer selections, it's about dark watering holes where you and other people like you congregate in order to escape the outside world. And we'll cheers to that.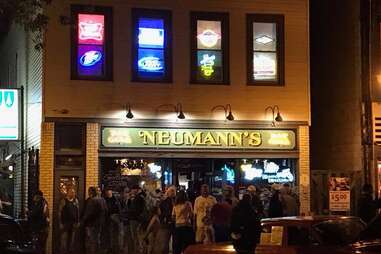 Est. 1887 | North St. Paul
The owners of Neumann's Bar claim it's the oldest still operating bar in Minnesota, and they might be right. The speakeasy that helped the town survive Prohibition is still open upstairs, and curious history fans are welcome to snoop around to check it out. Perhaps most unique, though, is the tank of live frogs that has graced the windows since the 1930s and the live fishing bait still sold in the main bar. For a blast from the past that still feels comfortably modern, Neumann's a is a don't miss on your dive bar tour.
Est. 1954 | Powderhorn
The best food at a dive has to go to Matt's Bar, the home of the infamous Jucy Lucy. Not familiar? The geniuses behind Matt's decided that melty cheese deserve to be inside the burger rather than on top - and the rest is history. In an age of hand-ground short rib burgers, there is nothing gourmet about this menu and we like it that way. A regular hamburger still costs less than four bucks, tap beer comes in pitchers, and you can't find a cozier place in town to beat the impending snowy nights.
Est. ?? | Como
Not every dive that can boast a two-for-one, but Half Time Rec's got it down pat. By folding Irish-style Paddy Shack into the bar four years ago, Half Time Rec ensured it is a dive bar that is here to stay. You'll still find the ripped up seats, daily happy hour and karaoke nights of yore, but now you can pair them with some of the best excellent bar food. Our advice? Head straight for the signature dishes -- like a gluttonous ham and cheese toasty -- for a satisfying way to soak up your Bloody Mary or beer back.
Est. 1906 | West Bank
If a dive bar could be an icon, Palmer's would be it. They've got an outdoor fire pit, a shockingly great musical lineup (including jug bands) indoors and outdoors, and a history longer than most of Minneapolis combined. Founded by the Minneapolis Brewing Company (predecessor to iconic beer brand Grain Belt), Palmer's has outlasted Prohibition, waves of varying immigrant communities, and even the credit card trend (yes, this remains one of the last cash-only holdouts around). No tour of Twin Cities dives is complete without a stop at Palmer's.
Est. 1973 | Northeast
Locals know that, if you're down for karaoke, there is nowhere more legendary to take the stage than The Vegas Lounge. It's become such a popular karaoke bar that you can expect to pack in elbow to elbow and fight for a seat. But it's a dive, and where's the fun if you don't have to work for it a little bit, right? Karaoke happens every single night here, so if you want to go (and really, you should -- don't let us scare you off), make sure to get there early to snag a seat and a drink or three before the pandemonium begins.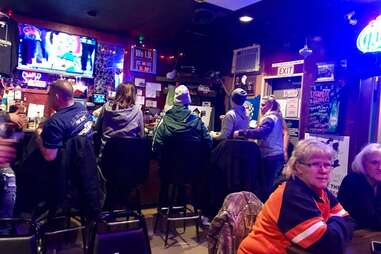 Est. 2000 | West 7th
Community is the name of the game at Skinner's, the latest in a long line of dives at this iconic St. Paul location. You'll find all the usual dive bar features here, along with an innovative and assertive approach to community engagement. Skinner's is committed to serving the military community in Minnesota and around the globe -- so much so that it won the first-ever national award for civilian service to the National Guard. Don't just take our word for it.
Est. 1932 | Longfellow
Live bands with no cover charge is a rarity these days, and Schooner Tavern knows a thing or two about dive bar hospitality. Twice-weekly bingo and meat raffles, a rotating cast of regulars, and two heated patios mean this dive can accommodate fun in any kind of weather. Free popcorn, free hot dogs on Fridays, $3 beers, and easy access to public transit make this a must-stop. You can't afford not to go, really.
Owners don't even know | South Minneapolis
Take a poll of Minneapolitans and The Cardinal is sure to top their list of favorite dives. With all the hallmarks of a great dive bar -- tasty food like fried Stevie wings and deep fried green beans with sweet cajun sauce, cheap beers, karaoke, pleather seating -- it also sneaks in surprises. Some of the latest additions, like homemade hard seltzers, make this place a crowd-pleaser, and mean you can get your 100-calorie drink on despite the national shortage of White Claw (you're welcome). Oh, and everything on the menu is well under $20, making this an incredibly affordable date night.
Est. 1963 | Uptown
A legendary keystone in Twin Cities drinking culture, Liquor Lyle's has been serving up two-for-ones every day for decades. It's a surefire bet when you want quantity over quality, but there's good stuff to be found here, too. Order up some tot-chos (nachos, but made with tater tots) and squeaky cheese curds to have the most Minnesotan bar meal of your life. Come any night of the week and enjoy free parking, all-day breakfast, and food served until 1 a.m.
Est. 1932 | Northeast
Another long-time holdout that is powering through gentrification in the Twin Cities is Terminal Bar. All you need to know is in a quick sweep of the reviews, where the top phrases used include "dive bar," "whiskey," and "doghouse swine." Local music fans can come every week to see multi-band shows with no cover charge, leaving patrons with more cash for a brewsky or two. Come for a wild card musical adventure and stay for a night you'll most likely forget.
Est. 1934 | Seward
Metalheads have long frequented Hexagon Bar (lovingly known as "the Hex") for decades, and they're not stopping anytime soon. Pool tables, dusty rope lights, and a staffed bingo counter with plenty of pull tabs make this one of the last dives in the city that hasn't cleaned up some part of its act. Don't expect anything but the basics here -- but why would you ask anything more of your favorite dive anyway? Make sure to visit its Facebook page for an update on the rotating list of punk and metal bands playing every week.
Est. 1934 | Lyndale
Good luck finding a seat at the CC Club, perhaps the best known dive still standing in the heart of Uptown. With a spacious back patio, morning cocktails, and industry nights, it's regularly packed to the gills. While the rest of Uptown might be getting a makeover, the CC Club hasn't lost its rock and roll vibe. Think of it as the First Avenue of dive bars and worthy of a stop at least once.
Est. 1998 | Northeast Minneapolis
Northeast Minneapolis is a legendary haven for dive bars in the Twin Cities. With great power comes great responsibility and Grumpy's doesn't disappoint, serving up an excellent rotation of burgers, robust beers, and free specialty events like Firkin Fridays -- where guests can try rare editions of local beers and specialty foods like octopus on a stick. It's a little less divey than its late, great sister Grumpy's in Downtown Minneapolis (RIP), but still a solid bet for a Northeast night out.
Est. 1955 | Northeast Minneapolis
Daily drink specials aren't the only draw for Mayslack's. There's also live music, game day specials and the real draw -- the food. Mayslack's serves up better-than-average eats off of its wide-ranging menu, including the addictive waffle fries with seasoned sour cream. From its origins as a Polish-owned polka bar to its current life as a comfort food castle, Mayslack's is one of the last remnants of this historic Minneapolis neighborhood.
Est. 1952 | Northeast Minneapolis
With an impressive list of locally made taps, a meat raffle, vintage beer signs, and light bar games, Dusty's manages to bridge nostalgia into modern success. Not one to be outdone by its fellow innovative dive bar menus, Dusty's is the origin of the Dago burger. Less famous than its sister, the Jucy Lucy, the Dago is certainly not any less delicious. Composed of a homemade Italian sausage patty, any iteration of the Dago is a welcome flavor bomb to sop up your beers.
Est. 2007 | Longfellow
Bagpipe performances? Whiskey and scotch tastings? Free Wi-Fi? A little more on the pub side of the spectrum, Merlins Rest still qualifies as a Longfellow dive with a slightly spiffier sheen. It doesn't disappoint, though, with themed events like kilt and corset night or the drunken knitters club. It's also one of the few kid-friendly locations on the list, meaning you can continue to enjoy dives even into early parenthood -- thank god for that!
Sign up here for our daily MSP email and be the first to get all the food/drink/fun the Twin Cities have to offer.
Becki Iverson is a Thrillist writer and an ardent lover of the Twin Cities. You can follow her wide-ranging passions on her blog, Compendium, or on social media on Instagram or Facebook. When she's not exploring the local food and arts scene, Becki can be found at her day job in marketing for the AEC industry at Faithful+Gould in downtown Minneapolis.