The only thing more radical than Fall in Minnesota is drinking good Fall beers during Fall in Minnesota. And since you probably think that means drinking all sorts of pumpkin-y crap, we've tapped five Twin Cities brewthorities to tell you what's really worth drinking to numb us to the impending doom of Winter.
Omar Ansari, co-founder of Surly Brewing Co
Summit Brewing's Oktoberfest (Märzen/Oktoberfest, 6.6%)
Omar says: "For me, Fall is all about Oktoberfest beers. That style is synonymous with the time of year. There's no one best single Oktoberfest beer, the fun is drinking them all. But I do like Summit's Oktoberfest and Schell's Oktoberfest. When they come out each year, you got to get out there and get them right away."

Surly Brewing's WET (American IPA, 7.5%)
Omar says: "My other favorite Fall beer, which is also my favorite Surly beer, is Surly WET. I just think about all that's involved in making our wet hop IPA, and that sums up what we're about at Surly. We fabricated special equipment just for brewing WET and a lot of hard work goes into brewing it as soon as the hops are delivered. It's super-fresh, super-resiny, and has a super-hoppy taste."
Broc Krekelberg, co-founder of Badger Hill Brewing Company
Summit's Great Northern Porter (American Porter, 5.6%)
Broc says: "This brew has been a longtime favorite, and's a style that seems to be bypassed these days. A smooth, light roast and a subtle sweetness makes me want to kick my feet up on the porch and enjoy. 5.6% ABV lets me enjoy more than one. Full of flavor and a local gem."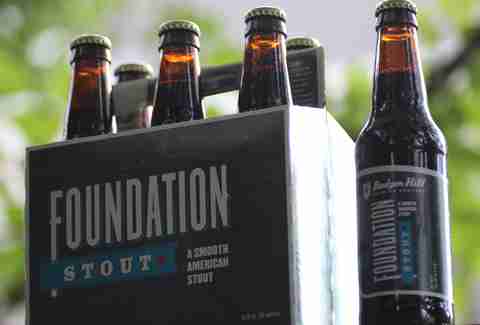 Badger Hill's Foundation Stout (American Stout, 6.3%)
Broc says: "Yeah it's mine, but I truly love this beer (and it is the beer that started us down the road to building our own brewery). Roast, hints of chocolate, and subtle coffee notes are layered and framed with American hops and a hint of oatmeal sweetness. All in balance with a dry finish."
Robert Kasak, head-brewer at 612Brew
Indeed's Sweet Yamma Jamma (Vegetable Beer, 5%)
Robert says: "Many people think of pumpkin beers for Fall, but I've never been a big fan, so I was excited last year when Indeed came out with Sweet Yamma Jamma. I really love the flavor the sweet potatoes bring to the beer. I'm looking forward to the return this Fall."
Schell's Oktoberfest (Märzen/Oktoberfest, 5.5%)
Robert says: "One of my absolute favorite times of year is Oktoberfest season. I think Schell's really knocks it out of the park with their Oktoberfest. The heavy use of Munich really provides a great malty base for this beer. We brewed our own Oktoberfest at 612Brew recently, adding a lot of Munich as well, but complimented ours with Pilsen and Vienna malts. Look for it soon. Prost!"
Andrew Schmitt, MN Beer Activists
Third Street Brewhouse's Jack'd Up Autumn Ale (Herbed/Spiced Beer, 5.4%)
Andrew says: "This year, Third Street Brewhouse is finally bottling their second annual batch of Jack'd Up Pumpkin Ale. This copper-colored ale is made with pumpkin spices like ginger and nutmeg. The spices make it perfect for pairing with a variety of Fall foods, especially desserts."
Surly Brewing's WET (American IPA, 7.5%)
Andrew says: "Surly WET is fantastic fresh-hopped beer that gets brewed every Fall. I love the grassy earthy taste that can't be replicated with pelletized hops. This year, Surly brewer Todd Haug is using Cascade and Centennial. Grab a four-pack and enjoy the flowery citrus taste."
Tom Whisenand, co-founder of Indeed Brewing Company
Sierra Nevada's Harvest (American IPA, 6.7%)
Town Hall's Fresh Hop 100 (American IPA, 6.1%)
Tom says: "September and October are all about fresh-hop beers for me. Hops are harvested once a year, so brewers get one chance to make a beer with fresh "wet" hops. The results are beers that drip with hop flavor like Surly's WET, Town Hall's Fresh Hop 100, and Sierra Nevada's Harvest. Here at Indeed, we are making two fresh hops this year, one with locally harvested Cascade hops and another with Mosaic hops from Washington."