Whether you're looking for the best cocktail in town or trying to show an out-of-town guest the ropes, everyone loves a good happy hour. That's doubly true when it comes with an outstanding local beer, Juicy Lucy, or cocktail with a particularly satisfying pun. (Hey, Parlour's Do It for the Graham.)
Of course, Uptown isn't what it used to be and the Midway is rapidly changing under the weight of Allianz Field. But there are still loads of good places to enjoy a happy hour without feeling like you've gone to hell or, worse, downtown St. Paul. (Sorry.) Here are some of the best happy hours you'll find in almost every Twin Cities neighborhood.
Recommended Video
Thrillist's Best (and the Rest): What You Actually Need to Know About Natural Wine
Battle Creek
Sun Ray Lanes
When: Monday-Friday from 12pm-6:30pm and Sunday-Thursday from 9:30pm-midnight
The deal: Yup. A bowling alley. Sun Ray gives you what you're looking for, especially if you're looking for a solid happy hour. That first window will get you $1 off all bottles, rail drinks, and taps -- as well as $2 off all pitchers. The second window includes $1 off 16-ounce taps and rail drinks, $2.50 select bottles, $3 Captain Morgan drinks, and $2 off any pizza.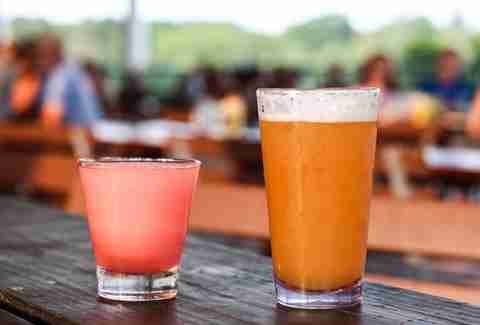 Como
Spring Cafe at Como Dockside Pavilion
When: Daily from 4-6pm
The deal: The happy hour is brief, but considering the beautiful space, it's worth making plans around this discount. Grab $3 beers, $4 ciders, $5 glasses of wine, and a $6 order of wings during the happiest two hours of the day.
Dayton's Bluff
Obb's Sports Bar & Grill
When: Daily from 2-6pm
The deal: The old school haunt dishes up daily cheap food specials that include a three-piece broasted chicken for $9.25 or a Wednesday special with steak and ribs for $15.45.
Downtown St. Paul
Meritage
When: Tuesday through Friday from 3:30-5:30pm
The deal: Contrary to popular belief, there are indeed bars open in downtown St. Paul after dark. One of the area's best restaurants offers happy hour only at the Oyster Bar or on the terrace, but you'll land $5 Stella Artois or Summit seasonal beers, $5 house wines, and cocktails for $5.50. You'll also find food for $6 or less, like oysters, smoked confit chicken wings, and house-marinated olives.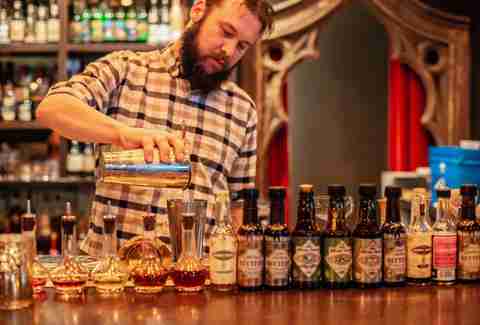 Downtown
Constantine
When: Monday-Friday from 5-9pm
The deal: Tucked away in the basement of Hotel Ivy, Constantine is a beautiful, dark space. The bar has excellent cocktails and the happy hour prices are a pretty steep discount.There's a list of seven items. You can get any of them for $5, two of them for $9, and three for $13. It includes a short Old Fashioned, beer and a bump (aka shot of whiskey), house wine, highball, burger, gelato, and more.
Downtown East
Eastside
When: Daily from 4-6pm
The deal: Eastside is worth a trip for the cocktails and apps from James Beard finalist Jamie Malone, but it's also a stellar happy hour for when you're heading to Guthrie or even catching some music at the Cedar Cultural Center. Eastside is serving up $6 taps and $10 cocktails like the Astrid, Gold Rush, or Oaxacan Old Fashioned. They've also got food during happy hour, including oysters for $2.50 a pop, a shrimp cocktail for $12, or shishito peppers with sea salt and lime for $5. 
East Side
The Cherry Pit
When: Monday from 11am-9pm, Thursday from 11am-6pm, Friday from 11am until bingo, and Saturdays from noon-5pm
The deal: You can double up your drink order for just a buck during any of those periods above. Additionally, Tuesdays have $3 Coronas or, from 8-10pm, you can get a margarita for $4. On Sundays from 10am-noon, you'll be slurping down $2 Bloody Marys and mimosas. There are a ton of other deals at odd times. Check the site before you roll out.
Highland Park
Tiffany Sports Lounge
When: Monday-Friday from 3-6pm
The deal: A favorite among college students and people looking for a big screen on Sundays, Tiffany offers two-for-one drinks and bottled beer, $2 off draft beers and wines, and pints of Coors or Grain Belt for $3.25. You can also dig up some food specials during happy hour.
Kingfield
Nightingale
When: Monday to Friday from 4-6pm and 11pm-1am; Saturday and Sunday from 2:30-4pm
The deal: Nightingale has damn good food and a surprisingly alluring happy hour. You can grab $3.50 rail drinks, a rotating $5 cocktail, select taps for $3.50, Hamm's for $2.50, or your choice of a Grain Belt or PBR Tall Boy for $2.75. There are also solid happy hour apps like $2.50 oysters, $4 french fries with malt vinegar aioli, and the option to tack a Hamm's onto your burger order for just a buck. You should clearly never turn down a deal like that.
Longfellow
The Blue Door Pub
When: Daily from 2-5pm and 9pm-close
The deal: You'll find the Blue Door in a couple of neighborhoods, but every one is best known for its turn on the Juicy Lucy: the Blucy. Come for the Lucy, stay for the happy hour that arrives like the local news, twice daily. Tap beers will run you just $3, and you can pick up a glass of wine for $7.50. For food in the afternoon, you can get $5 french fries or tater tots. The late-night happy hour only applies to food. It includes wings for $8.50, deep-fried pickles for $5, and fries or tots for $4, among other deals.
Loring Park
P.S. Steak
When: Monday-Friday from 4-6pm
The deal: The new and much-lauded steakhouse offers $3 domestic beers, $5 craft beers, a $6 "Wine of the Moment," $7 highballs, and weekly cocktail specials during its social hour. On the food side, get a $10 burger, $8 cheese plate, and more.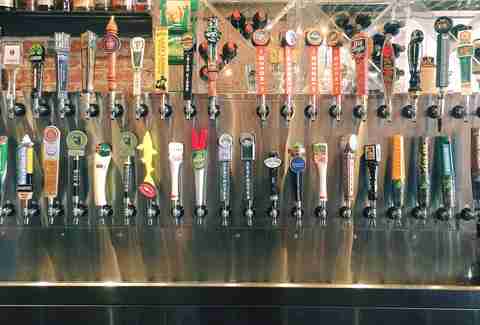 Lowerton
Dark Horse Bar & Eatery
When: Daily from 3-6pm and 11pm-2am
The deal: The Lowertown hub offers $1 off all drafts and $5 Summits during happy hour, with $3.50 cans of beer. If you aren't swinging by for a peak at their extensive beer list, you can get a $5 wine, a $10 cheese pizza, or a $13 two-topping pizza. (Food happy hour goes 3-5pm and 11pm-1:30am.)
Lyndale
Hola Arepa
When: Tuesday-Friday from 3-5:30pm and Tuesday-Sunday from 10pm-close
The deal: This might look a little similar to the happy hour at Hai Hai, the second restaurant from the owners of Hola Arepa. You'll find $4 draft beers, $5 house wine, $6 sangria, and cocktail deals. You can also grab chips and three salsas for $3, Yuca Fries for $5, and lots more. 
Mac-Groveland
The Groveland Tap
When: Daily from 11am-5:30pm and 10pm-close
The deal: It's not just the Juicy Lucy that can make a Minneapolitan cross over into St. Paul. It's the daily happy hour with $3 Freehouse taps and other beers for $3.50-$4.50. You'll also find a pile of snacks for $7.59 or less during happy hour. That's in addition to their daily food special, which includes burgers for $3.50 on Mondays and $2.95 tacos on Thursdays.
Merriam Park
Augustine's Bar and Bakery
When: All day Monday, Tuesday-Saturday from 3-6pm
The deal: A solid selection of beer can be picked up for $3-5 in addition to $5 glasses of wine. The food deals around happy hour are all over from $5 chicken wings to $7 mussels, $9 nachos to a daily $10 flatbread special. Also, on Tuesdays, you can get a burger and a Fulton beer for $10. Then on "Date Night Thursday," you can land half-price bottles of wine all day. These are perfect deals for all the students that converge in the area from St. Thomas, Macalester, St. Kates, and Hamline.
Midway
Midway Saloon
When: Daily from 9am-6pm
The deal: The Light Rail and the arrival of Allianz Field may have spelled the end for many beloved businesses, but the Midway Saloon isn't a total makeover of Big V's. Housed in the same location, everything inside -- at least for now -- looks basically unchanged. Grab a $4 rail drink, a PBR tallboy and whiskey for $9, or two Red Bull and vodkas for $6. You can also down a $3 tequila shot every Tuesday.
Midtown
Eastlake Craft Brewery
When: Monday-Friday 2-5pm and Sunday-Thursday from 9-11pm
The deal: The brewery is lodged inside the Midtown Global Market, so you can bring a wide array of delicious food inside as you toss back a Kirby Pucker. Happy hour offers $2 off your beer, while you scarf down food from Safari Express, Los Ocampo, or Taco Cat. Additionally, they host an industry night on Mondays with two-for-ones and free pinball. 
North
Broadway Pizza
When: Daily from 9pm-close, Monday-Friday from 2-6pm, Saturday-Sunday from 1-5pm
The deal: The original Broadway Pizza -- the one with the railcar out front that you've driven past a million times -- has happy hour multiple times daily. Take a buck off the already reasonable draft beer, bottled beer, and rail drink prices, plus you can get $3.75 you-call-its during the late-night happy hour. Then there are a bunch of food options to satisfy your munchies. Take $2 off boneless wings or get $5 orders of pretzel bites, chips and cheese, or garlic parmesan bites.
Northeast
Hai Hai
When: Tuesday-Friday from 3-5:30pm, Tuesday-Sunday from 10pm-close
The deal: One of the most exciting restaurants in town is also home to some nice drink specials. Happy hour features $5 house wine, $6 cocktails, and $4 beers, including Indeed's Bia Side, a specially infused B-Side Pils made for Hai Hai. Throw in $6 fried tofu, $7 fried wontons, and other app discounts and you're leaving satisfied. Or as satisfied as you're capable of being in 2019.
North Loop
The Freehouse
When: Monday-Friday from 8-11am and 4-6pm, Sunday-Thursday from 9pm-close
The deal: Stop into one of the few places on this list slinging its own beer. The morning happy hour will get ya $4 Freehouse beers, $2 off glasses of wine, a $6 featured cocktail, or $4 mimosas, Bloody Marys, and rail cocktails. The afternoon weekday happy hour is the same, minus the brunch drinks, but you add in some $5 apps like their Kolsch garlic mussels, Freehouse sliders, and oysters. The late-night happy hour comes with $3 Freehouse beers, $3 cocktails, and $2 off any glass of wine. 
Payne-Phelan
Tongue in Cheek
When: Daily from 4-7pm at the bar only
The deal: You're going to be stunned, but the menu at Tongue in Cheek is, well, a bit tongue in cheek. The star of the show is the $4 Cheladas made with Pacifico and house-made flavors. You'll also find a regular Pacifico or beer of the week, house wine, or cocktail like the Ginger & Mary Ann for $4, in addition to the list of $2.50 "Cocktail Teaser" and a $12 flight of teasers.
Powderhorn
Tiny Diner
When: Monday-Friday from 3-6pm
The deal: This charming haunt has an outstanding patio surrounded by a garden the kitchen actually uses. It's an eco-friendly diner with a very happy hour that offers $5 cocktails, $4 taps, and certain $3 beers -- Lift Bridge Farm Girl Saison, PBR, O'Doul's, and Four Daughters Loon Juice. You'll also find a variety of $4 snacks, including french fries and cheese curds with cajun ketchup. 
Saint Anthony Park
Station 280
When: Every moment of every day, forever and ever
The deal: If you somehow manage to pay full price and only wind up with one beer at Station 280, you're actively trying not to get a happy hour deal. All day, every day, Station 280 offers two-for-one pints. Plus, from 3-6pm, you can get an extra dollar off your two-for-one. Then, there's a bevy of food deals. On Mondays, you get half-priced burgers. Grab a pitcher of beer and a one-topping pizza for $10.99 on Tuesdays. On Wednesdays, it's $1.50 tacos from 3pm-close and free pool from 7pm-close. 
Southwest
Red Cow
When: Monday-Friday from 3-6pm and daily from 10pm-close
The deal: Southwest is the locale of the original Red Cow, but all four locations carry the same happy hour. Grab $2 off select beer, wine by the glass, house cocktails, and Moscow Mules. It also offers $7 starters, including ahi crisps, garlic-butter Brussels, Scotch eggs with Summit beer mustard, and more. 
Summit Hill
Brasa on Grand
When: Monday-Friday, 2-5pm
The deal: Brasa is good. Happy Hour at Brasa is better. For your drinks, take $2 off any draft beer (it's a damn good list), glass of wine, or red sangria. Then the food discounts are extensive. Grab two tacos, beans and rice, and a beer for $10. There are also a variety of tacos for $3. 
Summit-University
Moscow on the Hill
When: Monday-Thursday from 2-5pm and 9-10pm, Sunday from 8-10pm
The deal: The Russian bar's popular house infusions and rail vodkas are just $3.50. You'll also be able to get any Moscow cocktail for $5, a glass of wine for $4, or tap beer for $4. It also offers a slate of five appetizers for $4 each or three for $10, and a Piroshki and Borscht combo for $9.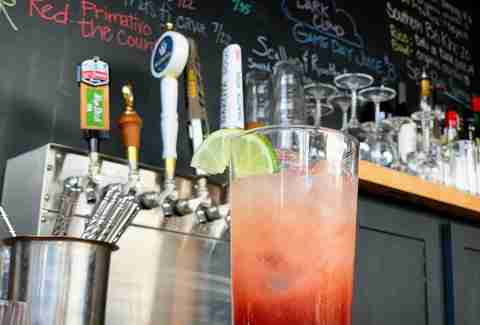 Thomas-Dale
Ngon Vietnamese Bistro
When: Monday-Thursday from 3-6pm and Friday-Saturday from 9pm-close
The deal: The Frogtown staple has great food and a worthy happy hour. Grab yourself a $3 Summit, $5 house wine, or take two bucks off one of the awesome specialty cocktails. You'll dig up some late-night food deals, as well.
University/Stadium Village/Dinkytown
Kitty Cat Klub
When: Daily from 4-7pm
The deal: While Bar Luchador has the food you crave during happy hour, it's hard to beat the prices at the Kitty Cat, with its eclectic decorations and labyrinthine layout. Is the beer selection on par with Republic? Not even close, but this close to the U of M, of course the selection leans toward Grain Belt Premium and PBR tallboys, both of which you can get for $2.50 during happy hour. Lots of beers come in at that price point while slightly elevated selections like Summit EPA, wine, and rail drinks are only $3.50. You can also nab a bottle of wine for $12.
Uptown
Liquor Lyle's
When: Monday to Thursday from 3-7pm and 9pm-1am; Friday from 3-7pm and 9pm-midnight; Saturday and Sunday from 10am-6pm and 9pm-1am
The deal: There are other happy hours in Uptown worth your time (Up Down has some great specials), but you'd have to try to go Liquor Lyle's when there isn't a special happening. All those happy hour times above feature two-for-one drinks, plus you can get $3 Windsors all day on Tuesdays. There are also Happy Hour appetizer deals Monday through Friday during happy hour.
West Bank
Republic
When: Daily from 4-6pm and 10pm-midnight
The deal: Republic is pretty easily one of the best beer bars in the city, with a solid selection that always includes a lot of local brews. The beer list may change, but happy hour involves a pile of tasty pints offered for $3-5. There's also the option for $4 house wine and rail cocktails. For food, you can get an order of fries for $3, a $5 Angus Cheeseburger, and fish or pork tacos for just $6. 
West 7th Street
Tom Reid's Hockey City Pub
When: Daily from 4-6pm and 9-11pm
The deal: The intensely Minnesotan bar is just about five chants of "Norm Green sucks" from the Xcel Energy Center and full of more memorabilia than your uncle's tacky basement. (Though, happy hour isn't active on game nights.) It's a quintessential hockey bar and it has two-for-ones on most beers and cocktails for happy hour. 
West Side
Joseph's Grill
When: I mean, kind of all the time.
The deal: Joseph's Grill is one of those spots where it's pretty much always happy hour. But it can be a little confusing because there are so many different things going on. Monday through Friday from 3-6pm, you'll get a buck off tap beers and rail drinks, as well as discounted appetizers for $6-8. However, Monday through Saturday from 8-10pm, you'll get domestic bottles and rail drinks for $3.50, as well as an appetizer discount. Ahem. On the weekend, stop in from 1-5pm for domestic bottles and rail drinks for $3.50 and special deals on "Coney Islands and Hot Dagos." Also on the weekend, but this time from 5pm-close, you can snag a half-price bottle of wine. That's all without even starting to dig into the daily specials like Margarita Monday. It's messy but beautiful.
Whittier
Tilt
When: Sunday-Thursday from 4-6pm and 10pm-midnight
The deal: There's a two-block stretch of Whittier with a boatload of great happy hours. Icehouse has great cocktails and the happy hour at Bad Waitress is an underappreciated gem when you need a beer and don't need a crowd. But Tilt has tons of pinball for a token each all day, every day. Then add in a happy hour with $2 off all taps, rail drinks, and specialty dogs and it's going to be a good night.  
Sign up here for our daily MSP email and be the first to get all the food/drink/fun the Twin Cities have to offer.