The year 2016 brought another impressive growth spell for beermaking in the Gopher State. This year, Lakeville went from zero breweries at all to having two on the same street, while North Loop began to rival Northeast. This year, that stretch between St. Paul and Rochester stopped being such a damn beer desert.
Though the proliferation of breweries in the Twin Cities proper has lulled slightly in comparison to previous years (St. Paul hasn't even opened a brewery since our last entry), community breweries are spreading outside of the 94/35W loop and into the metro at an appreciable rate. There's a lot of ground to cover in this year's brewery expansion, but luckily we've rounded up the best of what's new.
Recommended Video
This Bottle Opener Can Open An Entire 6-Pack
Windom
Why aren't there more breweries in South Minneapolis? There's plenty of unused industrial space, and the real estate is way cheaper than Northeast. Sour-beer specialists Wild Mind took an old car wash on 61st in Windom and turned it into the first true brewery south of Uptown (brewpub Northbound Smokehouse notwithstanding). Wild Mind's recessed setting makes the space feel residential and inviting, and its mastery of Belgian and Flemish styles is unparalleled in the Cities. Don't sleep on the newly released IPA, either, though.
Downtown
It was only a matter of time before the trends of steampunk and craft brewing met. Much like The Ale Apothecary in Bend, Oregon, Clockwerks Brewing blends the anachronistic technology of steampunk with a seven-barrel system that mainly cranks out session ales and lagers. The most centrally located brewery in Minneapolis, Clockwerks has evolved the aesthetic of the urban brewery from the earnest post-industrial reclaimed warehouse into an edgy sci-fi fantasy in the heart of the bar district.
Lakeville
After a four-month setback, Lakeville's Angry Inch Brewing finally opened its doors as the suburb's first brewery. Owners Jon Erickson and Josh Hebzynski were celebrated homebrewers, which is why Lakeville courted them to come in. Though their path to the commercial level was waylaid with potholes, the brewery (which is obviously named after the genderqueer rock musical Hedwig and the Angry Inch) is finally serving in their taproom, and it's become a nucleus for the community. Stop by for regular game nights and order a pint of Daddy's Honey Pot, Angry Inch's award-winning honey saison.
Lakeville
Angry Inch Brewing wasn't the only brewery in Lakeville for long -- this brewpub opened literally across the parking lot on 208th St. Lakeville Brewing has a distinctly different vibe than Angry Inch, where dogs are free to roam off-leash in a fenced-in back patio and families play with Tonka trucks and life-size Jenga. Lakeville's owners wanted to make their space as inclusive as possible, and it basically always has a backyard barbecue vibe because of it. LBC offers five regular brews -- including a milk stout, an Irish red ale, and an American cream ale session beer that's served on nitro -- as well as taps from a bunch of its friends.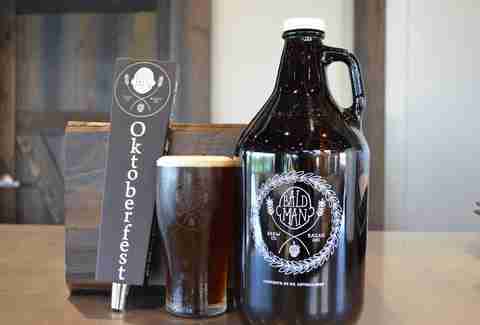 Eagan
Need to unwind after an afternoon prowling the Twin Cities Premium Outlets? Bald Man Brewing welcomes all comers in its industrial-park brewery, which offers a strong dad-rock vibe and cheeky rock 'n' roll beer names to match (like Tupelo Honey Brown Ale and Young American Pale Ale). Opened in August, it's one of the freshest breweries on the scene, and despite the vintage aesthetic, Bald Man is one of the slickest beermakers to open shop in the last calendar year. Eponymous Bald Man Tristan Kusnierek brews on one of the most sophisticated systems in operation, and you can watch him work from across the brewery's soaring open floor.
North Loop
Modist Brewing has something that no other brewery in the world has -- an uber-sophisticated grain filter that allows the brewing team to make totally unique (and previously impossible) beers. Take for example Toats, which is made of 60% milled oats, or First Call, a coffee lager that has twice the aroma of a stout and a third of the body. With former Dangerous Man brewer Kiegan Knee at the helm, Modist is positioned to become a leader in the local industry.
North Loop
OK, so Inbound BrewCo isn't exactly new. When the former Lucid Brewing moved its headquarters from Minnetonka to North Loop and renamed its operation North Loop Brew Co, a new taproom was needed to rebuild the business. Inbound's construction-site theme pays homage to the company's constant development and redevelopment. Though it seems like the brewery, adjacent to Target Field, may have to re-brand again (it is currently being sued by Northbound Brewpub over its name), the quality of beer has stayed consistent. The Apricot Pale Ale is worth seeking out next time you're wandering around Mill City before the Twins take the field.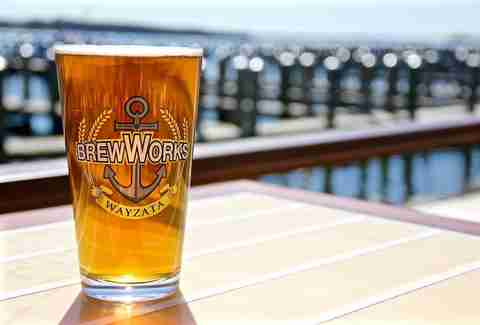 Wayzata
"The Brewery on the Bay" opened its doors in April after the city of Wayzata put out a call for destination businesses to move in. That's when Robert Klick saw the perfect opportunity to open a brewery right on the docks of Lake Minnetonka, just across from his brother's Excelsior Brewing. What separates Wayzata from every other brewery in Minnesota (aside from Bent Brewstillery) is that it distills liquor on the premises, too, though you can't buy cocktails at the taproom. Either way, it's still the only brewery in the state where you can pull up in a kayak, and that makes for a perfect environment for drinking its clean, European beers. Wayzata's Munich-style kolsch is a go-to refresher for warm days on the dock, and the Moore Moore Moore pilsner is for those August afternoons where you need that refreshment in high volumes.
Sign up here for our daily MSP email and be the first to get all the food/drink/fun the Twin Cities have to offer.