Because the time to enjoy outdoor patios in the Twin Cities tends to come and go all too quickly (thanks, weather), locals try to use them as much as possible when they're around. Therefore, when that snow finally melts and the sun comes out, we can't imagine anything better than sitting out on a gorgeous outdoor rooftop patio with a delicious cocktail and full city views. Because summer's a-comin', here's our rundown of places to hit in order to elevate your season to a whole new level. Literally.
Downtown
Union boasts the only year-round, glass-enclosed, heated rooftop patio around town. The views of the city are absolutely stunning, so it's the perfect choice for taking in the incredible sight of Minneapolis. Also, given its close proximity to Target Field, it's a good spot to grab a post-show cocktail and/or snack.
Uptown
This is a great selection for getting some warm weather beers with a few friends on a gorgeous Minneapolis summer day. Located not too far away from Lake Calhoun, it's a solid hangout after the beach, with plenty of sitting and standing room, and even a few outdoor heaters to help stave off some of those chillier summer evenings.
Downtown
CRAVE is the parent restaurant of Union, which is less than one block away. The patio gives patrons a bird's-eye view of Downtown's theater district, and it's also a solid go-to for a beer and a good place to unwind. Whether you're just getting done with a long day at your desk and need a little liquid relaxation, or are making a trip for a show in the area, it's definitely worth a visit.
Downtown
The patio at this Downtown bar & restaurant is pretty fabulous. Not only is the view charming as all hell, but this space also has two fully stocked bars, a fire pit, couches, and an uber-fancy VIP area that's bottle service only... you know, for all you top-shelf locals out there.
West 7th St
This rooftop at St. Paul's premier Irish pub is no exception to the solid MSP patio scene, as it offers a nice view of the city, decent bar snacks, and a lot of great whiskey options. There are a few TVs at the bar, but with such an incredible view of the state capital, hopefully you won't need to affix your eyes to a monitor. After all, there's nothing that makes a day outside more enjoyable than a good view and a nice glass of whiskey. Right? Right.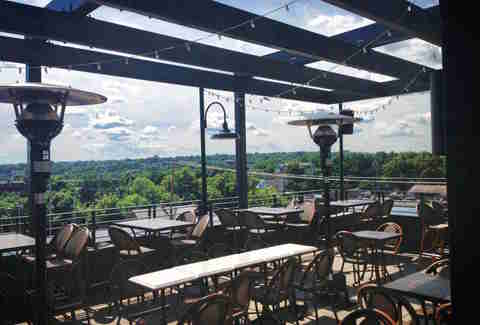 West 7th St
Over on the other side of the river sits the newly remodeled rooftop patio (the largest one in St. Paul) just above Cossetta. The outdoor bar and wooden trellis give it a comfortable, backyard feel, making it an excellent spot for that after-work martini and a few small plates to share with friends or coworkers.
Uptown
Now under new management, this Uptown location is a good pick for a relaxing weekend afternoon. There's a lot of seating up on the patio, with plenty of umbrella cover and a view of Lake St that runs all the way from Lake Calhoun up to Calhoun Square. Order up some wine, either the antipasti or pizza, and let the fun begin.
Uptown
moto-i's rooftop bar is beautiful, to say the least. At night, it's dimly lit, mostly with hanging lights, which makes it feel like you're at a neighbor's Tiki party... only with more sake. Just a warning: it's another pick that can get insanely busy. But the experience is totally worth it (think: slurping down a big bowl of ramen and enjoying an ice-cold Sapporo).
Downtown
This is probably the most lavish of all rooftop patios in town. It's not only grandiose in size, but it also has a massive (and totally gorgeous) bocce ball court that's available if you get there early enough to put your name on a list. Beyond that, Brit's has a wonderful selection of beer and whiskey, either of which happen to go particularly well with an order of Scotch eggs.
Uptown
This place is good for more than just a big hunk of meat (although the idea of gnawing away at a massive bacon chop while taking in the view isn't entirely unappealing). It also has a laundry list of delicious cocktails to choose from, making it a great place to sit and hang when the weather gets nice. In fact, it's an admirable alternative to Stella's, which happens to be the only thing obstructing your view of Downtown's beautiful skyline from the rooftop.
Uptown
Speaking of Stella's, this place has a tendency to get downright crazy, but with good reason: the drinks are strong and the view is spectacular. Not only can you see most of Uptown, you also get a clear shot of the Downtown skyline, which is truly beautiful. It's the kind of place where you'll feel compelled to order a giant fruity drink (with a tiny umbrella -- and there's nothing wrong with that). So just let the summer breeze blow across your face as you watch the sun set across Uptown.
Sign up here for our daily MSP email and be the first to get all the food/drink/fun the Twin Cities have to offer.