What do you do when the weather's a perfectly sunny 75+ degrees but every patio in sight is packed to the gills? Head upstairs, naturally. Some of the Twin Cities' savviest diners know that the best real estate is really on the rooftop, where you can get direct access to cool breezes and skyline views in addition to your happy hour tipples. Many venues are adding niche entertainment aside from stunning views, making these destinations worth a stop for more than drinks. From themed cocktails to arcade games, hot new venues to lush cool foliage, we have something for every diner's rooftop dreams. Here are a few favorites:
Downtown, Minneapolis
The rooftop to rule them all
When it comes to rooftop patios, one name always rises to the top. The worst kept secret in downtown Minneapolis, Brits has a fabulous space that goes far beyond simple dining. Outdoor second level bar? Check. Indoor overflow in case of unexpected summer showers? Check. An all-grass, barefoot bocce ball court that also serves as a plein air movie theater and soccer stadium? Check, check and check. Don't miss it, especially for this year's Women's World Cup. A word to the wise, however: although Brits' capacity marches well over 2,000 patrons at a time, it regularly fills up on soccer days. Get there early.
Downtown, St. Paul
Italian food that would even impress Tony Soprano
Better known on the street as Cossetta's, Louis Ristorante is the glamorous top-shelf eatery perched at the top of this Italian culinary retail mecca. I honestly hate to invite even more traffic to Louis because I love it so much (especially the melted mozzarella appetizer – don't ask, just get it and thank me later), but it really is the best. With great service, spectacular food, lovely vistas from St. Paul's highest rooftop, and an innumerable amount of delicious items to purchase and take home later in the main floor specialty grocery, Louis is a mustn't-miss experience for any St. Paul summer rooftop dining.
Uptown, Minneapolis
The sake brewery and steamed bun rooftop of your dreams
Doing ramen before anyone knew who David Chang was, Moto-I is a perfect stop for fulfilling your umami Japanese food cravings. Not into the idea of mixing your ramen with a hot, sunny rooftop? That's cool too. With miso popcorn, a full suite of steamed buns available, and a daily happy hour, Moto-I has plenty for the snackier al fresco diner. Moto-I also happens to be the only restaurant in Minnesota that can claim to have an on-site sake brewery, meaning any sake drinks you order are guaranteed to be found nowhere else on earth (we recommend a flight so you can try them all).
Downtown, St. Paul
For your whiskey and chicken shot cravings
There are a plethora of excellent Irish pubs scattered throughout the Twin Cities, but the only one with a rooftop to enjoy is the Liffey. Holding down the corner of the rapidly developing West 7th in downtown St. Paul, the Liffey is the OG hotel bar that will wipe all your Holiday Inn blues away. It also (impressively, for bar food) features a gluten free menu and a veggie juicy lucy burger, so you can take even the pickiest of eaters with you. Thrifty diners take note: if you join the Liffey's pub club you will get 10% back on all food and beverage purchases.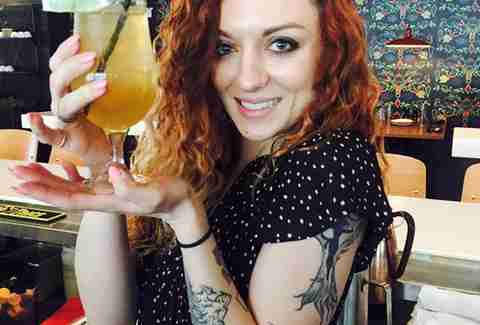 Uptown, Minneapolis
A mainstay with N64 games and giant beer pong
In a neighborhood where restaurants swiftly change tenants, Libertine has proved to have staying power. That might be because they know how to evolve smartly with the times, adding elements like giant beer pong and Nintendo 64 games to attract new generations of diners. The cheeky menu tops out at $16 for the most expensive options, and the impressive drink list includes towers of rose for your group that break out to $6 per serving. The rooftop patio is a great place to sit and hang when the weather gets nice, with a view of downtown Minneapolis's beautiful skyline from the rooftop obstructed only slightly by neighboring Stella's.
Loring Park, Minneapolis
The best kept secret in Twin Cities fine dining
A quiet four blocks from her more famous big sister restaurant the Butcher & the Boar, 4Bells is still quietly producing some of the consistently best food in the Twin Cities. A new chef has revived the Southern Lowcountry roots of this restaurant, bringing back the fried chicken, fluffy biscuits and spicy shrimp and grits to community- wide applause. The cocktails are still fantastic, including that beet juice negroni and gin and tonics (where the tonic is house-made). Even better? A perch on the roof will nab you gorgeous views of the Basilica and Loring Park. Make sure to take the back stairs so you don't miss the fabulous giant squid mural on your way out.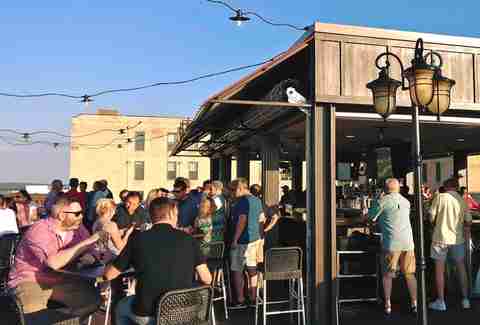 Lowertown, St. Paul
An '80s- and '90s-themed wonderland
Oh what a difference a few short years can make. What began two years ago as Ox Cart Ale House has evolved into an '80s and '90s-themed entertainment hub. The revamped facility has Ms. Pac-Man and many pin ball and arcade games, as well as a menu with kitschy items like artisanal pop tarts, Minnesota sushi, and bacon on a stick by the half pound. The drinks are equally creative, including mystery shots in Capri Sun pouches, booze-filled snow cones, and the Wu Tang made with tequila and OG Tang powder. Thanks to Chef Justin Sutherland's newfound television fame, this location is sure to be packed to the gills all summer long, especially since the hours are Thursday – Sunday only.
West St. Pau
Three words: Affordable. Rooftop. Margaritas.
Mexican food is finally getting its fair due in the Twin Cities, and where better to head than Cesar Chavez Avenue to experience it? Boca Chica has an unusual facility that includes indoor murals and a walk out patio with shady umbrellas overlooking a grassy hill; the overall footprint is far larger than it seems from the street level. The large tables are great, because you'll want to take full advantage of Boca Chica's excellente happy hour menu (including $5 margaritas, $3 tap beers and $5 – 7 appetizers) by ordering one of everything.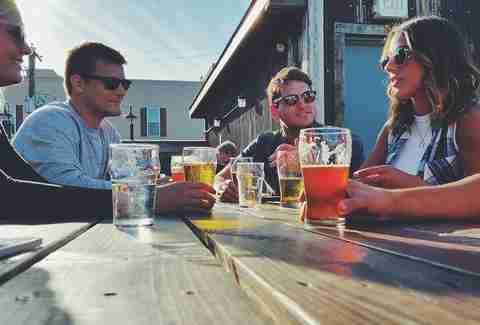 Uptown, Minneapolis
The rooftop that lets you bring your own food
Of all the rapidly developing neighborhoods in the Twin Cities, Uptown is certainly one of the busiest. The constant foot traffic means buildings have to be creative about finding outdoor space, like this brewery converted from an old theater. Going strong for five years now, LynLake Brewery features dozens of delicious brews to cool yourself down on hot summer days. Even better? The kitchen is getting a full update for the first time and will feature rotating pop up guest chef and food trucks as of June 2019, meaning you'll never be bored with the food choices. 
Macalaster – Groveland, St. Paul
Tiki cocktails for your pleasure
The restaurant theme of 2019 seems to be a revival of the Twin Cities' grande dame dining spaces, but only one of them had the foresight to install a rooftop patio for the modern eater to enjoy. The Lexington, St. Paul's answer to Minneapolis's vaunted 510 Groveland address, has a swaggy rooftop that will net you some high-end Asian fusion cuisine (like foie gras-stuffed potstickers, a pineapple kimchi-topped Hawaiian hot dog, or kalua pig cubano sliders) and cutting-edge tiki cocktails. Make sure to wear your best Hawaiian shirt with your shades.
Uptown, Minneapolis
Cheap games, pizza, and several floors of fun
Gaming while drinking is one of the hottest trends to hit the Twin Cities in the last two years. Up Down, a multi-floor arcade experience in the heart of Uptown, is best poised to take advantage of this during the summer months. The main floor includes an arcade jam-packed with vintage and modern games, while the rooftop patio has group gaming and more tactile activities like life-size Jenga. With pizza by the slice and game fees topping out at 25 cents per play, you can't beat Up Down as one of the most creative, affordable dates in town.
Downtown, Minneapolis
A lush rooftop experience when it's too wet everywhere else
What if you want a rooftop experience but it's raining cats and dogs? The unusual space surrounding Giulia, the most exciting addition to the downtown Minneapolis' culinary scene in a while, is the perfect answer. An indoor jungle paradise of skylights and endless greenery surrounds this eatery serving up pitch-perfect northern Italian cuisine. Swig one of the specialty negronis (the smoky mezcal Spaghetti Western or the excellently balanced Classic negroni on-tap are our recommendations) and order tableside fresh pulled mozzarella (yes, they make it right in front of you) for a culinary experience that you'll never forget, rain or shine.
 
Downtown Minneapolis
Where the drag brunch is the hottest ticket in town
Despite a sleepy start when it first opened, Union has rebranded itself into *the* hottest brunch ticket in Minnesota thanks to Flip Phone's ingeniously themed weekly drag brunches. This location is a surefire bet year-round as shows take place snow, rain or shine thanks to Union's year-round, glass-enclosed, heated rooftop patio. Appetizers and shareables are definitely the star of this menu, so bring a group with you to enjoy (and let's be honest, who werks a drag show solo anyway?). Snatch your tickets early as tickets to drag brunches at Union sell out almost immediately.
Downtown Minneapolis and Lowertown, St. Paul
Stadiums count as patios, right?
Are baseball stadiums technically rooftop patios? No. Do I care? Not a bit, because some of the most unique dining options available these days are on the top tier of local stadiums. Target Field has consistently knocked it out of the park with their al fresco dining options, including chicken and waffle cones, bacon tot dish, impossible burgers, vegan sriracha brats and traditional Kramarczuk's sausages. CHS Field is nipping at their heels with an impressive 30+-tap beer open air beer garden, handmade sausages and what has been aptly entitled the "Belly Buster." Go beyond baseball this summer and try out either option.
Wayzata
Swanky suburban rooftop with a view
What should you do if you live in the suburbs and don't want to blow your dining budget on a pricey Uber into the city? Stay local by enjoying a rooftop view of summer shenanigans on Lake Minnetonka instead. The seasonal space at 6Smith (soon to open for 2019) gives access to high-end dining options, including lavish weekend brunches, an expansive menu focused on surf and turf, and a full menu just for vegans. 6Smith also regularly hosts classes and special events, so make sure to check their event calendar ahead of time if you want a more hands-on experience.
Sign up here for our daily Thrillist email, get Eatmail for more food coverage, and subscribe here for our YouTube channel to get your fix of the best in food/drink/fun.