Winter is coming... which means you probably shouldn't be planning a wedding (amirite, Bran/Joffrey?!). Instead, you should be brushing up on things like MSP's best bars with fireplaces, or bars you don't have to leave the Skyway to get to, or... even better... the best winter beers to drink in the Twin Cities, which we've rounded up with help from some preeminent local sud experts:
Thomas Whisenand
Co-Founder/Director of Operations, Indeed Brewing Company
Sierra Nevada's Celebration Ale (address and info): "A true classic for more than 30 years," says Whisenand. "Celebration is one of my all-time favorite IPAs. The hop character varies a bit from year to year, and I am always excited to see the red boxes at the liquor store."
Big Sky's Powder Hound (address and info)
According to the brewery, "two words describe Montana winters… cold, dark and snowy," and while we're pretty sure that's at least three words, we, and Whisenand, can still relate. "I've got some roots in Montana and usually head there for the holidays. Powder Hound goes well with hanging around the house and skiing, which is pretty much all I do when I am out there in the winter." That sounds about right.
Joe Alton
Editor, The Growler
Odell's Isolation Ale (address and info): "Odell's version of a winter warmer is a fine example of an English winter ale," explains Alton (and we agree). This caramelly, malty ale is the perfect thing to drink after tromping through the several feet of snow that we're about to get.
HammerHeart's Thor's Imperial Porter (address and info): "Focusing on beer inspired by their Nordic heritage, HammerHeart showcases big, malt-forward beers, often featuring unique ingredients," says Alton, who recommends "you go try several at their taproom, but if you have to pick just one, try this habanero- and chipotle-infused porter."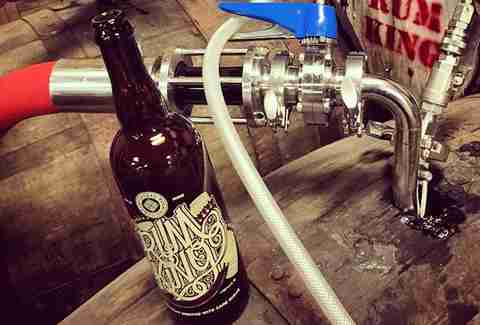 Rob Miller
Founder/brewer, Dangerous Man Brewing Co.
Indeed's Rum King (address and info): Miller says, "I'm a huge fan of imperial stouts in the winter, and all year actually, and Rum King delivers. I love the subtle notes of oak and rum from the barrel, and I love the balance of roast and caramel in the aftertaste. This is a great sipping beer." He also suggests letting it "warm up to experience the full flavor."
Matt Schwandt
President/brewer, Bauhaus Brew Labs
Summit's Winter Ale (address and info): Schwandt digs this regional because it's "just the right strength for wintertime and has some really excellent coffee and chocolate flavors."
Howard Haines
Assistant brewer, Bauhaus Brew Labs
Deschutes' Jubelale (address and info): "Deschutes makes amazing beer overall", says Haines, "but Jubelale is a go-to winter seasonal for me. It's sort of a West Coast version of an English strong ale, with complex notes of caramel, toffee, and a spicy hop finish."
Loren Green
Contributing author, City Pages
Lift Bridge's Barrel-Aged Silhouette (address and info): Lift Bridge's Silhouette is a solid winter beer, but according to sud expert Loren Green, the limited edition barrel-aged version is an incredibly "complex beer that's still accessible."
Matt Hall
Brewmaster, Lift Bridge Brewing Co.
New Glarus' Back 40 Bock (address and info): According to New Glarus, Back 40 is "a beer you can enjoy without pretense or explanation." But Hall's cool enough to explain that "it's an easy drinker with aromas of hay and freshly baked bread."
Robert Kasak
Co-founder/brewer/truck driver, 612BREW
Schell's Snowstorm (address and info): "The thing I love about this beer," says Kasak, "is that the brewery changes the style every year, so you get to try something new from Schell's each winter. I also like hearing people say 'this doesn't taste anything like it did last year!' Ha!"
Sign up here for our daily MSP email and be the first to get all the food/drink/fun the Twin Cities have to offer.