The 5 best new winter cocktails in the Twin Cities
Surviving Hoth-like winter temperatures is one of the biggest problems with living in the Twin Cities, but luckily we've discovered a fool-proof way to do it: spend a Taun(taun) of time drinking new winter cocktails, so that's why we've brought you this list of MSP's five best...
Keane Amdahl
The Smoking Baptist
Heyday
(
address and info
)
Uptown
Having recently been named
one of our favorite new restaurants in the country
, we know that they've got the goods, and this cocktail is basically our ideal holiday in a glass. Made with mulled whiskey, orange tea, and just a slight wash of Laphroaig, it gets us all warm, fuzzy, and pink in the cheeks just thinking about it.
KEANE AMDAHL
Red Medicine
The Strip Club Meat & Fish
(
address and info
)
St. Paul
If you're looking for the physical manifestation of holiday cheer, it's waiting for you over at The Strip Club (the restaurant, not a gentleperson's club). This mix of gin, cranberry-brown sugar syrup, house-made sour, and allspice dram -- which gets a spear of rosemary for a garnish -- represents a perfect balance of flavor and proves that Red Medicine is a whole lot more than just a kickass Fugazi record, although both are great winter time pick-me-ups.
Keane Amdahl
Jolly Poltergeist
Hola Arepa
(
address and info
)
Downtown Minneapolis
The folks over at this newish South Minneapolis restaurant know how to party, and this drink somehow manages to merge the idea of warm weather fun with a little cold weather holiday spirit. Vodka gets a wintery blast from their house-made ginger spiced cranberry grenadine, vermouth, thyme liquor, and a "spice bag" bitters. It's really a lot like a drinking a tropical holiday getaway, which is exactly what your doctor should be ordering.
KEANE AMDAHL
Whiskey Sour
Spoon and Stable
(
address and info
)
North Loop
Open for less than a month now, Spoon and Stable has made themselves at home in the Twin Cities, and their cocktails, designed by legendary barman Rob Jones, are spot on. Their take on the classic whiskey sour is proof. It uses beautiful winter grapefruit for the sour, a bit of allspice dram for spice, and the entire drink gets shaken with an egg white for a little additional body, making this a great cold weather cocktail.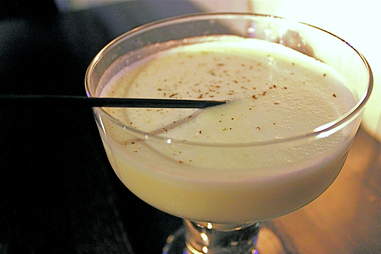 KEANE AMDAHL
Flip Off
Tongue in Cheek
(
address and info
)
Payne-Phalen
This is another new addition to the TC food scene that's taken to banging out some pretty slick cocktails. For this one, think vanilla shake meets creamy egg nog with a little extra kick in the pants. No, seriously; this drink uses both brandy and moonshine, which are both cleverly cloaked by an eggy, creamy base. Garnished with a little fresh grated nutmeg, it's a little winter wonderland in a glass.
Sign up here for our daily MSP email and be the first to get all the food/drink/fun the Twin Cities have to offer.