The Best Twin Cities Coffee Shops and Other Spots to Work Remotely
The nine-to-five grind isn't what it used to be -- more and more employees are working remotely, "hot-desking," or telecommuting out there in the world. Plus, the freelance and gig economy is also booming, as millennials in particular are often not beholden to a boss, but to themselves as entrepreneurs, consultants, and small business owners. If you don't have a cube to call home and you're getting stir-crazy working from your couch, where should you go? We've got you covered with the following coffee shops that check the boxes of available seating, reasonable noise levels, outlet access, reliable WiFi, necessary caffeine, and tasty bites.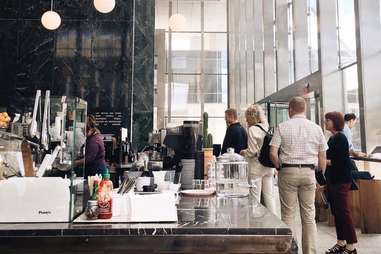 Best for coffee connoisseurs: Penny's
Multiple locations
Each Penny's has a slightly different vibe, but they're all highly-Instagrammable and serve fantastic La Colombe coffee. The modern downtown cafe offers plentiful seating -- set up shop along the large windows that line Washington Avenue in the winter and head outdoors to the elegant street-level patio in the summer. The quaint Linden Hills shop is a bit smaller, located in an old auto garage that offers lots of charm. Perhaps the best part of Penny's (besides the coffee) is its delicious crepes. We're talking ham and gruyere, salted caramel apple, and banana-hazelnut. Pair one with a cold brew, and marvel at how high your productivity can go.
Downtown East
For business travelers looking for a uniquely Minnesotan spot to work, or for locals who love great coffee and a homey vibe, unpack and settle in to Northern Coffeeworks. The mix of heavy wood and bright tile was inspired by the scenery of the Northwoods -- pretend you're working in a very hip, modern cabin with lots of outlets. Beans rotate between Intelligentsia and a few other Midwest roasteries, and creative latte combinations include ingredients like orange lavender, smoked sea salt, and maple cardamom. The other win at Northern Coffeeworks is the food. Get hearty, good-sized portions and big flavors in dishes like the beer cheese biscuit sandwich, yeast-raised waffle, and house-made chicken sausage.
Multiple locations
This eclectic independent chain is the perfect place for creatives: buzzy, colorful, and offbeat. Outlets are plentiful, Wi-Fi is good, and the music is funky but not too funky. The only drawback is that shops are on the small side, but if you get there early you should be okay. What really sets Five Watt apart is its coffee creations inspired by cocktail mixology -- lattes contain things like flavored bitters and simple syrups. The most popular creation is the Kingfield -- vanilla, coriander bitters, espresso, and black Hawaiian sea salt -- and for food you've got fantastic baked goods from Patisserie 46.
Best aesthetics to be inspired: Spyhouse
Multiple locations
With six locations scattered across the metro, Spyhouse's rustic-chic shops roast their own coffee and serve it in spaces reminiscent of an Anthropologie. If you're looking for inspiration to finally finish a project, high ceilings, natural light, exposed wood beams, and weathered brick walls may spark some creativity. It's such a popular spot that noise levels can climb as people get chatty but if you like lively surroundings, Spyhouse checks that box. What to order? The lavender-and-honey Spygirl latte paired with a flaky croissant from Black Walnut Bakery. The newest location, a plant-filled sanctuary for business travelers and locals alike, just opened inside the new Emery Hotel downtown Minneapolis.
North Loop
This bright, whimsical cafe came to us from Chicago, and we're sure glad it did. The interior is decorated with blinking signs, trinkets from past carnivals and state fairs, and a giant flashing letter "F" that makes it into a lot of photos. The North Loop location draws entrepreneurs and creatives, and seating ranges from tables to couches to swings along the bar. Fairgrounds has a super unusual menu of "elixirs" that will keep you guessing as you try them -- we recommend the espresso Old Fashioned, coconut charcoal elixir, and power flower milk tea -- as well as the amazing cold brew on tap. And, if you get hungry, there are fair-themed bites like mini corn dogs and and funnel cake fries, so it's basically summer year-round here.
Downtown Minneapolis and Longfellow
If you're a downtown dweller or worker bee looking for a skyway-connected coffee haven, Peace is your place. The two airy locations in the AT&T and Capella Towers both feature couches surrounding cozy open fireplaces, perfect for warming up after a winter morning commute. The Longfellow location also has a private room you can (cheaply) rent for meetings with a dozen people. All shops have tons of seating, with a mix of large community tables, booths, and smaller one-or-two-person nooks. Peace also prides itself on serving fair trade, organic coffee. If you get hungry, there are pastries from Sift Gluten Free, as well as other local bakeries.
West Seventh
This charming coffee shop is the source of all those rainbow-colored latte photos you've been seeing lately on Instagram. While they're almost too pretty to drink, we can vouch that they taste as good as they look. Even crazier, Cafe Astoria whips up a little something called the "24K Latte" complete with an edible gold leaf -- for a cool $7. While the artsy back room gets packed on the weekends and evenings, mornings are usually a solid bet to set up shop and cross some items off your to-do list. Another huge pro for Cafe Astoria is the food menu, which consists of delicious, colorful smoothie bowls, crepes, and oatmeal so you won't go hungry if you stay all day.
Multiple locations
With four Twin Cities locations, Dogwood's airy, modern shops are ideal for plowing through a complicated pitch deck or crunching numbers. This is one of the quietest coffee shops we've found -- with minimal noise levels so you can really focus. Also, there are tons of seating areas, including high-tops, communal, bar stools, and comfy couches. (We're particularly fond of the Longfellow location with teal decor, semi-private booths, and hot-pink espresso machine.) Even better, Dogwood roasts its own beans on-site. Order a fresh brew for your workday as well as a bag to bring home. If your stomach starts growling, you can't go wrong with the Rustica goodies in its bakery case, either.
Hiawatha
One thing that the Twin Cities is known for (particularly in the summer) is being super bike-friendly. About a decade ago, the owner of Angry Catfish took the two things he loved most -- biking and coffee -- and thought, why not put them together? The result is a hip, community-oriented gathering space where you can get your java fix and your bike fixed at the same time. Angry Catfish serves Intelligentsia beans, which make great pour-overs, as well as sweets from A Baker's Wife (one of the Cities' best donut shops, conveniently located right next door). There's plenty of seating, tons of outlets, and large tables to spread out and hunker down. If the weather's nice, bike there and back to get your work -- and your workout -- in for the day.
North Loop
Maybe it's the funky mosaic tile on the walls and floors, smooth Swedish coffee, or in-house pastry chef. Regardless, The Bachelor Farmer's cafe has a certain je ne sais quoi. Just in front of the Dayton brothers' uber-cool Bachelor Farmer restaurant and Marvel Bar in the hip North Loop, you'll catch what appear to be high-profile business meetings or local pseudo-celebs sipping espresso. The cafe rotates the best beans from around the world, bringing in a new roastery every two months -- often Nordic, a nod to Bachelor Farmer's heritage. The cafe also features a robust seasonal "daytime menu," which includes items like wild rice porridge, smoked whitefish toast, and beef bone broth soup. If you're looking to close an important deal or impress an out-of-town associate, this is the spot.
Glenwood
Just off the beaten path of downtown Minneapolis sits a 30,000-square-foot industrial space that's part event center, part coffee shop, and part blown-glass lighting company. As you would expect, Parallel's bright cafe is full of those thoughtful, modern fixtures and design elements -- the aesthetic alone creates a sense of productivity and order. The coffee's a standout, too, as beans rotate between well-known roasteries and hearty food options, like avocado toast and quiches, change with the seasons. You won't struggle to find a spot to sit -- the coffee shop portion alone is 3,000 square feet -- and there are frequent pop-up events to break up your workday. We highly recommend the monthly "LAB Talks," which feature speakers on a variety of topics as well as a chance for conversation and connection.
Multiple locations
If you're looking for a space to get work done -- but coffee makes you a bit too jittery, we're throwing out a tea bar as an alternative option. While Sencha does absolutely offer java, it's really known for premium loose-leaf and bubble tea. (The Uptown location has a lazy-Susan style rotating shelf with more than 100 varieties from around the world.) If you don't know where to start, the baristas are super-knowledgeable and provide good recommendations. The shop's Uptown and Mac-Groveland locations can get packed with students at peak study times. But if you're an early bird you won't have a problem getting a seat to work.
Sign up here for our daily MSP email and be the first to get all the food/drink/fun the Twin Cities have to offer.
Jenna Bennett Williams is a writer for Thrillist who frequents many of these coffee shops while writing her articles -- and appreciates moderate noise levels, decent background music, and a great oat latte. Follow her on Instagram @jennabennnettwilliams.