Twins fans ask the same old questions at the start of every season: Will the game get snowed out? Will Joe Mauer miss most of the season due to injury? Will we be forced to drown our sorrows at places we probably shouldn't? The answer to the last one, at least, is no, thanks to our convenient rundown of Target Field-friendly bars that should help you make it through the season.
Fulton Brewing Company
Downtown
They're opening up on a Monday just for the Twins' first home game against the A's, and you can expect the usual food trucks outside and all the Fulton classics on tap, plus a limited seasonal brew, named for what everyone really hopes the Twins will be come game-time: (a) Worthy Adversary.
Kieran's Irish Pub
Downtown
This classic Downtown watering hole is only a few blocks from Target Field, and is the perfect place to score stadium-style eats, at less-than-stadium prices, including their fish and chips, which have always been a... waitforit!... hit.
The Bradstreet Craftshouse Restaurant
Downtown
The Crafthouse isn't the spot to toss back Grain Belts. Instead, it's the place to sip classic cocktails (a Flor de Caña 4yr rum/ lime/ mint/ bitters Mint Julep, the Sazerac w/ rye, Pernod Absinthe &
Peychaud's bitters, etc.) that, unlike the Twins' line-up in recent years, have been carefully constructed.
Seven Sushi And Steak Ultralounge
Downtown
Its extensive outdoor seating (including the sky bar rooftop patio) will have you feeling like you got seats in the Legends Club, except they're slinging some sweet raw seafood, and you don't actually have to watch the Twins.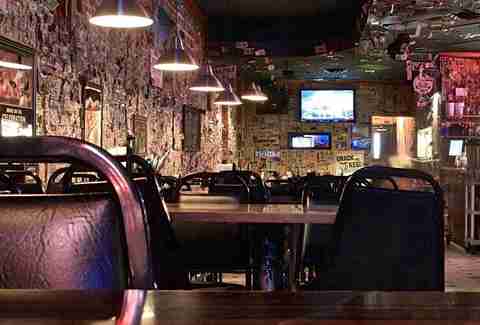 Cuzzy's Grill and Bar
North Loop
It's only a few blocks away from Target Field, is offering sweet Opening Day deals on things like their Turkey Taco Burger w/ Ghost Pepper Cheese and guacamole, and really want the answer to the first question above, 'cause they've already opened their patio.
The Depot Tavern
Downtown
Their killer happy hour deals (half-price small bites, $3 beers, etc.) make this boozer one of Target Field's best pre-game destinations, but their extensive collection of craft brews on tap, and the fact that the whole place is loaded with big screens probably doesn't hurt either.
Darby's Pub and Grill
Warehouse District
They've got a huge outdoor space where you can hang out and play a game of bags before the first pitch, but more importantly, they've also got bacon-wrapped tater tots. Repeat: Bacon. Wrapped. Tater. Tots.
Clubhouse Jager
North Loop
This baroque bar isn't just a game day destination for eats like pork sandwiches w/ onion slaw and banana peppers, or baskets of bacon. Its eclectic music, and a too-cool-for-baseball kind of nighttime crowd also make it the place to be after the teams have hit their clubhouses.