And on the eighth day God said, "Yeah, OK, let the people of Northeast Mpls drink beer near my church.", and Dangerous Man microbrewery/taphosue was blessedly allowed to open directly across the street from Ss Cyril & Methodius Church. Also, the city specifically rewriting a zoning law for them didn't hurt

It's almost like God created the cavernous, columned former bank specifically for Dangerous's spare, minimalist aesthetic

Their brews' malty taste comes from proprietor Rob Miller actually swimming around in the beer tank! Just kidding! He's really more wading then swimming

They eschew clever names and just refer to their beers -- also available to-go in growlers -- by style, with six to launch including a chocolate milk stout, a cream ale, and their not-too-bitter house IPA

They don't have food, but do invite you to stare at this enormous monkey skull by local artist Peter Geyen whilst enjoying take-out from neighborhood joints like Anchor Fish & Chips and Element Pizza

Eventually, they'll have 15 taps pouring different Dangerous Man suds made with Rob's preexisting recipes from his decade-plus of homebrewing (think a 10% ABV strong Belgian golden ale)

You can also walk out with some sweet merch, like this hand-cobbled Ecuadoran hat -- wear it, and people will see that it is good.
Recommended Video
Wine Workouts Are Just What We Need in our Fitness Routines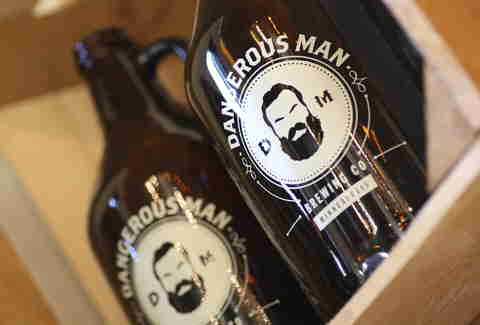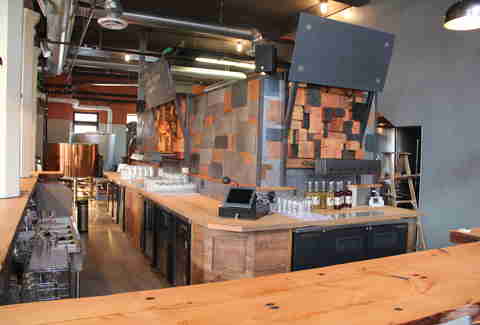 Previous Venue
Next Venue
Venue Description
1. Dangerous Man Brewing Company
1300 2nd Street NE, Minneapolis, MN 55418
Dangerous Man is our favorite type of gathering spot: great beer and a comfortable, warm atmosphere for groups or chatting up someone new. There are 12 rotating beers on tap behind the reclaimed wood bar that endeavor to cover the four major bases … hoppy, light, dark, and strong. For strong we vote for the malty, 10.4% Belgian Golden Strong and for hoppy the citrusy House IPA is smooth and bitter. There's no kitchen, so feel free to bring your own food or order from one of the takeout places nearby. If you're looking to take something home, stop by the growler shop next door for your beer mongering pleasures.