Everybody loves a good ol' Irish pub (especially on St. Paddy's Day), and the MSP area sure does have quite a few of them. But what makes a pub "Irish"? Is it the beer selection? The whiskey? The beer and the whiskey? How about a bunch of 20-somethings drinking heavily and dancing on the bar while wearing "Kiss Me I'm Irish" T-shirts and those dumb shamrock sunglasses? Well, we like to think it's a mixture of all that (with the exception of the last one), with the added bonus of being a neighborhood favorite where you can have a few pints with some good friends -- and, sure, maybe even pair it with a plate of hearty food. Also whiskey. Definitely. There's got to be whiskey. And in the Twin Cities, yeah, we've got plenty of that.
Recommended Video
Thrillist's Best (and the Rest): What You Actually Need to Know About Natural Wine
Downtown
One of the city's most well-known Irish establishments, The Local has spent the past four years as a global leader in the sale (and pour) of Jameson Irish whiskey. Seriously, the place has even been honored for it. That aside, the beautiful wood décor, elaborate bars, and bountiful selection of alcohol (namely that whiskey) is what keeps it a solid staple for Twin Cities pub-goers. And sure, the fish & chips and whiskey-honey glazed chicken shots help as well.
Uptown
There's just something about Irish pubs in the Twin Cities that lead to massive whiskey sales (which may or may not speak to the people of MSP in general). Morrissey's purports to be the biggest seller of Powers Irish whiskey in the state, and even claims to sell more Greenore than anywhere else in the entire US. It was also apparently the first Irish pub in Uptown Minneapolis, which pretty much makes it a historical landmark (in our whiskey-glazed eyes). This place has a rather dark atmosphere inside, but don't let it deter you from the great live music and delicious Irish-inspired snacks it offers at the bar and tableside.
Downtown St. Paul
Considering the size of the Irish population in St. Paul, you'd expect to find some fairly decent pubs. And this sister bar to The Local is just that. The bar was actually built in Ireland before being assembled on-site, and given its location near the Xcel Energy Center, it's basically the best place to grab a pre-hockey shot of whiskey. If you've been keeping up with its Facebook page, it's pretty obvious The Liffey is getting ready for a serious St. Paddy's Day celebration.
Longfellow
Oh, how we love Merlin's! This place is easily one of the most colorful bars in the Twin Cities -- especially since it frequently has bagpipers marching around the bar banging out tunes. Also, it boasts the largest selection of single malt Scotches and Irish whiskeys in the state. And if you think that's an exaggeration, just ask to see the menu; your server will come back with what's referred to as the "Scotch bible": a binder filled with all the different brown liquors offered. What also makes this place so great is that it does (somewhat) frequent tastings, and makes a decent cottage pie.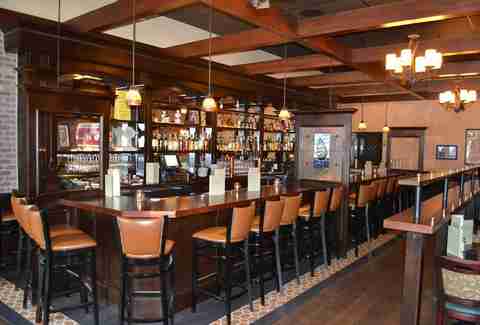 Summit Hill
This Grand Ave pub is a great place to grab a pint and shot with a few friends. It has a hearty selection of Irish-inspired food (get those curried beer & whiskey mussels NOW) and is the only place in town (that we're aware of) that offers corned beef & colcannon.
St. Anthony Park
This place basically bleeds green, featuring live Irish music six nights a week and an Irish dance night every Wednesday. But don't worry, it's not all music and clogging; it also has a pretty solid draft list and a variety of whiskeys (shocking, we know) to wash them all down.
West 7th
This friendly neighborhood pub has been pouring pints under its current ownership since 1982. Located in the bottom corner of an old Victorian building, the casual atmosphere makes it the perfect place to dig into a big hearty bowl of Irish stew while sipping away on a smooth pour of Guinness. It also has a beautiful patio for those summertime get-togethers with good friends. (Expect to make some new ones while you're out there.)
Merriam Park
This St. Paul institution is definitely a powerhouse pub around these parts, offering live music, 35 tap beers, and a robust history. It'll be celebrating its 75th St. Paddy's Day this year, and is doing so with an entire week full of different specials. While it's decidedly less of an Irish pub than it used to be, the culture lives on in the form of the leprechaun cobblers mural, painted inside the bar by founder Jim O'Gara. Also, the shillelagh (an old Irish weapon) hanging over the bar comes straight from County Sligo, home of the first O'Gara clan. Oh, and it still sells whiskey.
Northeast
Keegan's is a solid place in town, offering a great collection of craft beers, a variety of weekly specials & activities, and a load of edible Irish classics. The bar has been consistently rewarded by the people at Guinness for the way the bartenders pour pints. According to the website, "All our Guinness comes from the St. James Gate brewery in Dublin, Ireland, and we pour it at the right temperature with right nitrogen to CO2 mixture." So if you're looking for a good pint-o'-Guinness this coming St. Paddy's Day, it looks like you've found the place.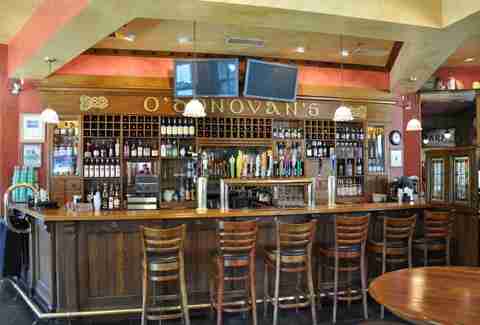 Downtown
This is the kind of bar you come to and, after drinking for some time, start hazily clamoring on about how authentic it looks. "It's almost like I'm in Ireland!" you'll (try to) say. Well, that's because it was the first Irish pub in Minneapolis that was built entirely in Ireland. Come by most nights of the week and you'll find live music, along with a healthy selection of tap beers. And if you're like most, you'll probably (definitely) want to explore the Irish whiskey selection as well... because why not?
Downtown
This downtown Irish pub is brought to you by the same folks behind the Seven Corners craft beer temple, Republic, so you know it has a great selection of different local brews and various taps. It focuses on contemporary pub-style cuisine, with a firm grasp on traditional Irish flavors, and has over 40 different varieties of whiskey. So what we're saying is: make sure you show up good and thirsty.
Sign up here for our daily MSP email and be the first to get all the food/drink/fun the Twin Cities have to offer.
Keane Amdahl is a veteran Twin Cities food writer with a hard penchant for Irish whiskeys, who swears that he's not a leprechaun. Follow his wobbly endeavors on Twitter @FoodStoned.