From sake bombs to stunning 27th floor views, this is Thrillist's Skyway bar crawl
This time of year MSP's average temperature is still hovering around the low negatives, so we've come up with a way to make sure going out for a drink before, like, June, is still a positive experience: Thrillist's Skyway crawl. It's a round-up of badass booze destinations, all of which you can reach without ever leaving our city's eight miles of interconnected, temperature-controlled walkways. Get started at...

Bradstreet Craftshouse Restaurant
Building: Graves 601 Hotel
Happy Hour: 5-7pm Tuesday-Friday, 11pm-Close Tuesday-Thursday
Bradstreet isn't messing around with their happy hour cocktails. For just six bucks, you can get schooled by The Professor, a delicious lime and gin drink guaranteed to help you get flunked up. The after school... err, work, food menu is pretty ridiculous too, with edible awesome like maple-glazed chicken and waffles with bacon.
Mission American Kitchen & Bar
Building: IDS Center
Happy Hour: 4-6pm Monday-Friday
Mission American Kitchen has some pretty high standards to live up to (it's literally, in Minnesota's tallest building), and the Crystal Courtyard in the IDS is about as close as you can get to "outside" these days, so enjoy the wide-open spaces... and the braised ribs. And the happy hour. And the cheap taps. And...
Rare Steak & Sushi
Building: The Grand Hotel
Happy Hour: 3-6:30pm
Let's do some happy hour math: first, $3 beers plus $3 sake equals what? Yup, you guessed it: $6 sake bombs. Ok, then next you multiply the $6 sake bombs by the … err. And then you… I think you have to divide it by the $5 Dynamite Rolls? No maybe it's the $5 Mojo Roll? Whatever. Just get all the sushi and sake you can before happy hour ends!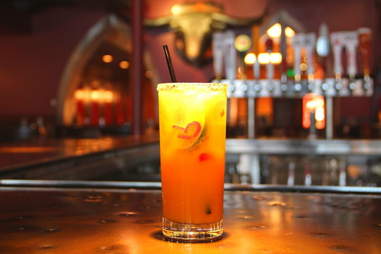 Barrio Tequila Bar
Building: Essex Building
Happy Hour: 3-6pm Monday-Friday, 10pm-Close Monday-Thursday
We don't always have beer-battered Mahi Mahi tacos, but when we do… we get them for $3 a piece, thanks the extensive happy hour menu at Barrio's, which is probably the best place in the Skyway to completely delude yourself into thinking you're somewhere warmer, since their authentic Mexican eats ($4 Spicy Habanero Chicken Tamales, $5 margaritas, etc.) go for almost authentic Mexican prices.
Prohibition Bar
Building: Foshay Tower
Happy Hour: 5-7pm Daily
What Skyway bar crawl would be complete without an actual view of the...um, sky? On the 27th floor, Prohibition boasts vistas unlike any other in the city, and 'tails that're equally unlike any other in the city, including the Shaw of Marquette, made w/a ginger- and saffron-infused gin & Prosecco. 
Manny's Steakhouse
Building: Foshay Tower
Happy Hour: HA! Never!
If you're looking for a cheap place to grab a drink, TURN AROUND. They don't do happy hours. Heck, they hardly do steaks smaller than your head. Still, this is the place to get a cut of meat in the city. And actually the lunch menu is very reasonable, if you want to start your crawl a little early. (Here's a hint: you do!).