This is the Twin Cities' best brewery patio
Ask the fellas from Fulton Brewery how much concrete went into the construction of their game-changing patio, and if they respond, "a full ton", laugh for a moment at their mildly entertaining pun, and then offer them estimating lessons, because you don't have to be Pythagoras to see that the behemoth frontal addition on their formerly parking lot-y parking lot is clearly comprised of a whole lot more.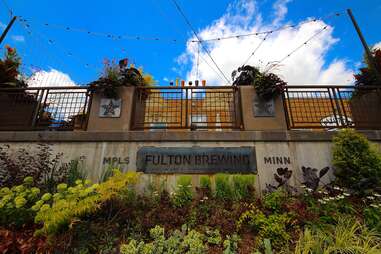 Not only is Fulton's new facade extremely good-looking, it also solves one of only two problems the brewery had: their radical yet spatially challenged taproom. That said, it does nothing to fix their inability to pun off their name accurately.
If you'd done a Mario-style squatting power jump up over the railing last pictured, you'd be here: their raised, concrete patio. Not only does it double their capacity, but because it's some 5ft up, it separates the patio from the industrial sprawl of the Warehouse District's Target Field corridor.
The view from the elevated perch is stellar. Goodbye gnarly intersection, hello Target Field! And fluffy cumulus clouds!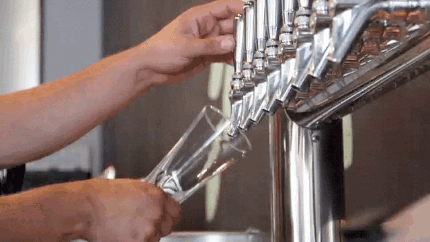 To celebrate the launch of the patio, they're pouring every non-one-off beer they've ever brewed for a limited time, which translates to a larger variety of beers than ever.
With such a large selection to choose from, the toughest decision you'll make all night is which friend to tell first about that hilarious full ton pun we made earlier beer to order.
Lonely Blonde, Fulton Mild, 2 Gingers Barrel-Aged Libertine, and the frothy glory of their Ringer pale ale are just the beginning of the sun-drenched suds you might be lucky enough to get your hands on.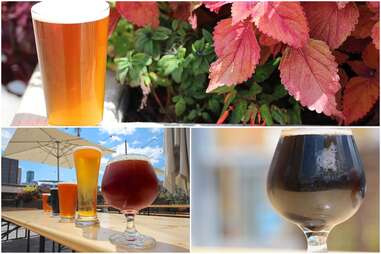 Also available? Their Russian imperial stout, Worthy Adversary, and a rye saison called Expat, which you'll be from Fulton if you actually go up to one of the owners and insult their estimating skills.