Give Dad the gift of better taste in beer this Father's Day... and actual, physical beer
Even for a fresh-livered youngster, getting into the ever-evolving world of craft beer can be daunting, so just imagine how your old man feels in the liquor store, clutching a six-pack of wine coolers and trying to avoid making eye contact with the guy inspecting a case of Minnesota craft beer. Thanks to top MN craft beer store The Four Firkins, this Father's Day, Dad can break free from boring booze via their personal shopper program.
Since all dads are basically the same, here're five of the most prevalent dad archetypes and the beers they love. Jason Alvey (owner of The Four Firkins, and a fantastic model!) curated the ideal six-pack for each.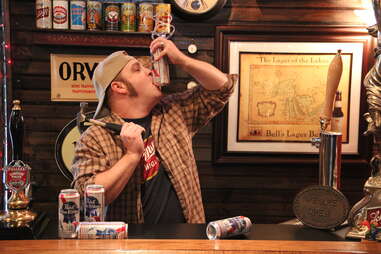 Always Working in the Garage Dad:
This dad breaks perfectly functioning things just to have an excuse to go into the garage, listen to Chicago, and drink "suds". He's not militant about what beer he drinks as long as he perceives it as being thoroughly blue collar.
Wrench Dad won't skip a beat with these...
Schell's Pils: Light-bodied, easy-drinking but with a lovely hoppy aroma. A craft-brewed pilsner with considerably more flavor than your typical old-school domestic but still easy to enjoy.
Mankato Original: A German style of very pale ale called a "Kolsch". Treated like a lager, this is actually a very pale ale with delicate fruit notes and a nice malt backbone. Very sessionable.
3rd Street Rise to the Top Cream Ale: A cream ale is a mellow version of a pale ale brewed with just a touch of wheat. No hoppy bitterness. Made for working in garages.
Tetley's Smoothflow: A British golden ale that uses a Nitro widget to give it that trademark creamy head that Guinness is famous for. Golden in color and pleasantly bready, this is sure to win any dad over.
Fuller's London Pride: This is a classic English pale with a delicate fruity hoppiness and a subtle orange marmalade character.
Morland Old Speckled Hen: Another English classic that also uses a Nitro widget, this one has flavors of caramel and shortbread cookie.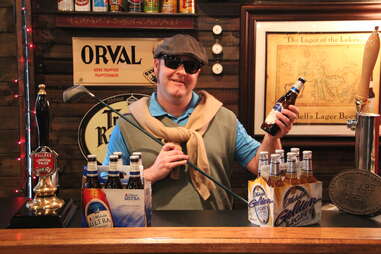 Golf Dad:
Ever since Dad first broke 80 in 1987 thanks to, he thinks, the six Special Exports he drank during his round, he's been pounding whatever the hot beer at the club is, and will gladly buy you one or six.
Golf Dad will be yelling "FOUR more!" of these six...
Schell's Light: Brewed in New Ulm, this is a local light beer with a little more flavor than those you might usually see on a golf course!
Brooklyn Lager: A very sessionable lager with a gentle malty backbone and just a little caramel. Perfect for the 18th.
Lift Bridge Farm Girl Saison: A locally brewed take on the farmhouse style, a family of beers that were once brewed for fieldworkers to enjoy as they toiled. This one is a bright golden beer with a delicate fruitiness. Also comes in cans so you can take it anywhere!
Summit Summer Ale: A German-style Kolsch with a twist: American hops!
Fulton Lonely Blonde: The Fulton brewery is in downtown Minneapolis, right next to the Twins' stadium. Drinking this beer on their deck just before a game [or a round] is becoming a tradition.
Victory Prima Pils: A bright floral hoppy pilsner with a crisp dry finish. A pilsner like this can be an amazing thing. It'll bring a whole new dimension to his game!
World Traveler Dad:
When this dad's not wearing a Hard Rock Cafe Maui or Senor Frog's Cozumel shirt, he dresses like he's about to board a plane for a safari... even though he's never actually been on one. His perceived worldliness leads to a heightened sense of global beers and, thus, he's gregarious in his consumption of Foster's, Red Stripe, and Corona with a lime.
Helping World Dad actually seem worldly are...
Belhaven Scottish Ale: A dark, robust malty ale. The Scottish couldn't grow hops so they just made beer pretty much without them. He can tell everyone about the history and seem even more worldly!
Xingu: A Brazilian black beer. Pours black as night but with a light body and delicate dark chocolate and coffee flavors. This beer is surprisingly quaffable.
O'Hara's Irish Pale Ale: From one of the few available Irish breweries, this is a wonderfully hoppy version of a pale ale. Another crowd-pleaser that'll give him plenty to talk about.
Lion Stout: Sri Lanka's favorite beer. Over there, it's drunk at room temp and that's how they like it! It's a wonderful stout, and we recommend chilling it a little, but either way you'll be impressed.
Pilsner Urquel: The Czechs invented the pilsner and this is a great example. Cans only, please! The typical green glass bottles let in U.V. light and turn it skunky! Cans are just like little kegs.
St. Feuillien Saison: Another farmhouse ales, this beer is light, dry, and a little spicy.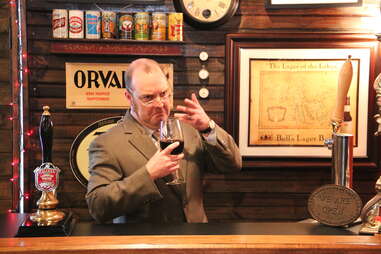 Wine Snob Dad:
Having "actually visited the Robert Mondavi vineyards... twice!", this dad flippantly dismisses beer and those who drink it while dissecting the complex flavor profile of a 2011 Beringer Cab.
Belgium is to beer what France is to wine, so Wine Snob Dad can still be snobby, but now with beer like...
Grimbergen Dubbel: A Belgian brown ale with dark fruit flavors of fig and raisin and a backbone of toasty caramel.
La Trappe Quadrupel: This is a Trappist-brewed strong ale coming in at 10% ABV with huge plum, toffee, and burnt sugar flavors.
Orval: Also a Trappist beer, this one is dry, hoppy, and uses a touch of wild yeast for a pleasant amount of funk.
Tripel Karmeliet: A strong Belgian golden ale with hints of white pepper and lemongrass on the nose, followed by bright fruity flavors. This beer is gorgeous, but at 10% ABV, you better be careful!
Monk's Café Flemish Sour Ale: Barrel-aged and partially fermented with bacteria as well as yeast, this beer is slightly tart and acidic. You'll also enjoy flavors of sweet raisin and passion fruit. Highly complex and sure to impress any wine lover.
Tilburg's Dutch Brown Ale: From Holland, the only non-Belgian beer in the pack is a toasty, caramel ale with hints of dark fruit.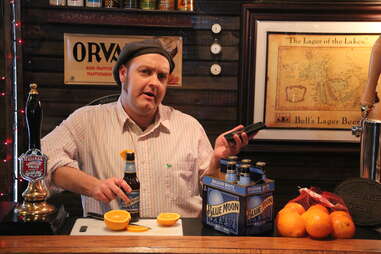 I Think I Know About Good Beer Dad:
Possibly the most destructive of all the fatherly beer archetypes, in 2002 on a whim this dad ordered a Blue Moon with an orange slice at a Champps after seeing another guy nearby with one. Ever since, he has fancied himself an advocate of beers other than "that light crap" and is known to arrive at BBQs with a 12-pack of Blue Moon, a bag of oranges, and his smart phone at the ready to prove that you can put an orange in beer.
He will become Actually Knows Good Beer Dad thanks to...
Bell's Oberon: An American wheat ale with a bright fruity aroma designed for drinking in the sun while you show off your knowledge of craft beer.
Ommegang Witte: A Belgian style Wit beer brewed with coriander and orange peel, this would be a great substitute for Blue Moon. You won't need the orange slice though, as this beer already has plenty of spice and fruit notes.
Odell St. Lupulin Extra Pale Ale: A beautiful hoppy citrusy aroma, but none of the residual bitterness often associated with hoppy beer. A great example of craft brewing, and one he can show off confidently to all of his friends.
Furthermore Fatty Boombalatty: Brewed in Wisconsin, this is a hopped-up wheat beer with a Belgian yeast that gives it a bubble gum flavor.
Sam Smith Organic Chocolate Stout: From England, this is a great intro to stouts. It's actually brewed with chocolate! Think "chocolate milkshake" -- but it's beer!
Indeed Day Tripper: Locally brewed in NE Minneapolis, this is a classic American pale ale with a big floral hoppy aroma and mellow fruity flavor. When he tells you how much he likes it, you can take him to the brewery for a pint, and he can become even more of an expert!
See? You finally did something that made Dad happy.