The Twin Cities' best brewpub gave birth to a craft beer bowling alley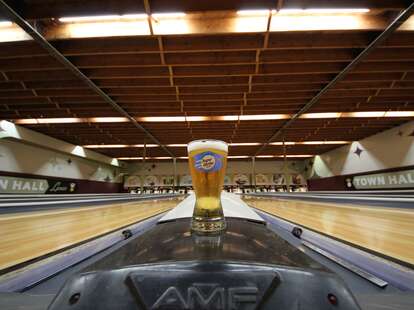 No time for hilarious openers here, because thanks to Town Hall Lanes, Mpls officially has a craft brewery-owned bowling alley, and we're not about to diminish that gloriousness with juvenile quips about the brewery's new-found balls. Nope. We're just gonna launch right into telling you why said balls might be the swellest things to hit Nokomis, well, ever.
The fellas who brought the world Town Hall Brewery and Town Hall Tap are obviously stocking prerequisite Town Hall suds, including a new TH Lanes-only brew, Super Strike Light Lager, because... Oh omniscient Odin, if that isn't a freaking bowling alley just beyond those taps!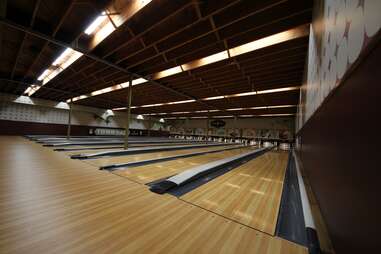 Formerly Skylane Bowl, the alley was every bit of the classically '60s space you'd imagine it to be. Keen on not making bowling a kitschy afterthought, they re-did every aspect of the lanes, from adding high-end tech to ripping out the '60s-era ceilings, all for a more hip, warehouse-y feel.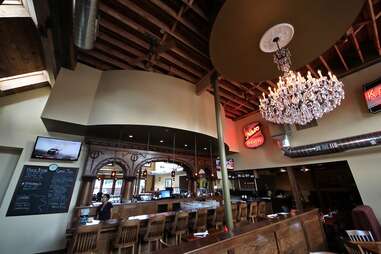 An opulent crystal chandelier, rare beer neons, and a mahogany bar purchased from a one-time Washington brothel are not things you'd normally see at a bowling alley.
Seriously. Take a closer look at those beer signs, which were likely installed 20ft up so that people like you couldn't steal them.
Like at the other Town Hall locales, the menu skews comfort, like that Ragtop Chicken (fried chix/chipotle Buffalo/bleu cheese crumbles/bleu cheese dressing) and the thoroughly Minnesotan Walleye Po' Boy.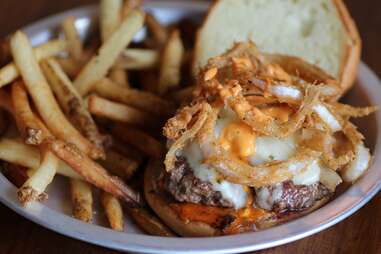 Topped with jalapeno, potato, deep-fried onions, horse jack cheese, and Sriracha cream, they call that slippery sucker the Cranker, maybe because it's made from a rare breed of cows that're super good at bicycling.
The Boss Hog, a bacon-crusted burger stuffed with shallots and seasoned butter, is topped with house-blend cheese and seasoned mayo, because throwing some type of greenhorn mayo on top of a burger like that would be blasphemy.
Signatures pizzas include the El Diablo, topped with Italian sausage, potato, jalapeno, and a house-blend cheese.
And just when you're certain Town Hall Lanes really does have it all, boom: the only barroom player piano in Minneapolis -- a feature that is undeniably the balls.