The Bachelor Farmer's speakeasy is a real swell place to have a cocktail, but it's understandable if the reason you've never gone is because they didn't offer GORP, house-pickled eggs, and a $200 punch bowl. And we hear you, friend, which's why it's so awesome that they've now got all three, plus a shload of new cocktails. Here's proof.
Recommended Video
'Friends' Is Celebrating Its 25th Anniversary With This Immersive Pop-Up Exhibit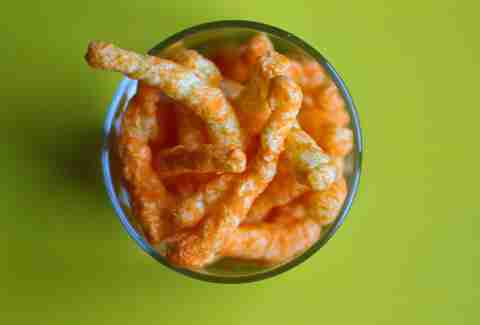 Cheetos from a bag. Previously the only food item you could get at Marvel Bar. Still glorious. Still on the menu. But now, not alone.
That's Peder, one of Marvel's 'tenders chipping some ice because that's how they roll and because he's about to make a crap-load of cocktails for you to see.
Let's start with a cocktail he wasn't picking ice for. The Amaro Royale with Ramazzotti, Seillac Brut, and Nonino, though why they feel the need to expressly list that they're not using a child in the drink is beyond us.
There's that house-pickled egg. It's $2 and worth every penny.
The Rickyticky's not just named after the barback Rick's pet deer tick, it's also a refreshing stew of sea salt, vinegar, lime, Noilly Prat Dry, Agavales Silver, and seltzer.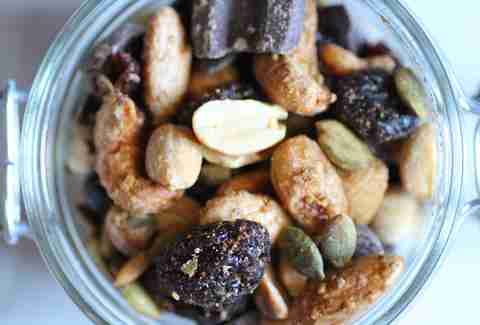 M.B.G.O.R.P... basically just super-seasoned, super-devourable trail mix.
The Double Luxe is Luxardo Amaro, Luxardo Maraschino, lemon, and Cabin Still.
You've never had a marinated olive... trust us.
Not just the title of your Dad's unpublished Peace Corps memoir, Trinidad Seventy Five's orgeat, lemon Angostura, and sparkling wine combined into frothy perfection.
Rum's an increasingly big deal for the kids at Marvel, and Marley's Ghost is evidence. Cardamaro, Punt e Mes, Smith & Cross (rum), and Appleton VX (rum) blend to make for a raucously complex sipper.
That sweaty bastard's the After Eight, with Chartreuse VEP, Branca Menta, and Cynar.
Oh, yeah, and about that $200 punch... it's roughly 16 servings worth of cognac, rum, peach, yellow Chartreuse, and sparkling wine mixed into that gleaming punch bowl; meaning it's such a killer deal for a group looking to get blotto that it's totally understandable if you waited until Marvel Bar featured it to go there.