An anglophilic Nordeast nanobrewery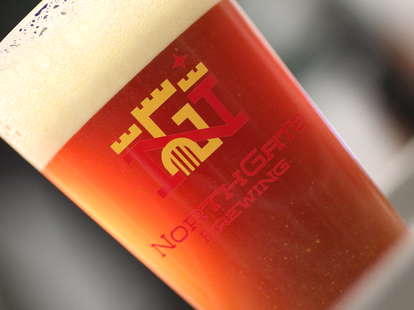 "Go big or go home" is a distinctly American attitude, and thus it's not being embraced by Northgate, who specialize in English beers and operate out of a sub-700sqft warehouse space under the mantra "go small, then go home with a growler of our beer, then enjoy watching footie with the blokes"
Walk in the front door and look right as far as the eye can see, which's actually like 10ft over, to the brewer's desk that also functions as growler sale central. They're not canning or bottling, so this is the only way to get Northgate in your fridge
...And with this second picture, you've essentially seen the entire place! They purchased the walk-in freezer (next to the two brewing tanks) second-hand from a local college, and they'll be driving their kegs out to mainly-Northeast bars in a third-hand van they bought from the Salvation Army. ...Please won't you buy some of their beer
At first, said kegs will be carrying a Northern English brown ale developed by their Siebel Institute-trained head-brewer. But fear not: other sessionable English brews are on the way, assuming that truck doesn't break down and force them to start delivering everything by footie.