Thrillist's Patio Power Rank: The 7 finest outdoor drinking spots in the Twin Cities
Unfortunately, last Winter wasn't just painstakingly long and depressing for Timberwolves fans, as the asinine snowfalls kept on coming INTO MAY. And because our cherished MN patio season was so mercilessly hindered by Gaea, the clearly unjust Greek goddess of nature, your time drinking upon them is even more fleeting than normal. So, instead of wasting one more of your precious patio drinking days this Summer at some second-rate joint, check our Patio Power Rankings and do it right.
7. Brit's Pub
1110 Nicollet Mall; 612.332.3908
These days it seems Brit's gets a bad rap, probably because of all the bad-rap-loving brahs that seem to have infiltrated it. But even their sometimes-less-than-perfect clientele can't totally knock their iconic rooftop (with its insanely well-kept lawn bowling court) completely from a list like this. With entertainment like movies, World Cup games, boxing matches, the aforementioned lawn bowling, and watching people lay on said lawn after a few too many pints, there's nothing else quite like it.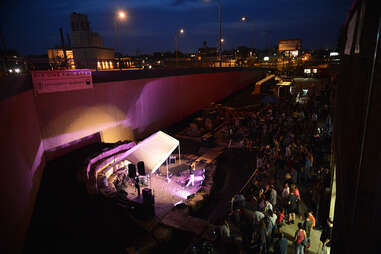 6. 612Brew
945 Broadway St NE #188; 612.217.0437
The wall of doors at Northeast brewery 612 opens onto a glorious amphitheater-like patio, sitting deeply recessed from the intersection that rises above it. So unique is the live-music-wielding space replete with literal tonnage of salvaged limestone that, were it not for the fact that they're solely a taproom lacking a kitchen or full bar, they'd rank way higher on this list.
5. Louis Ristorante's Rooftop Bar
211 7th St NW; St. Paul; 651.222.7378
West 7th is full of sudsy goodness, but when you're street level or close to it, although you feel the visceral energy of the bustle, you're missing one critical thing: a view of your epic surroundings. Enter this new upscale Italian eatery on the third floor of Cossetta's and its side-spanning, full-barred patio, which lets you see everything you've been missing out on, from the churning Mighty Miss just a block away to Cathedral Hill in the opposite direction… Louis is so stellar that it'd be number four with a bullet if only it had a multimillion-dollar retractable roof.
4. Union's Rooftop
731 Hennepin Ave; 612.455.6690
On multimillion-dollar retractable roof alone (not to mention dedicated rooftop kitchen and 50-plus seat bar slinging Johnny Michaels-created cocktails), the Talibi bros' tri-level megaplex on Hennepin not only qualifies for this list, but also knocks CRAVE, it's sister resto right down the street, totally off of it.
3. WA Frost's Patio Bar
374 Selby Ave; St. Paul; 651.224.5715
What WA Frost is not: a debaucherous party for scenesters looking to drink neon cocktails bigger than their heads. What WA Frost is: an old-school garden-y oasis on Selby, with a solid happy hour and a sophisticated, if not understated, bar offering, that somehow perfectly encapsulates St. Paul's coolly slow roll compared to Mpls's frantic one.
2. Butcher & The Boar's Beer Garden
1121 Hennepin Ave; 612.238.8888
Maybe not as physically otherworldly as Suzi's, Butcher's beer garden does manage to capitalize on that same primal Minnesotan patio lust by carving out an oddly private and serene slice of an otherwise bustling DT locale. In fact, it's so well hidden behind Butcher and an adjoining Adam Turman-muraled wall, you might not even know that the beer and Butcher grub-laden 200-seater was even there. Oh, and it's tented and heated in the Winter, a serious bonus.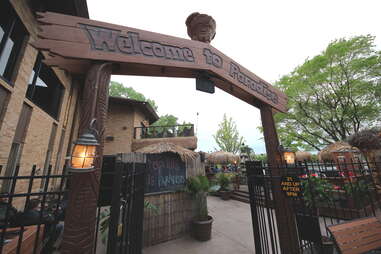 1. Psycho Suzi's Motor Lodge
1900 Marshall St NE; 612.788.9069
Based upon patio and patio alone, Suzi's Northeast Mpls Polynesian paradise on the otherwise industrial shores of the Miss is the unavoidable number one here. Yes, the spot draws its share of suburbanites, and maybe just maybe the prices on the tiki drinks -- be they lil' guys like the One Eyed Willie to the 48oz Leilani's Fire Bowl -- reflect that, but, in its ability to convincingly plant a transportive tropical scene directly across the river from an industrial scrap yard, no patio more accurately captures Mpls's uncanny ability to make the most of its outdoor drinking days.