Head to Hudson to drink a bunch of beers you can't get in Minnesota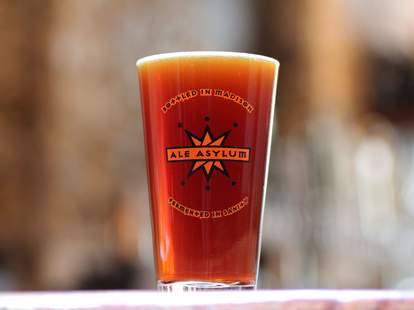 No longer just the name of Fred Flintstone's favorite Cro-Magnon gin joint, Stone Tap's the gastropub/beer bar that's finally giving Twin Cities-folk a reason to make the 30min drive to Hudson for beers on a day other than a Sunday, as they're slinging a solid cull of crafts that simply can't be had in MSP.
Drew Wood
It might look like Stone Tap could be in the Warehouse District, but we assure you that it is, in fact, in Hudson. That said, we also assure you that it takes 30min max to get there, and once you scope what they're packing inside, you'll totally think it's worth the drive.
Drew Wood
Yeah, yeah, yeah, you wanna see beer, but first a little backstory on the digs. The now-awesome space used to house Dibbo's, a grungy nightclub that you wouldn't drive 30ft to go to, let alone 30mi. Thanks to a badass total gut/overhaul, it's now down to its open, airy, awesome bones.
Drew Wood
Getting back to the point: in the Twin Cities, we're spoiled with an abundance of really, really good beer in our bars... But you see all these? Well, we don't have ANY OF THEM.
Drew Wood
Five of those nine taps, including Madison-based Ale Asylum and New Glarus -- the 'Sconi beer holy grail -- are breweries that can't or don't distribute West of the St. Croix. But thanks to Hudson's insane proximity to the TC's metropolitan area, they're more accessible now than ever.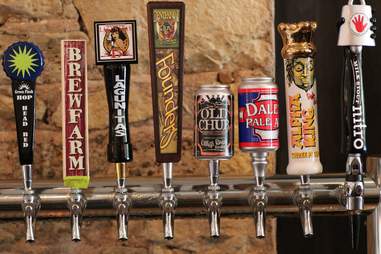 Drew Wood
Dave's BrewFarm is yet another 'Sconi beer not available on tap in Minny bars, and it's joined by Indiana's Three Floyds, Colorado's Oskar Blues, and Cali's Green Flash, meaning it's not just Badger beers that've put 'Sota on their brewtag no-fly zone.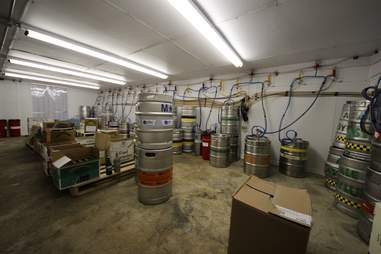 Drew Wood
Alright. We're getting ahead of ourselves. This is Stone Tap's state-of-the-art beer cooler, which's loaded with a selection of beers that'd make MN bar owners drool... and it's still only at a fraction of capacity.
Drew Wood
Kegs of Dave's BrewFarm, New Glarus Spotted Cow, Rush River, and Ale Asylum? Good heavens. And since this is 'Sconi, Stone Tap is on- and off-sale; so starting in August, they'll fill a to-go growler of any of their beers for you... even the one-off stuff.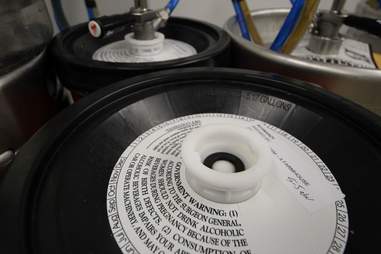 Drew Wood
So tight are the cats at Stone Tap with super-small breweries like Dave's BrewFarm (ST's co-owner is an owner of the Heritage bottle shop) that they also have access to super-rare cuts like Schwarzy -- one of a handful that've never been tapped outside of the BrewFarm.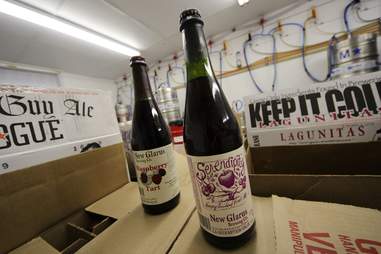 Drew Wood
And we won't even get started on the ample non-MN-distrubuted bottle selection, like these New Glarus bombers that you can drink at ST and, thanks to that on-/off-sale quirk, can also buy to bring home with you.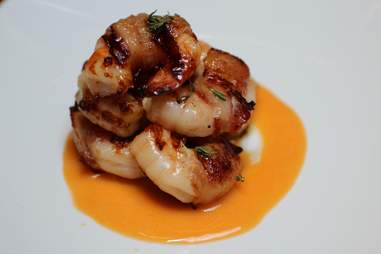 Drew Wood
Wash all that beer down with worth-the-drive-anyway gastro grub from a chef who cut his teeth at St. Paul's Meritage. Mmm, bacon-wrapped shrimp swimming in locally sourced honey sauce.
Drew Wood
You're damn right that's a banh mi with cilantro-/ginger-/chili-marinated chix and a slaw they call "herbaceous".
Drew Wood
That's one meaty piece of grilled salmon atop a thoroughly-'Sconi-style bed of warm potato salad.
Drew Wood
Even the charcuterie screams Badger-land, as its daily changing spread is always 100% comprised of Wisconsin meats and cheeses. BUT WHAT'LL YOU WASH IT DOWN WITH? Oh right, all those rare beers.