10 Minnesota Beers to Drink Before You Die
The bad news is, someday you will die. The good news is, we've found the 10 Minnesota beers that you need to drink before you do. Just don't drink them all at once, lest our beer bucket list be the ironic reason you kick said bucket.
 
Stout; 5%
When Rob Miller created his neighborhood brewery, one of his founding principles was to free himself of the obligation to produce franchise beers. A nice thought that he promptly undid by launching his Chocolate Milk Stout almost immediately. The lactose-injected, perfectly chocolatey beer quickly became a beer fest and taproom favorite and he hasn't been able to stop brewing it since.
Leighton Pope/Thrillist
IPA/ESB; 6.2%
This citrusy, hop-forward amber English pale ale, one of America's 10 best IPAs, propelled Surly into the same rarefied brewery air as Summit and, while they've given us many other reasons to celebrate since, it's still standard.
IPA; 6.9%
We know what you're thinking, Lake who, Empty Row what? For real though, the intensely drinkable, high-hop, citrusy IPA might be one of only two year-round beers from the St. Paul brewery, but that doesn't mean it's not one of Minnesota's most underrated IPAs.
 
IPA; 6.4%
The first of the second wave of garage-turned-real-deal-brewery, Fulton's made one of the best drinking draught pints around: their flagship IPA is clean, crisp, and hoppy-sweet, but also a little dangerous, 'cause while it tastes sessionable, with that ABV it's totally not.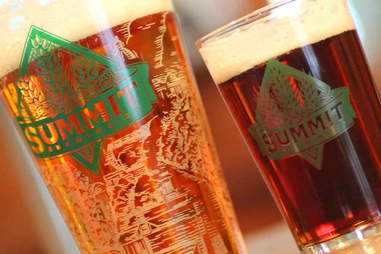 Drew Wood/Thrillist
English pale ale; 5.2%
Minnesota's original craft beer, Summit's 1986 original rivals Sierra Nevada Pale Ale in the realm of legendary American-made sessionable pales and is a multi-time World Beer Cup medalist. Just because it's old hat 'round these parts doesn't mean it's not worth wearing.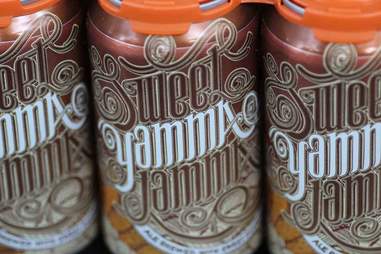 Drew Wood/Thrillist
Sweet potato ale; 5%
One of the essential fall beers in a state with essential falls, Indeed's sweet potato spiced ale tastes like Thanksgiving dinner in a can.
 
English barleywine; 12.5%
One of the most coveted limited-release beers in Minnesota, Lift Bridge's bourbon barrel-aged English-style late-fall barleywine drops subtly sweet spice flavors with complex malt flavors and rates in BeerAdvocate's top 50 English barleywines.
American lager; 4.6%
Quite possibly the greatest lawnmower beer on the planet, and Minnesota's chief contribution to the world of American lagers, although Grain Belt has changed ownership a couple times throughout the years, Primo's remained the same. Sweet, lightly malty, and as refreshing as any beer that exists.
Russian imperial stout; 9.6%
Surly's October-released Russian imperial stout is one of the biggest, boldest beers Minnesota has to offer. With a silky texture and flavor underpinnings that range from chocolate to coffee and a taste that gets even more complex when cellared, there's a reason that Surly devotees camp out for the extremely limited release each year.
 
English barleywine; 14.4%
Another English barleywine, Steel Toe's flagship limited release is aged in rye whiskey barrels, and has the molasses-y, toasty tones and enormous ABV you want in a barleywine, but with an amazingly drinkable, understated bitterness that plays well whether you opened fresh or cellared.
Sign up here for our daily MSP email and be the first to get all the food/drink/fun the Twin Cities have to offer.