Ever since the 2011 Surly legislation, brewpubs and taprooms have been popping up all over the metro area. And yes, there is a difference between a brewpub and a taproom, having to do with things like whether or not they serve food or are allowed to serve liquor, but it's all very complicated and you just want to drink beer, right? Right. So let's get on with this rundown of eight places where you can drink incredible, unique, on-site brewed beers.
Recommended Video
Buffalo Chicken Beer Cheese Fondue Fries Are Like an Edible Sports Bar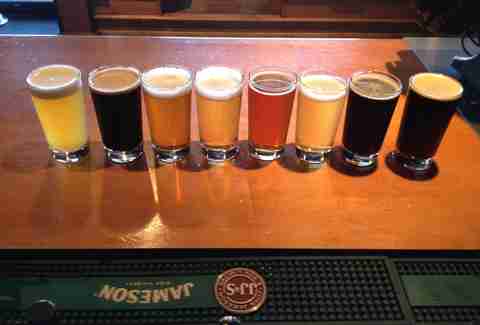 The Herkimer Pub & Brewery
Uptown
The Herkimer's been around since 1999, but it's only just recently that they've started brewing their own suds, with nine house-brewed beers on tap -- all of them delicious. The Lutz West Coast IPA has gained a loyal following for its intense, hoppy aroma, reddish hue, and lengthy stint writing for TGS. If you can still move after a plate of honey-glazed chicken & waffles, there's a patio bags set and a weekly shuffleboard league.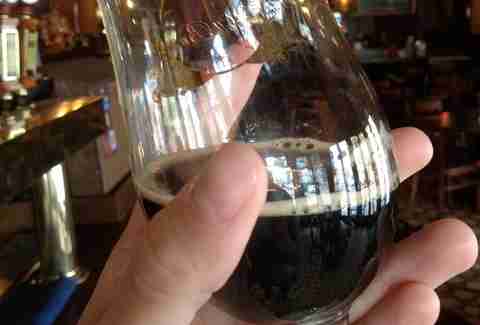 Minneapolis Town Hall Brewery
West Bank
One of the city's more established brewpubs, the Minneapolis Town Hall Brewery has made a name for themselves with their Black H20 Oatmeal Stout and their Masala Mama IPA. Keep an eye on their website for new beer releases, because seasonal and special taps go fast. Also worth mentioning: the menu includes four different beer bread preparations.
Day Block Brewing
Downtown
On a block filled with new kids, Day Block is perhaps the newest (so... Joey McIntyre?). Like most other brewpubs, Day Block features a constantly changing menu of fresh taps. Their Black IPA has an intense character to it… and 8% ABV. Drinkers looking for something a little less ambitious will appreciate Frank's Red Ale -- the perfect, refreshing after-work beer. Sustenance-wise, they're deep on specialty pizzas like the Vietnamese-inspired, cleverly named Banh Mizza.
Fulton Brewery
Target Field
Even though Fulton's brews have been in stores (and other bars) for years, their tap room's still well worth a visit. Fans will appreciate the classics like Sweet Child of Vine and Lonely Blonde, but the real joy of the tap room is checking out pints of less common concoctions like the seasonal Expat, a bubbly take on a zesty farmhouse ale. Fulton's sunny patio is especially popular before Twins games, though typically more in need AFTER Twins games. Even though Fulton doesn't serve food, they've partnered with a host of incredible food trucks that regularly post up right outside.
612Brew
Northeast
Last but certainly not least of the Northeast taprooms, 612 features an expansive indoor seating area and patio. Brew freaks will especially love scoping the great views of 612's state-of-the-art beer gear. 612 has a whole array of drinks on tap, but drinkers looking for something a bit more unique will gravitate to the Shere Khan, an 8% ABV number that features subtle hints of saffron and cardamom. Exotic!
Dangerous Man Brewing
Northeast
Dangerous Man is another brewer who has chosen to forgo food service in order to focus on their outstanding selection of beers. The Chocolate Milk stout is, in particular, a show stopper. And with thick, hoppy goodness like that, who needs a food menu? The Coffee Porter is also a great after-work pick-me-up. Drink some of each and you have a mocha in your belly.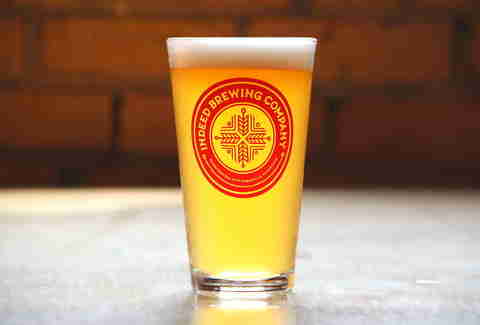 Indeed Brewing Company
Northeast
You might recognize the name from the liquor store where their signature psychedelic 12oz cans have made waves in the craft beer sphere. The Day Tripper is a refreshing treat to enjoy on their patio in the warmer months, while the Midnight Ryder serves as the perfect counterpart during the colder seasons (aka, most of them). Check their website for their lineup of visiting food trucks.
Great Waters Restaurant and Brewing Co.
St. Paul
Great Waters dominates the St. Paul brewpub scene, and makes for a fine place to grab a drink before a Wild game. The classic house beer is the Brown Trout Brown Ale, but more adventurous drinkers will appreciate the Invidia Barley Wine which sports an "intense malty" flavor and a whopping 9.9% ABV. Great Waters also rocks an extensive menu deep with pub eats like spicy jerk-rubbed Rasta Wings.