The 8 Best Minnesota-Brewed Winter Beers
Why do there have to be so many good beers all the time?! Well, to help narrow things down a bit, we're taking a look at the perfect winter drinks in order to help keep you stable through the chillier months. These robust beers are perfect for before, during, or after any hardcore shoveling that you'll inevitably wind up having to do at some point over the next few months.
Snowstorm
Brown ale, 6.2% ABV
New Ulm
Every year we get excited for the newest edition to the point that it's become a cold weather tradition. Ringing in at a very reasonable 6.2% ABV, this year's interpretation is a very malt-forward Wallonian-style brown ale that features a robust, nutty flavor.
 
Size 11
Imperial IPA, 11% ABV
St. Louis Park
This imperial IPA is another giant sized beer featuring a boot-load of hops, which lends to the beers floral, citrusy notes. It's also a beer that'll kick your face right off of your face coming in at a whopping 11% ABV making it by far the most outrageous beer on our list.
Harness
IPA, 7.2% ABV
Duluth
We always love what these folks have going on and their winter varietal is no exception. This hop-heavy IPA is balanced with a variety of malts including oats, rye, and malted barley. With a 7.2% ABV, it's certain to help keep you warm in the winter months.
 
Worthy Adversary
Imperial stout, 9.5% ABV
Minneapolis
There's something about winter's wrath that makes drinking really thick, powerful beers extra gratifying, and this seasonal Russian-style imperial stout about takes the cake, or it's basically cake in a bottle. Either way is fine because with a 9.5% ABV you're not going to care about too much for too long after drinking it.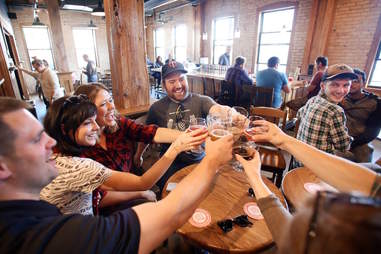 Courtesy of Indeed Brewing
Hot Box 
Imperial stout, 9% ABV
Minneapolis
While this beer isn't out just yet (you'll have to wait for January or February for it) it's just fun to drink. Made using smoked poblano and jalapeño peppers (done courtesy of Northbound Smokehouse in South Minneapolis), this spicy imperial stout is just what you need for an ASAP defrost session, especially given its 9% ABV. If you can't wait until January, you might be able to still find some of their Rum King or their other winter seasonal staple, Stir Crazy winter ale.
Peanut Butter porter
Porter, 5.3% ABV
Minneapolis
While this beer has probably the lowest ABV of any beer on this list, ringing in at a mere 5.3%, this one is perfect for those blustery days where you don't want to find yourself face down in a snowbank a few blocks down from where you're actually supposed to be. Instead, sip and savor the rich flavors of peanut butter and chocolate, with just a tidbit of coffee, while staring solemnly into your fireplace. 
Smoke
Porter, 8.2% ABV
Minneapolis
This smoky Baltic porter goes hand in hand with roasting chestnuts over an open fire. Featuring a subtle tinge of smoky flavor from the smoked malts, the beer is given time to chill out and mellow while aged in an oak cask which lifts out flavors of raisin, figs, and mild chocolate after notes all while sporting a very respectable 8.2% ABV.
Sticke Alt
Altbier, 6.3% ABV
St. Paul
This late fall/early winter beer is a bit of a rarity as it's not only the 20th installment of the Summit's Unchained series, but it's also a lesser known German variety called Altbier. This really delicious, easy-drinking brew is perfect for the season, featuring notes of caramel, toast, and just a hint of stone fruit along with a mild 6.3% ABV. It's exactly what the winter ordered.
Sign up here for our daily MSP email and be the first to get all the food/drink/fun the Twin Cities have to offer.
Keane Amdahl is a veteran Twin Cities beer drinking writer guy who's secretly just trying to keep warm during the cold months. Follow his slurry escapades on the Twitter box @Foodstoned.