The Best Beers to Drink in the Twin Cities This Spring
Courtesy of Mike Schwandt
It's easy to say that the best time of the year to drink beer is as the weather gets warmer and we start to enjoy those pre-summer months on the outdoor patios of whatever bar we may be in. But let's be real: beer is pretty great all year. Having said that, we will admit there is something wonderful about the spring seasonals that come out around this time -- especially when the local breweries do it just right. So we've gone ahead and put together our top picks for local MSP beers you need to get your hands (and lips) on before they disappear for yet another year.
Courtesy of Tin Whiskers Brewing Co.
American pilsner, 4.8%
Lowertown
This spring-summer seasonal is a great sip as the warmer weather sets in. It's a classic American pilsner (the name "Parity" actually means being equivalent) with a slight hint of citrus and bitter hops. And with it's subtle 4.6% ABV, it's the perfect accessory for yard work or just hanging around on the couch. Or at the bar. Or on the deck. Basically, wherever you are, you'll have a better time with this beer in hand.
 
Red lager, 5.6%
Northeast
'Tis the season of the mighty red lager, and Bauhaus's Copperpop is one of our favorites. It's flavorful, hoppy, and full of citrus, which makes for a nice, clean drinking experience. And with a fairly mellow 5.6% ABV, it's rather easy to enjoy more than just one.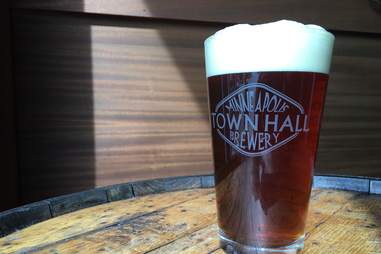 Courtesy of Minneapolis Town Hall Brewery
Irish red ale, 6.2%
West Bank (& other locations)
This local microbrewery always has a great selection of seasonals. Its spring release, Red Shamrock, is a solid Irish-style red ale. It has a 6.2% ABV with a reddish amber color, along with nice malty, hoppy notes that make it a great sipping beer perfect for a few rounds of bowling... should you happen to be at the Lanes location, of course.
IPA, 6.8%
Northeast
This full-bodied, kick-in-the-pants IPA is a terrific spring drinker and comes with a full 6.8% ABV for that extra little push in the right direction. Notes of caramel backed by bitter hops help to bring you down from winter's wrath, while the flavors of tropical fruit pick you up and get you ready for the busy season ahead.
Double IPA 9%
Lyndale
Ringing in with a solid 9% ABV, this fruity double IPA is just what you need this coming spring. It has an intense golden color, with great flavors that are rounded out by a deeper malt base -- the perfect beer for relaxing on a rooftop and enjoying the warm(ish) weather. Good thing the LynLake Brewery has its own rooftop patio!
 
Double IPA, 9%
Northeast
This double IPA is probably best had when you don't have much springtime running around to do. Why? Because that 9% ABV will certainly kick you in the ass after you've had some. It hammers home a number of bold citrus flavors (hello, grapefruit and tropical fruit) and even sports a mango aroma that'll undoubtedly have you asking for another round.
Keane Amdahl/Thrillist
German lager, 6.8%
St Anthony Park
This German lager has a nice malty flavor with just the right kick of hops on the back end. To make the drink authentic, the brewery actually uses traditional German malts and then lagers the beer for a number of months. So, while it may take time, it's undoubtedly worth it because the taste is phenomenal. We suggest taking a growler home, setting up a nice chair outside, and then having yourself a good solid yard beer to help ring in the new season.
 
Lager, 4.5%
Stillwater
Done in collaboration with local hard rock station, 93X, the Brotherhood stands out largely because a portion of the profits made from this beer go to support the Minnesota Military Family Foundation to help raise funds for local military families in need. This simple, easy-drinking lager has a 4.5% ABV and is a great all-purpose beer. Plus, you can feel charitable with every sip. Look at you... what a good person you are!
 
Rye saison, 5.7%
North Loop
This rye saison is easily one of our favorite spring brews, and we look forward to getting our hands on it anytime the weather gets warmer. It's both crisp & refreshing, yet bold and full of character, and is a good choice to have on hand during spring BBQ season.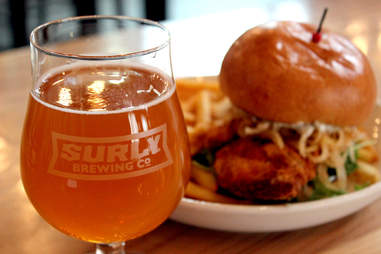 Keane Amdahl/Thrillist
IPA, 7.2%
Prospect Park
Local mega-brewer Surly recently released its newest batch of Todd The Axe Man, the beloved West Coast-style IPA, which was originally developed in collaboration with Amager Bryghus in Copenhagen. The light-colored brew has strong hops and citrus notes that make it perfect for the gorgeous spring ahead, and the hefty 7.2% ABV will certainly help you to come down from whatever winter blues you might have contracted during the cold months.
Sign up here for our daily MSP email and be the first to get all the food/drink/fun the Twin Cities have to offer.
Keane Amdahl is a veteran Twin Cities food writer that couldn't be happier about spring beer season. Follow his hazy rantings and ravings on Twitter @FoodStoned.