As wonderful as the craft beer scene is in MSP right now, we can't forget about the classics. For the purposes of this article, we're talking about wine. And wouldn't you believe it, we've actually got a pretty decent number of wine bars here in the Twin Cities. Sometimes these places tend to get overlooked in light of the local beer and locally distilled craft cocktail boom, but let's not forget, wine is also a booze worth celebrating.
Northloop
This is a great little casual spot in one of the Twin Cities' quickest developing hot spots. It also happens to be one of the first businesses to take to the neighborhood, pouring glass after glass since 2006. Specializing in wines produced by small family vineyards that focus on sustainable, organic, or biodynamic farming practices, their list is extensive with the average bottle costing $30-$50.
Southwest
All too often this little French bistro gets overlooked, but not today, friends. Today, we celebrate their nicely curated wine list, one that offers a moderate selection of by the glass and full bottle options with most being fairly priced. If you choose to drink by the glass, Cave Vin offers a $5 half glass option which allows you to try an array of varietals.
Southwest
One of our favorite Italian spots also happens to be one of the best wine bars in town. Focusing on independent, traditional, and historical Italian vintages, Terzo's cellar holds over 1,000 bottles of 300 different selections. The wine list updates often, allowing you to become well-versed in the Italian way of wine, and they offer many by-the-glass options for just $10-$15. They also have some great food that screams to be paired with a decent glass of vino.
Como
To be frank, we love a place that has a small, nicely curated, and extremely accessible wine list, and this place has all of that. The bottles tend to run below $40 and the glasses under $10. They also offer live music, so it's nice to pop in for an evening, grab a glass, and take in a bit of local culture.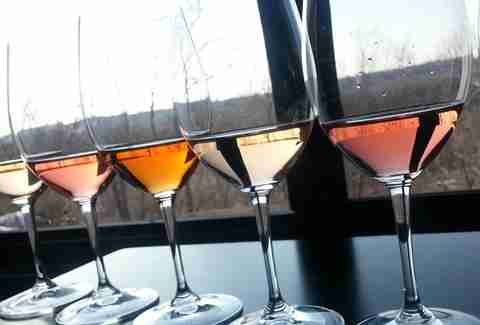 Lillydale
Part liquor store, part wine bar, this is a great spot to hit even though it's technically just outside city limits. The wine bar portion offers a variety of on tap options along with several different flights, which is always a great way to get the most bang for your buck when discovering new things. They also have a bunch of little bar snacks designed to go well with a glass... or two.
Downtown St. Paul
There's nothing like hunkering down in the bar at this beloved St. Paul institution with a big glass of vino and a platter of oysters. Beyond the bubbly, however, they have a mighty wine list featuring varietals from around the globe with options ranging from budget-friendly to blatant wallet busters. So whether you're a complete amateur or an experienced aficionado, they're likely going to have you covered.
Longfellow
This is a favorite little neighborhood spot that's perfectly designed for unwinding with a glass. With over 100 different curated labels available from around the world, there's a lot to try. Fortunately, they also do wine flights which allows the option to try out wines from different regions all while expanding your palate.
Uptown
There are few better places in the Twin Cities to pony up to the bar (or the patio, weather permitting) for a good ol' glass of vino. This iconic Uptown restaurant has been pouring wine for 30 years, so they know a little bit about what they're doing and will certainly be able to point you in a direction of something that you're sure to love. They also offer a list of rotating discounted wines during their two daily happy hours, so you can always try something new on a budget.
Highland Park
Focusing largely on American wines, the list at Joan's in the Park is delicious and has a little something for everybody. And given how affordable the wine is, it's a little easier to choose a beverage when you don't have to worry about breaking the bank.
Whittier
This place has been somewhat of an obsession for us since they opened their doors just a little over a year ago. With a focus on fermented foods -- their wide variety of cheeses, in particular -- GYST was designed for drinking wine. Their list is short but well-curated with most bottles landing in the $40-$60 price range. A handful of by-the-glass options are also available. If you need a little assistance, chat with the servers and they'll gladly help you pick out a pairing to go with whatever meat and/or cheese plate you decide to order.
Sign up here for our daily MSP email and be the first to get all the food/drink/fun the Twin Cities have to offer.
Keane Amdahl is a veteran Twin Cities food writer that occasionally takes a break from eating in order to slug back a glass of wine. Follow his antics on Twitter @FoodStoned.