The Weekend Playbook: Hot Dog Eating Contests & No Pants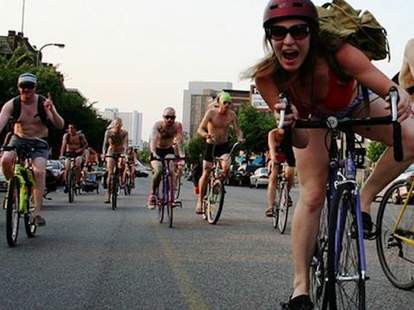 Eric Shoultz via Fourth of July Freedom From Pants Ride VII Facebook
Event of the WeekHit Nicollet Island Pavilion at 7p tonight for a live performance by Rogue Valley followed by an outdoor screening of Top Gun. 'MURICA!
Wednesday, July 3rd Start this gloriously long weekend off at Vine Park, where cats're getting down with a "Hopalicious" themed brew party night, wherein you brew six different hoppy beers and leave with samples at the end. $50 gets you in from 7-9p
After making/drinking your own beer, hit Bryant Lake Bowl at 9p for Bridesmaids: A Drinking Game, wherein a cast of characters will read through the entire script whilst also drinking along with the audience at certain prompts. At $12/pop, the tickets are basically being given away (for $12)
Thursday, July 4thThe only thing more American than watching the Twins get dismantled by the Yanks in a 1p matinee is watching fireworks right after at Target Field. Tickeeeeeets, get yer ice cold tickeeeeeeeets here
Think you can eat a crapload of wieners and/or want to watch a bunch of people try? Then hit First Ave's Depot Tavern at 2p for the 4th Annual Diamond Dog Eating Contest. First place winner gets a First Ave Platinum Membership, 10 pairs of tickets to First Ave shows, and a $50 Depot gift card...
Do the opposite of putting on like 15lbs in 20mins and instead take some off at the 4th of July Freedom from Pants Ride VII, wherein you'll ride from a vacant lot on the edge of Northeast to Powderhorn Park's Independence Day celebraysh... in just your skivvies. Bikes up, pants down at 6p
Put your pants back on and go to Blaine's National Sports Center to watch a professional soccer game at 7p. Score tix for MN United FC v the Atlanta Silverbacks
Proving that unruly soccer hooligans don't have to be the most obnoxious thing about your day are the patrons at "Star Spangled Banger", Bar Fly's massive 4th of July outdoor patio party. This biz is free and there're even ways to score free booze
Regardless of what you do for the rest of the day eventually, if you have any soul at all, make your way to St. Anthony Main to see the Red White and Boom fireworks show with the best backdrop imaginable. Starts at 10p
Friday, July 5thSleep off the Fourth, but make sure to wake up by 10p so you can get to Amsterdam Bar & Hall for Hot Pants, a DJ night filled with '60s-'70s funk, soul, and boogaloo. Get the skinny