The definitive Minneapolis beertail & michelada crawl
Like beer so much that you want to literally drink nothing else ever? In the interest of not losing you as a reader, it's our duty to encourage you to at least drink a bit of water from time to time… and also to broaden those horizons a tad by giving you this nine-stop DT Mpls to St. Louis Park crawl of the best beertails and micheladas this berg's slinging
Stop #1: Barrio Tequila Bar925 Nicollet Mall; Central; 612.333.9953Start downtown on Nicollet Mall at Barrio Tequila Bar, where you'll do your best to ignore MSP's most comprehensive selection of tequila as you order off the Cerveza Cocktail menu, which consists of a Pacifico/chipotle/lime/Maggi michelada and the muddled Fresno pepper/Dos Equis El Toro.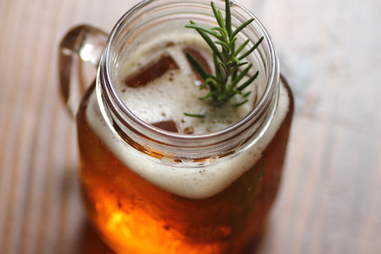 Drew Wood
Stop #2: Mason's Restaurant & Barre
528 Hennepin Ave S; Downtown; 612.516.3344
From there, it's over to Hennepin and Mason's Restaurant & Barre, where the Masonic Temple-turned-DT party bar-turned-actually really good craft eatery slings an entire menu of "Boozy Beer", from the salvaged 400 Bar bar, ranging from their Border Beer (mescal/Dos Equis/chili salt/lime) to the Gosling's dark rum, Strongbow cider, MN maple syrup, and rosemary Dark Apple, aka any mac Stephen King has ever written a story on.

Stop #3: Marin Restaurant & Bar
901 Hennepin Ave; Downtown; 612.252.7000
Working your way towards Uptown on Hennepin, the next stop's Marin Restaurant & Bar, where master cocktailer Mike Rasmussen will take a break from mixing fancy G&T's to make you a Marin Michelada, which pairs house-made savory and spicy michelada mix with a the pils from Victory… Something it will indeed be if you are able to somehow pry yourself from the clutches of Marin's glorious patio and head to the next stop.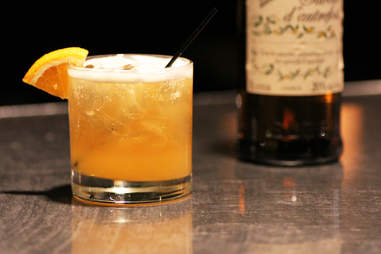 Davis Butwin
Stop #4: The Lowry
2112 Hennepin Ave S; Uptown; 612.341.2112
Snag a Nice Ride and head due South on Hennepin, resisting the temptation to stop and climb the Cherry & Spoon and eventually parking both bike and bum at The Lowry, where you will have a Summit EPA like you've never had one before thanks to the Battle Cat, which pairs the aforementioned MN craft staple with vodka, orange Curaçao, lemon & cran juices, and simple syrup. They're also rocking a Plymouth gin, simple syrup, lime juice, Joia grapefruit soda, and Shock Top Belgian White Ale concoction called Snarf, because what else would you call it?

Stop #5: World Street Kitchen
2743 Lyndale Ave S; Uptown; 612.424.8855
Still standing? Still know which direction South is? Good. Then jump over to Lyndale and keep heading that way until you get to food truck-turned-brick and mortar World Street Kitchen which prove you don't need hard alcohol to make a tasty beer cocktail, with a cull of beer and wine cocktails that includes a spicy michelada with Pacifico and the Grain Belt Premium/Angostura bitters Premostura.
Facebook.com/MotoiSake
Stop #6: Moto-i
2940 Lyndale Ave S; Uptown; 612.821.6262
Trek a few blocks further, and you're at North America's first sake brewpub, Moto-i, where cats went to great length to prove brewing sake is very closely akin to brewing beer, which's why we're telling you that their Sake Cocktails menu totally counts towards this crawl. There's a shload of mystifying options on the list, but you'd be a champ if you just slowed your roll and took down a Stryker's Best Bloody with futsuu sake, Effen cucumber vodka, Sriracha-spiked Bloody mix, and a Thai jerky garnish.

Stop #7: El Nuevo Rodeo
2709 E Lake St; Longfellow; 612.728.0101
Pry yourself from Moto-i's glorious rooftop and hang a left on Lake St until you hit Longfellow Mexican resto/dance club El Nuevo Rodeo. Get back to the roots of beer cocktailing with their fierce Dos Equis draft michelada with a spicy mix that comes served in a frosted glass with a salted rim.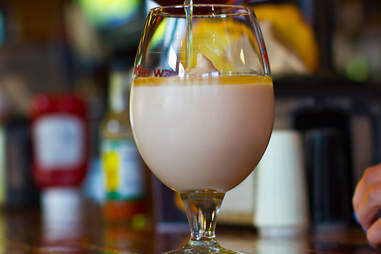 Stop #8: Republic
3001 Hennepin Ave S; Uptown; 612.886.2309
Now that you've had the best traditional michelada in town, reverse course on Lake and head back towards Hennepin, where you'll have to do your best to ignore Uptown's best beer selection in favor of ordering a Left-Handed Caucasian, which is not only what they call yours truly when I go there, but is also what they call their Left Hand Milk Stout/Kahlua/Licor 43/cream White Russian.

Stop #9: McCoy's Public House
3801 Grand Way; St. Louis Park; 952.224.9494
One last jaunt, this time further West down Lake, eventually letting yourself spill onto Excelsior Blvd and into St. Louis Park. Destination: McCoy's Public House. Of note on their beer cocktails menu is the Kentucky Apple (Devil's Cut bourbon, anejo, maple syrup, Angry Orchard cider) and a Guinness mixed with black raspberry liqueur, blackberry puree, and Mexican cacao into their Black Diamond, AKA what you'll stand up and rate as the difficulty of this crawl… just moments before falling face-first into some innocent bystander's club sandwich.