Boozy snow cones and EVERY SINGLE drink at Eat Street Social's new tiki bar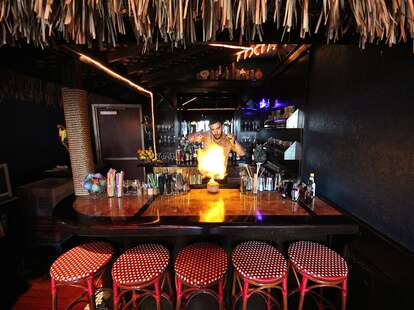 Drew Wood
Drew Wood
World-class mixologists, soda fountain, killer grub, gnarly space... you probably thought Eat Street Social had it all. Well, turns out you were totally wrong, because until now, they didn't have a room off to the side dedicated solely to making crazy tiki cocktails.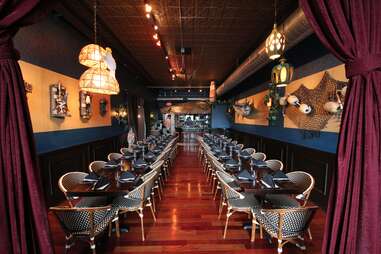 Here's where the tiki cocktails get made. Kids call it The Torpedo Room, but damn if there's not a single one anywhere to be seen.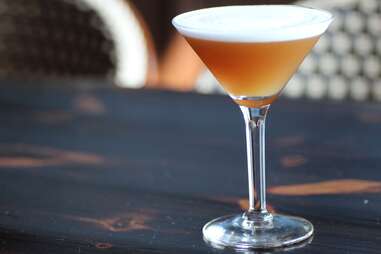 The first stop on this tiki tour is the La Favorite Ambre/lime/muscovado syrup/Americano foam Pleasure Hunter.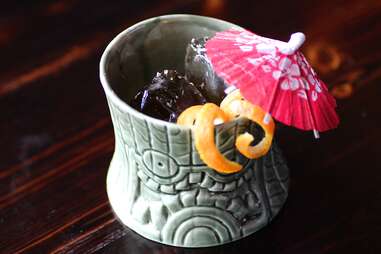 Not just what they call the dude responsible for caning peeps at the Singapore jail, the Bamboo Banga employs White Lion Arrack, Ilegal mezcal, subtropical syrup, Lemon Hart 151, and Tahitian bitters into something equally dastardly.
With Buffalo Trace, Averna Amaro, pineapple, green tea syrup, candied bacon, and seltzer, that fella's The Sun Had a Name, so if you order a "Gary", they'll totally know what you're talking about.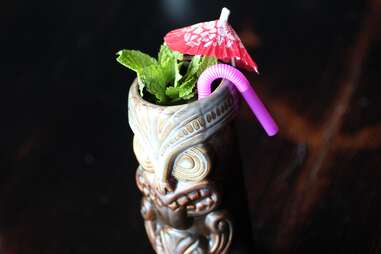 Two different rums (Plantation 3 Stars and El Dorado 5yr), plus ESS (Eat Street Social) orange liqueur, lime ESS orgeat, and Mahalo bitters all contribute to a Marama Rum Punch that's so bodacious, its glass is snarling in hopes of scaring you away.
Although the menu's about as purist-tiki as you can get, it pays frequent homage to its MN heritage, as evidenced by the Corn n' Oil, which's thankfully not movie theater popcorn, but instead Gamle Ode Celebration Aquavit, Black Seal rum, ESS falernum, lime, and Bittercube Blackstrap bitters.
FOOD BREAK! There's also a perpetually changing Torpedo Room grub grab, with an equally Midwest-meets-Polynesian ethos, as evidenced by ish like the housemade SPAM sliders. You read that correctly.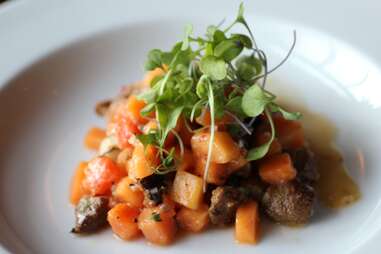 More food. This time, the thoroughly Polynesian sausage and papaya salad.
Their version of the Singapore Sling, the White Lion Arrack-based Sri Lankan Sling's got ESS tart cherry & orange liqueurs, Benedictine, hibiscus grenadine, pineapple, lemon, and Mahalo bitters.
The Royal Hawaiian Pine isn't just the favorite tree of Thomas Magnum, it's this North Shore #11 gin/pineapple/ emon/ESS orgeat/Mahalo bitters/Zirbenz Pine Liqueur concoction... and, yes, that's PINE LIQUEUR in a tiki drink, because they know more about mixology than you do.
Hell yes, that's a gigantic conical ice block floating in the Minnetiki-style, Mason-jarred Corn Tiki loaded with Plantation 5yr rum, house-milked sweet corn cream (seriously), mulled apple cider, cinnamon, nutmeg, and Mahalo bitters.
And double hell yes, that's a coconut hacked open behind the bar, filled with rum, a healthy dose of spices, and a bit of water, then set ON FIRE. It's the Eat Street Social Spiced Rum Tot, Polynesian style.

And that does it for the menu...'s first PAGE.
The back's loaded with boozy snow cones, because, hell yes, adult snow cones!
That? Oh, it's just a snow cone topped with Pierre Ferrand 1840 Cognac, almond-vanilla syrup, cream, and orange blossom water.
Alright, so the Buffalo Trace kinda melts away this ice in their version of a julep snow cone, so maybe until they get better ice, Eat Street Social doesn't have it all, after all.