Despite being ludicrously popular since the very dawn of time itself, beer has somehow become even more beloved in recent years, thanks in no small part to the the explosion of microbreweries, and the gloriously well-stocked beer bars that sling their wares (and occasionally brew them themselves). Here are the 11 finest examples Montreal has to offer...
Recommended Video
Proof That Iceland's Ring Road Is the World's Most Beautiful Road Trip
Hochelaga
Aside from a roster of whimsically named home-brews (see Agent Orange, The Ptit Dej, etc.), L'Espace Public also has a dozen guest brews from nearby micros, and a great calendar full of DJs, artists, and musicians who stop by to show off their stuff. 
What you're drinking: A pint of the draft Gary Carter, an American pale named for the awesome Expos player.
Downtown
Staying Downtown or new to the city? Since 1997, Brutopia has been a part of the long list of bars Montrealers ramble off when someone from out of town asks them for a good brew pub close to their dorm/hotel/first apartment they blindly bought Downtown. Since it's nestled smack dab in the middle of Crescent St (a favorite desto for younger drinkers), you may have already been here during some sort of sorority pub crawl, but we hope you check it out when you're at least half out of the bag. This place has three floors, three terrasses, and is open from 3pm to 3am every day, which makes it a favourite for neighbouring chefs after their kitchens close, too.
What you're drinking: Their Extra Blonde, made w/ malt specially shipped in from Munich.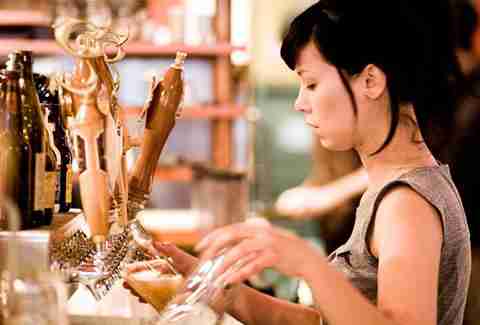 Latin Quarter
Another staple of Montreal's buzzing nightlife is St. Denis, and Le Saint-Bock is right bang in the middle of it. With over forty beers on tap at any given night, this micro dedicates almost half of them to their own brews, while filling the rest with some of Quebec's finest. 
What you're drinking: Play roulette with their 15+ home-brew taps.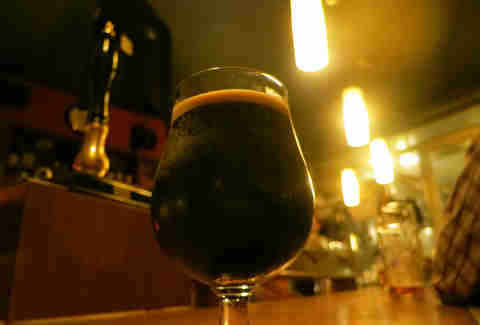 Plateau
Like many places in Montreal, Dieu du Ciel! has a little deck outside during the Summer to catch some rays and grab a few apps, and having brewed literally hundreds of beers in their time, DdC always puts at least a dozen of them on the taps at any given time.
What you're drinking: Their crazy-popular stout Aphrodisiaque will likely make pretty much everyone look more beautiful.
The Village
A name you'll become acquainted with in the deps and grocery stores of Quebec is Le Cheval Blanc. Lucky for you, their brewpub is located right here in Montreal, so you get to enjoy their beers straight from the tap. Located just on the outskirts of The Village, Le Cheval Blanc's bar is a dark, pub-like hangout, and like many namesake pubs in the city, expect a crowd while vacation season is at its peak. But we promise you, the crowd is there for a reason.
What you're drinking: Their Red Rice, a Japanese-type red ale, is both rare and delicious enough to merit your attention.
Rosemont-Petite-Patrie
Depending on the night you step foot in this La Petit brewpub, you'll be welcomed by either a rowdy back room, or a few guys playing the foosball table. They serve both international bottles and their own, but be ready to pay for those that are from outside of Quebec. This place also serves killer bar food, so be sure to order a thing or two off the menu.
What you're drinking: Their home-brew saison is always a solid bet.
Saint-Édouard
Do you like cheese, sausage, and beer? Congratulations, you're human. And you'll also probably love Vices & Versa. Like many micros in town, a lot of love went into this pub, but finding the perfect place was very important for the two owners since the beginning. Tucked by the train tracks at St. Zotique and Little Italy, the bar was made just for those younger imbibers who were looking for a place to grab a good brew in their price range and in their neighbourhood.
What you're drinking: The Black IPA from nearby Brasserie Dunham.
Centre-Sud
It's about time Centre-Sud got its own beer bar. The quaint Station Ho.st comes from the masterminds at Hopfenstark microbrewery. Its minimalist rustic, wooden interior makes sure it doesn't take away from the incredible brews it has on tap and cask. Incidentally, Station Ho.st also has a great whiskey selection and a small bar menu. What really sets this place apart from the rest, though, is that you can actually bring in your own food to pair with their beers.
What you're drinking: Discover the Boson de Higgs... the Berliner Rauch Saison from local Hopfenstark brewery.
St. Henri
If you've ever wandered/biked down the canal during the Summertime, you probably have seen a sizable crowd at the Terrasses St-Ambroise. This is not a coincidence. With six year-round ales, a ton of regularly rotating seasonal brews, and a huge terrasse (duh) to enjoy them on, St-Ambrose more than earns its place on this list. 
What you're drinking: Their Oatmeal Stout has won awards, and for good reason.
Mile End/Plateau
While the list of bars on Mile End/Plateau warrants its own "best of" list, a microbrasserie that we've got our eye on is HELM. Using more than 90% of grains grown in Quebec in their beer and working with as many products as they can from local sources for their menu, this bar is setting out to be a staple in Mile End -- with nice decor, a great location, and a good atmosphere. The food is a tad on the expensive side, but since they're slinging the likes of, um, deer burgers and salmon ceviche, it's somewhat expected.
What you're drinking: Their Clark pilsner is refreshing to say the least.
Old Montreal
With their own brews on tap, a slew of privately imported beers, and a menu that wrestles their great suds for the limelight, Grises is the one place where visitors can experience another, slightly more modern side of the city while in Old Montreal.
What you're drinking: The Bitter Superior IPA is not only made with hops, but with hop flowers, too.