Montreal's drinking culture is indeed legendary. And it's not just for our unwavering hospitality to young Americans looking to drink before they turn 21. The sheer amount of beer-- both homebrewed in Québec and imported-- is legion, and we're dedicated to sussing out new brews at a fast clip.
It should then come as no surprise that we've also got a large number of breweries, bars, restaurants, and taprooms dedicated to showcasing suds from far and wide. Allow us to present you with a few top-tier watering holes, where you'll find an eclectic selection of world-renowned beers, a welcoming environment, and convivial bartenders happy to help you navigate each pint… you know, if you're not already an expert.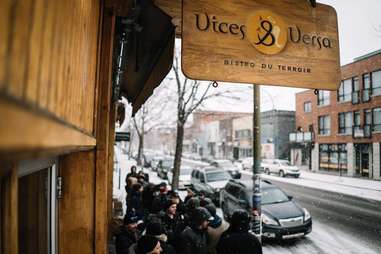 Little Italy
Where the poutine is just as good at your drinks
Beer with a side of Quebec's favorite tipsy treat? Why not? Even if poutine isn't your vice of choice, Little Italy's Vices & Versa is likely to win over the pickiest drinker with local beers both on tap and bottle, and a wide spread of gastropub grub. Beer fans will appreciate the attentive, well-educated staff, non-beer fanatics will appreciate the wine selection (red, white, rose, and orange), and everyone will be happy with the expansive back-patio seating.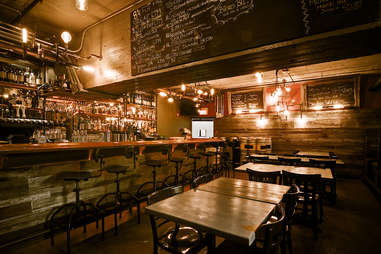 Ville-Marie
Where beer and whiskey go to party together
With 14 rotating taps and flights at the waiting, Pub BreWskey is the ideal place for beer fans. But as the name implies, they're also big on Whiskey. Check their calendar for monthly beer and whiskey pairing events. For those who prefer two great tastes served separately, they also have an infused beer special every Sunday and Monday night, and whiskey Wednesdays where the titular beverage is 10% off.
Milton Park
Beers from all around the world paired with delicious hot dogs
One of the few places on our list that serves almost exclusively beer, which -- coincidentally enough -- is also the beverage of choice in the Benelux region. But when you see their list, a mix of offerings from Quebec and California (although these are often rotated) and the occasional left-field choice like an earl grey/vanilla beer, you'll understand why they went all in on the theme. Hungry? There's also plenty of snacks, so be sure to cozy up to gourmet panini or hefty hot dog.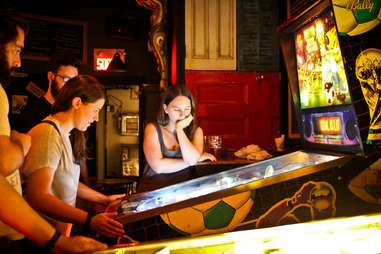 Maisonneuve
Locally-made beers in a small and cozy space
A small bar, with a meticulously curated selection of beer. If you fancy something with a touch of berries, a pale ale, or blonde brew, then you're in luck. Swing by for special events, which in the past have included tap takeovers, pop-ups, and Pride.
Mile-Ex
An airy and bright place with a load of delicious beers on tap
Yes, Brasserie Harricana also made our list of local microbreweries (All which you should investigate) But the Mile-Ex bar is also worth mentioning for its ambiance. From the bleachers in the yard, to trophy display, to their low-slung dark wood chairs (a décor tribute to the family's first restaurant) Brasserie Harricana is a safe, comfortable place to the non-sportsball fan that will also play into the sensibilities of anyone who can navigate their way around the business end of a football. Talk about the recent game over beer and cheese pairings. Or talk about anything you damn well please.
Little Italy
A bit of Berlin in Montreal… where you can bring your pup
Open seasonally, Bar Alexandraplatz channels a bit of Germany's capital city with outdoor seating, and a liberal dog policy. (Bring them along, they've got water bowls.) Visit during the summer for regularly rotating local bears on tap (Old Montreal Brewery is a regular), and non-alcoholic beer, a varied selection of sodas, and juice for the non-drinkers. They also host the occasional special event, like pairing with seasonal farmer's markets and local DJs.
Downtown
Smokehouse elegance in a sophisticated space boasting beers with depth
Bistro-Brasserie Les Soeurs Grises trends toward sophistication -- thankfully they also include detailed tasting notes on each of their beers on offer. Sip on a Marguerite (crunchy blonde, flower, and hazelnut butter flavor), in their wood-lined and snack one of their many tapas, such as the Beetroot hummus with grilled pita bread or Honey and nuts baked brie cheese.
Sign up here for our daily Thrillist email and subscribe here for our YouTube channel to get your fix of the best in food/drink/fun.