Outdoor brew

| Isle de Garde
Outdoor brew

| Isle de Garde
Every town can be a drinking town. But Montreal is a DRINKING town. Historically, we played a big role in bootlegging during America's prohibition and -- more importantly -- our legal drinking age is 18. This translates to getting a lot of tourists who sometimes think of our lovely city as a spring break destination akin to Senor Frogs… but way more French and with less of a proclivity for table dancing, beer bongs, and anthropomorphic frogs in tank tops.
That said, it's worth noting that Quebec's largest city has a leg-up on other locations across the country, both in the quality and quantity of our beers and breweries. In fact, in many neighborhoods, brew pubs are so close together it's entirely possible to create your own walking tour between them (which you absolutely should). Now allow us to present you with a few top tier microbreweries -- all local -- where you'll find an eclectic selection of beers, a welcoming environment, and absolutely no Froggy Ritas (for better or for worse).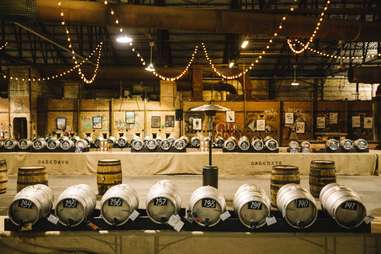 Mile End
If you want a beginner's course in the vast world of craft beer, hit up Dieu du Ciel (loosely translated: Good Lord!). The staff is incredibly knowledgeable and will patiently guide you through their latest offerings. Their chalkboard menus, with some 20 different beers at any given time, might look intimidating, but this low-key microbrewery is known for a complete lack of pretension and delicious beers. Bonus: There's plenty of outdoor seating.
Best Brew: Their Péché Mortel (9.5% alc./vol), a creamy coffee stout, gets its fair share of the spotlight. ($7 per pint) However, they're known for rotating in seasonal mashups and experimental brews (hibiscus anyone?) so branching out is encouraged. Be sure to check out what's currently on tap… or order several $2 tasting glasses and drink your way through the menu.
Rosemont
To truly consider yourself a beer nerd, a stop here is requisite. The space itself is a bright, open area that serves up delicious burgers, fries, and a few other items (like an excellent grilled cheese). Couple that with a large outdoor patio and a deep bench of home brews that run the gamut of lights to darks, and you have yourself, well, a great brewery experience . For the adventurous, or just curious, there's also beer cocktails in the form of a sangria, mojito, and a Bloody Caesar.
Best Brew: Bière De Coin D'Rue (4.5% abv), a refreshingly sour Berliner Weisse.
Saint-Henri
This is predominantly a summer spot -- since the microbrewer's outdoor patio is closed during the winter months (when you can visit them here instead). But when the sun's out, you'll want to head to the brewery on the Lachine Canal where IPAs rule the menu. Not into that? No problem, there are usually one or two stouts or ales to try out. If you're not a beer drinker at all, there's also rosé and red wine on offer.
Best Brew: Oatmeal Stout (5% abv) $7 per pint. Tasting paddles are also available.
Little Italy
Isle de Garde's 500-litre brew house focuses on English-style beers, low ABV concoctions, and wild yeast-fermented saisons, where the fermentation happens sans human intervention. This gives you beers with very distinct tastes and features. They also serve a few brews from other microbrewers… as long as they're all based in Quebec.
Best Brew: Toute Petite Grisette, a light wheat beer with a body similar to a saison.
Mile-Ex
At first, Harricana's hockey tribute-heavy interior (jerseys and trophies everywhere) might seem a bit intimidating to anyone who doesn't speak sportsball. But Montreal's very first beer bar couldn't be more inviting -- and open from noon until 2am, should you require an early afternoon hangout. Want to elevate your beer tasting adventures? Stop by for a paired beer/cheese flight.
Best Brew: Like Dieu du Ciel, Harricana is also known for its left-of-center brews, which in the past have included coffee and sour berry. So be sure to ask what's currently in rotation. And for non-drinkers, there's soda and kombucha brewed on the site.
Plateau
HELM is so popular it was one of the founding breweries behind Fabriqué à Montréal, a celebration and festival in honor of local Montreal beers. Stop by their classic, wood-lined dining room early (they open at 3pm) to have a look at their tightly curated list of offerings, which will almost always include a stout, IPA, and ale. They also offer a range of tequilas, whiskeys, rums, as well as food in the form of burgers and poutine.
Best Brew: A heavily-spiced ginger beer. $5.50 before 8pm, $6.50 after.
Plateau
With its black walls and brick-lined exterior, Le Réservoir is a sleek, futuristic take on beer pubs with an unexpected but welcomed approach to bar food. Complement your drink (whether you'd like an IPA, pilsner, sour, weizen, saison, or kolsch) with caramel corn, cucumbers with yogurt and mint, or a mushroom-laced grilled cheese.
Best Brew: Their menu tends to be curated with six to 10 beers at any given time. While they don't do flights, samples are free and half-pints are available. Try the rhubarb kolsch (4.7% abv), a dry, fruity take on the German-style beer. $6 for a 10-ounce pour.

Rosemont
Brouhaha is an old-school bar environment with an expectedly heavy menu to match (we're talking poutine). It's the closest you'll come to the local pub in the area -- especially since most tourists don't make it to this once-sleepy neighborhood. The dim lighting and warm interior offers a welcome respite for those looking to settle in with a pint of something different and relax for a while.
Best Brew: Brouhaha Choco-Framboise (7% abv), an imperial Belgium stout with notes of strawberry and chocolate.
Rosemont
This is a microbrew co-op that produces its own beer, owns its own pub, but also has a shop where you can buy beers from its members (which include Broue Pub Brouhaha, Noire et Blanche, and Isle de Garde). You'll want to make a point to stop by the terrace when the weather is nice and sip from their sleek, industrial tasting room.
Best Brew: If IPAs and ales are your bag, good news! Their entire current menu is for you. Push the boat out and try the Tribale Double IPA, which has a hefty 9% ABV.
Sign up here for our daily Thrillist email and subscribe here for our YouTube channel to get your fix of the best in food/drink/fun.
Laura Studarus is a contributor to Thrillist.