Brunch is like, kiiiiind of a really big deal in Montreal -- but boozy brunches are (sadly) more difficult to come by. But if you're willing to spare a few bones to keep the good times rolling with worthwhile breakfast cocktails, we've got you set with this hood-by hood guide.
L'Avenue
922 Ave du Mont-Royal Est
Go for: fruit-filled pitchers of red wine sangria.
Byblos Le Petit Café
1499 Ave Laurier Est
Pair the famous feta omelette with your brew of choice.
Lili Co.
4650 Rue De Mentana
Go for the Pimm's Limonade or Early Gin with their Frittata dish.
Le Passé Composé
950 Rue Roy Est
Take advantage of the two-for-$13 mimosa deal.
Réservoir
9 Rue Duluth Est
This brasserie's house mimosa will only set you back $5.
Ma-Am-M Bolduc
4351 Ave de Lorimier
Chase down a decadent brunch crêpe with a mason jar cocktail.
Sparrow
5322 Boul Saint-Laurent
$5 for regular and apple mimosas.
Lawrence
5201 Boul Saint-Laurent
Choose from an $8 Bloody Mary, Aperol Spritz, or apple mimosa.
Fabergé
25 Ave Fairmount Ouest
A breakfast poutine plus a screwdriver aught to do the trick.
Nouveau Palais
281 Rue Bernard Ouest
Start things off right with a breakfast Caesar.
Beauty's
93 Ave du Mont-Royal Ouest
Little-known fact: Beauty's has a drink menu!
Resto Biarritz
4801 Boul Saint-Laurent
Mimosas hit the sweet spot (or the sore spot) here.
Royal Phoenix
5788 Boul Saint-Laurent
Keep the $2.75-$3.50 cocktails coming while you down a huevos rancheros.
L'Assommoir
112 Rue Bernard Ouest
They make a solid mimosa here, but their peach Bellini is something else.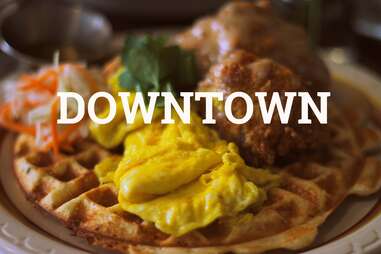 SuWu
3581 Boul Saint-Laurent
Endless mimosas for $35, or build your own four-person brunch bowl.
Le Cartet
106 Rue McGill
Can't go wrong with a Cartet Breakfast Special and a mimosa.
Ye Olde Orchard
1189 Rue de la Montagne
Some decisions just make themselves: green eggs and ham + a morning Guinness.
Griffintown Café
1378 Rue Notre-Dame Ouest
Spice things up with a Bloody Mary and a spicy pork huevos divorciados.
Burgundy Lion
2496 Rue Notre-Dame Ouest
Opt for the famous White & Red Eye: beer, tomato juice, vodka, and a whole egg.
Les Enfants Terribles
1257 Ave Bernard
The grapefruit zest-infused Apérol Spritz complements every menu option.
Prohibition
5674 Monkland
Pick from $8 mimosas and beers.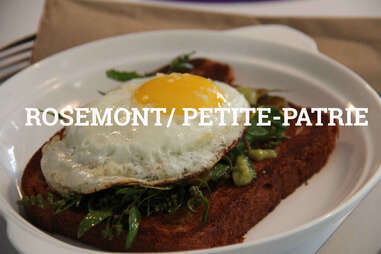 Régine Café
1840 Rue Beaubien Est
A hearty Caesar will keep you good and liquored up here.
Restaurant Santa Barbara
6696 Rue de Saint Vallier
Take your pick from a creative cocktail menu. Recommended: Cocktail en vedette
with tequila, honey, lemon, and sage.
Brasserie Central
4858 Rue Sherbrooke Ouest
Stay classy with a gin Gimlet with lime and soda.