The official 7 best cocktail joints in Montreal
Since Franco-British-Canadian-separatist culture isn't the only thing Montreal skillfully blends, we thought we'd take a look at the finest cocktail joints the city has to offer, then ruthlessly whittle that number down to only the best seven...
Dominion Square Tavern
Downtown
It would only be right for you to order an Old Fashioned in this swanky old-fashioned mostly-hidden Montreal gem of a bar. If you're inclined to wearing bow ties whilst supping your cocktail libations, this place abides.
Candi Bar
Plateau
You'll feel like you've already had a few too many cocktails as soon as you step into this trippy bar equipped with lady leg stools, gum ball machines, and a smoke machine, but you shouldn't let that stop you from reaching new drunken heights on candy mountain with a Bazooka Joe vodka cocktail and several chocotinis.
Big in Japan Bar
The Main
Hidden behind a big red door up the street from their restaurant bar, this winding labyrinth of a bar is big in Montreal too. Classic cocktails on offer include the Vesper, the Negroni, or the Side Car, but chances are that once you find the absinthe fountain, nothing else will matter.
La Distillerie
Multiple locations
There are cocktails, and then there are La Distillerie's 4oz, 1L mason jar cocktails. Happy hour's good for drink deals, but it also makes the place as ram-packed as their drinks, which include literally full litres of Hurricanes, rum-laden Mont Real's, and tequila/ginger Gringos.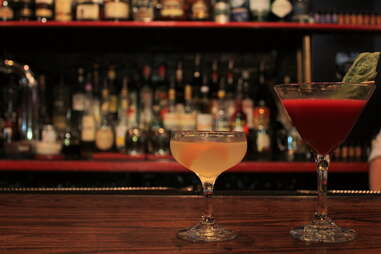 Le Lab
Plateau
Le Lab is famous for turning cocktail making into a damn magical science. You won't find no mediocre bartenders here, instead your mixologist will be happy to make you a Japanese Gimlet (basil, sake, pear vodka) or a Jerky Lab Jack (BBQ bitters, whiskey, jerky) with one hand while they juggle with the other and balance on a unicycle. Most of that is true.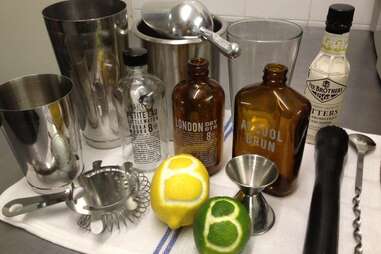 Baldwin Barmacie
Mile End
There's a pretty swank ambiance about this place, thanks to its low lighting and stark white walls, but it's all undercut neatly by the chairs which're carved out of wooden beer barrels. The cocktails range from solid classics (they make a particularly decent Dark & Stormy) to even solid-er originals like their Bloody Dirty Martini, whose olive-brined booze has some Mary mix thrown in.

Suite 701
Old Montreal
Keeping things ultra-classy, 701 backs up its Versailles-like interior opulence thanks to a menu of no less than a dozen Martinis, pus originals like their Montreal Old Fashioned (it uses two whiskeys and Martini Rosso)... and you can drink them all over a duck leg brunch.